What to Expect: Maryland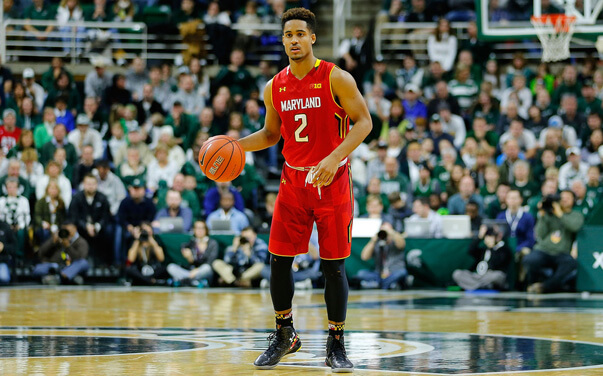 Indiana and Maryland will meet for a third time this season later today in the quarterfinals of the Big Ten tournament at the United Center in Chicago. The Hoosiers snapped a three-game losing streak on Thursday night with a 71-56 win over Northwestern while the Terrapins come to the Windy City as the No. 2 seed riding a seven-game winning streak.
The game will be broadcast at 6:30 p.m. ET on BTN with Eric Collins and Bill Raftery on the call:
CHICAGO — Indiana avoided the nightmare scenario of a loss to Northwestern in the Big Ten tournament that would have sealed an N.I.T. bid for the Hoosiers. But there's still work to do if IU doesn't want to sweat it out two days from now on Selection Sunday as a win over Maryland, a top 10 team in the RPI, would lock up an NCAA tournament bid.
Of the teams who finished ahead of Indiana in the Big Ten standings, Maryland is the team these Hoosiers played the toughest. Indiana routed Maryland, 89-70, back on Jan. 22 in Bloomington and took the Terps down to the wire before falling 68-66 on Feb. 11 in College Park.
Now a rubber match is set up and both teams have plenty to play for as Indiana is still fighting for its NCAA tournament life and Maryland is looking to climb even higher up the seeding hierarchy.
MEET THE TERRAPINS (Note: Statistics are for conference games only)
Much like Indiana, Maryland's strength lies in its backcourt with freshman Melo Trimble and senior Dez Wells. Trimble was All-Big Ten first team as selected by the media and Wells replaced Trimble on the coaches All-Big Ten first team.
The bread and butter of Trimble's game is getting to the foul line as his free throw rate (FTA/FGA) in Big Ten play was 62.1 percent and he knocked down 105 of his 123 attempts from the stripe. He also ranked 12th in the conference in assist rate but made just 42.9 percent of his 2s and 36.7 percent of his 3s which magnifies the importance of keeping him out of the lane and off of the foul line.
Wells, meanwhile, is a fantastic defender who does a little bit of everything offensively. Like Trimble, he can get to the line, as evidenced by his 48.2 percent free throw rate. Wells can also hit the offensive glass (6.5 OR%) and distribute the ball. His assist rate of 25.5 percent was 10th best in the league and he also hit 48.6 percent of his 3s. Here's a look at his conference-only shot chart, via Shot Analytics: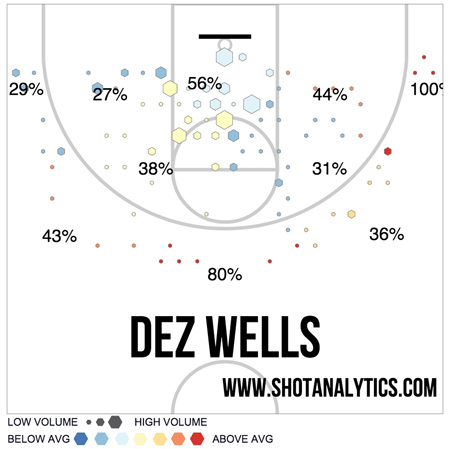 The rest of the Maryland backcourt is a mixed bag in terms of production. Senior Richaud Pack is a low usage option but knocked down 35.7 percent of the 42 3s he attempted in league play. Freshman Dion Wiley is essentially a 3-point threat only as 31 of the 47 shots he took in league play were 3s. He hit 35.5 percent. And while he's 6-foot-7 and more a wing, it's probably appropriate to lump Jared Nickens in with the backcourt guys as he's clearly a 3-point specialist. He attempted 70 3s in Big Ten play and knocked down 40 percent.
On the wing, junior Jake Layman is the team's third leading scorer in Big Ten play at 11.2 points per game. Layman finished the conference season 12th in the league in block percentage and 21st in defensive rebounding percentage. And when Layman gets going from the perimeter, it's typically from the corners: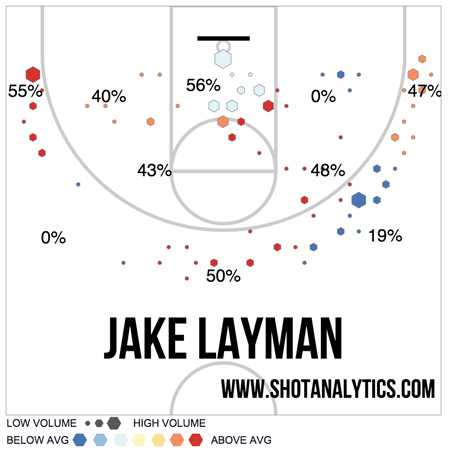 Senior Evan Smotrycz, who started his career at Michigan and now is in his second season in College Park, is fifth on the team in minutes in conference play but has really struggled offensively. Smotrycz shot just 23.1 percent on 3s and 32.4 percent on 2s in Big Ten play.
Up front, Damonte Dodd, a 6-foot-11, 245 pound sophomore, wasn't much of a factor in the first two meetings but is the team leader in block percentage at 8.9. Jon Graham, who transferred from Penn State, is the team's best offensive rebounder (OR% of 13.8) in conference play but isn't much of an offensive threat. Michal Cekovsky, who is 7-foot-1 and 235 pounds, played a combined five minutes in the first two meetings and could be more of a last resort in this game as Maryland must focus on guarding IU on the perimeter, especially with Hanner Mosquera-Perea's injury on Thursday night.
A LOOK AT THE NUMBERS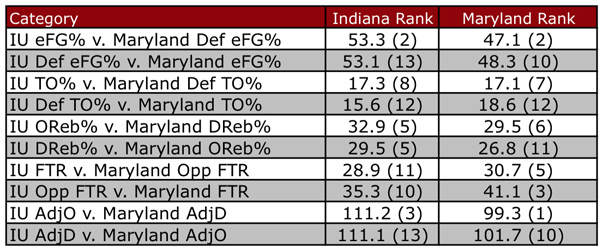 The key to Maryland's seven-game winning streak to close the regular season was its defense. Over its last four contests, Maryland didn't allow any team to score more than .96 points per possession and Wisconsin, the nation's best offense, was included in that group. The Terps finished with the Big Ten's best adjusted defensive efficiency (.99 points per possession allowed) and the league's second best effective field goal percentage defense at 47.1.
It's no secret that Maryland's offensive success rests heavily on the free throw line as both Trimble and Wells ranked in the top nine in the league in free throw rate and the Terps were the league's third-best team at getting to the line.
Indiana hasn't had trouble finding its offense against Maryland in two meetings as the Hoosiers scored 1.22 points per possession over 80 minutes. Most of that success came from behind the 3-point arc as Indiana scored 75 of its 155 points on 3s in the first two meetings. Another hot shooting performance will go a long way in determining if Indiana can pull off a win and move onto the semifinals.
WHAT IT COMES DOWN TO
Pomeroy, Sagarin and Vegas all have Maryland as a 2-point favorite with Pomeroy giving the Hoosiers a 43 percent chance of winning.
What's at stake for Indiana, beyond advancing to Saturday, is pretty clear. A win punches a ticket to the NCAA tournament and may even get the Hoosiers out of the "first four" games in Dayton early next week. A loss likely makes Sunday evening's selection show at 6 p.m. ET very interesting.
Guard play is typically what wins in tournament play and Indiana has its hands full trying to stop one of the nation's best tandems in Trimble and Wells. But the Hoosiers have a solid group of their own and with Thursday's confidence-building win over Northwestern and earlier success against Maryland, Indiana should feel good about its chances in the rubber match between these two teams if shots fall from the perimeter.
Filed to: Maryland Terrapins