The Minute After: Maryland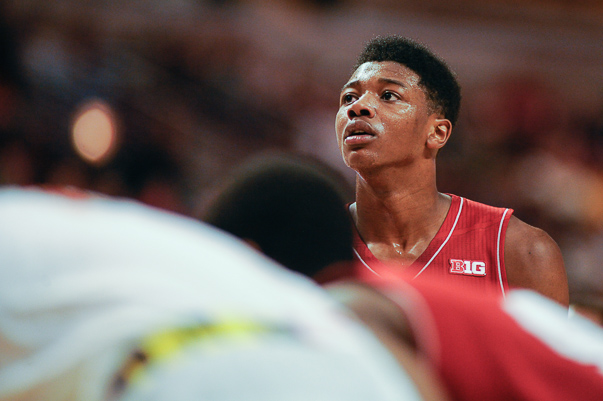 Thoughts on a 75-69 loss to the Terrapins:
CHICAGO — Indiana didn't lose this one because it failed to defend with effort or play with energy or crash the boards. No, the Hoosiers dropped their second game of the Big Ten Tournament tonight in Chicago because they couldn't do what they'd done so well against Maryland in their first matchup: Put the ball in the basket.
After a fun, high-energy first half that ended with a 42-40 advantage for Maryland, things grinded to a halt in the final 20 minutes. The Hoosiers hit just 22.6 percent (7-of-31) from the field and 18.8 percent (3-of-16) from distance. It's hard to shoot that poorly and win against any team, let alone one of the Big Ten's best in Maryland.
After scoring 25 points against Northwestern on Thursday night, James Blackmon Jr. had a rough shooting night (2-of-12) and forced a couple looks. Fellow freshman Robert Johnson didn't fare much better (3-of-11, 2-of-7 from distance). Yogi Ferrell also finished just 2-of-7 from distance, although he had a team-high 18 points. For the game, the Hoosiers sported a 41.1 eFG% and scored 1.08 points per possession to Maryland's 1.17.
Still, despite the poor shooting, Indiana hung tough in the second half. After falling behind seven (62-55) with 6:21 to go, Melo Trimble drove the lane with a chance to put his team up nine. But Emmitt Holt blocked his shot and Blackmon Jr. scored on the other end to cut the lead to five. And as both teams failed to makes shots down the stretch, Indiana remained within striking distance. As teams traded free throws down the stretch, two from Johnson pulled Indiana within two (68-66) with 38 seconds remaining. It was as close as the Hoosiers would get. Maryland made 5-of-6 from the line from then on, as Indiana missed three 3-pointers before Max Hoetzel hit one late to make it a six-point loss.
This was a physical matchup that the refs had a difficult time controlling for stretches. Maryland, one of the better teams in the country at getting to the line, made the best of it. The Terrapins had a monstrous free throw rate of 67.3 percent and made 25-of-33 from the charity stripe. And Maryland is simply a team that gets it done when it matters. This win moves the Terrapins to 18-1 in games decided by 10 points or less this season.
Like they did against the Wildcats, the Hoosiers hit the boards strong in this one (41.9 OR%, 18 offensive rebounds) and Holt was a big part of that. Six of the freshman's game-high 12 rebounds came on the offensive end. Holt also swatted three shots and scored six points in 25 minutes. He was a great stand-in for Hanner Mosquera-Perea and played quite well over two games in Chicago. Troy Williams also had a nice game, scoring 17 points to go along with nine boards. For a stretch in the first half, Williams got the ball up top on several possessions and went to work, scoring 10 of Indiana's points in a 13-point stretch.
A win against Maryland would have put the Hoosiers in better position to make the NCAA tournament, but they appear to be just in it, if ever so barely right now.
"I'm walking out of here knowing our defense is better, our energy is high," Tom Crean said after the game.
All true. All good. But Sunday brings no promises, and Hoosier Nation will be glued to its TVs awaiting Indiana's fate.
Filed to: Maryland Terrapins