The Minute After: Northwestern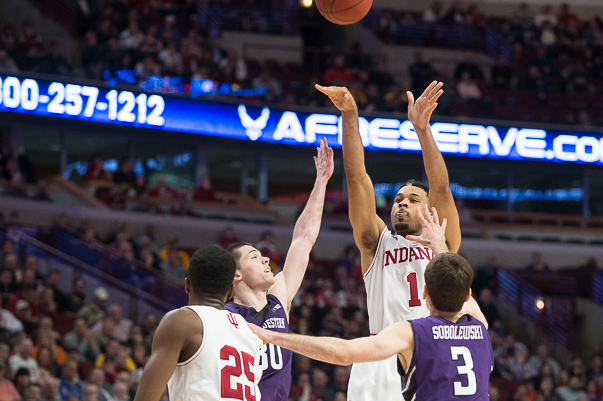 Thoughts on a 71-56 win over the Wildcats:
CHICAGO — After IU's loss to Michigan State on Saturday, a dejected James Blackmon Jr. sat at the press table saying he didn't get it going soon enough.
Tonight, as Blackmon Jr. and Yogi Ferrell sat down to the meet the media, it was all smiles.
Blackmon Jr. got it going early, scoring 13 points in 16 minutes of first half action on 3-of-6 shooting from distance. He finished the contest with his best effort away from home this season — 25 points (8-of-15), six rebounds (four offensive) and a career-high seven assists. The freshman's effort, energy and stat-stuffing ways were indicative of Indiana's performance tonight in its comfortable 15-point victory over Northwestern.
"I think tonight was all about our mindset," Blackmon Jr. said.
From the onset, the Hoosiers got up in Northwestern's grill and made them work for buckets. Where this has been for so long this season, who knows. But it was clear this was a point of emphasis for the Hoosiers. With each stop, deflection and recovery on defense, the Indiana bench cheered — creating a feedback loop for the energy being expended on the court.
"We went out there and created our own energy," Ferrell said.
At one point in the first half, the Wildcats went 8:28 of game action between field goals. Indiana punched the lead out to 24-6 at this point, and it pretty much was the catalyst for the victory. Indiana held the Wildcats under a point per possession (.98) and that's an encouraging sign heading into Friday night's matchup with Maryland. Tre Demps killed the Hoosiers in Evanston. Tonight, Demps had just four points on 2-of-5 shooting as Ferrell and Robert Johnson hounded him throughout the contest.
"The pressure of our defense, the energy, the tenacity, all those things were really really strong," Tom Crean said.
Indiana also beasted on the boards and snagged 50 percent of its misses in this one. There was tons of effort on this front tonight as well. Indiana got multiple chances on several trips down the floor and it led to 20-second chance points. Up in Evanston, Indiana's scoring drought in the second half came because Indiana didn't move the ball much or get into the paint against the zone, instead settling for a host of long-range bombs that wouldn't fall. The standing around affected their energy. Tonight the ball movement was better and the players fed off each other. Save for a little bit of a lull here and there, Indiana didn't stand around much on offense. The Hoosiers scored 1.23 points per possession on a night they didn't really shoot it that great (50% eFG%, 11-of-32 from 3).
Ferrell hit just 3-of-10 from 3-point range but got to the rim well to finish with an efficient 7-of-16 performance (17 points). Emmitt Holt flashed good instincts on offense and scored eight points (4-of-5). On a freak play where Alex Olah took a charge on Robert Johnson, the Northwestern big man fell right into Hanner Mosquera-Perea's right knee, re-aggravating his injury from earlier in the season. The junior hit the floor in some serious pain and it seems too early to tell just when he might be back.
Indiana needed this win to keep itself in the NCAA tournament mix and the Hoosiers certainly played like a team that knew the stakes. They left little doubt they'd be giving a strong effort for a full 40.
"I thought they were a very determined team," Northwestern coach Chris Collins said of the Hoosiers after the contest.
Tomorrow night, Maryland presents a tougher challenge than the Wildcats. But if Indiana brings this sort of energy against a team it's already played well against twice, it gives itself a good chance to make it to Saturday.
Filed to: Northwestern Wildcats