Hoosiers aware 'winning is key' in Big Ten tournament opener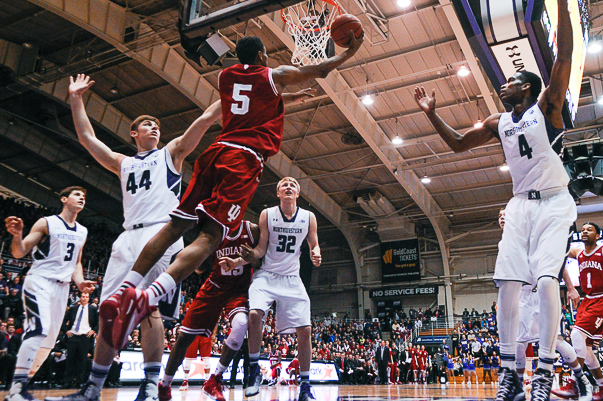 Indiana's 2014-2015 season is at a tipping point. The Hoosiers aren't afraid to admit that.
As they remain projected to be among the last four teams selected to this year's NCAA tournament, the Hoosiers (19-12, 9-9) head into the Big Ten tournament in Chicago facing a must-win scenario.
Win tonight against Northwestern (6:30 p.m. ET tipoff, ESPN2), and the Hoosiers could have an NCAA tournament spot sealed. Lose, and the Hoosiers could be NIT-bound, ESPN bracketologist Joe Lunardi warned on Tuesday.
"Teams are at a point that their season can go either way," sophomore Collin Hartman said. "We know winning is our key and were focused on that and that only."
It was just over two weeks ago on Feb. 25 that the Hoosiers faced Northwestern in Evanston — their only meeting this season — a 72-65 loss that started the Hoosiers' current three-game losing streak.
After a 40-40 halftime tie, Northwestern held Indiana scoreless from the 13:23 to 3:17 marks of the second half en route to its first four-game winning streak since the 1966-67 season. The Hoosiers loss, combined with two ensuing home defeats to Iowa and Michigan State, have dropped them to the NCAA tournament bubble.
"They took the game over in the second half and we didn't respond to it as well," Indiana coach Tom Crean said. "And that's got to be a big part of it."
The Hoosiers feel an urgency to stop that — as the Wildcats have to travel just 20 miles from their home in Evanston to the United Center and add senior Jershon Cobb to the mix, who has missed 11 games this season due to lingering foot and knee injuries.
They said they can't let the Wildcats get comfortable in their zone — one which has allowed their top players, including 7-foot Alex Olah, avoid foul trouble. They said they can't allow them to drive and kick — Northwestern went 40 percent on its 3-point attempts against the Hoosiers. And they said they have to do everything harder — that "we have to cut harder, screen harder and fight for every rebound," Yogi Ferrell said.
"We can not play tentative at all," junior Nick Zeisloft said. "If we get a lead, we have to play harder. If we are behind, we have to come right at someone."
On Monday night during his weekly radio show, Crean said that he and his players know the significance of tonight's game has on their NCAA tournament hopes. "They're not living in a vacuum," he said. "They know that part of it is out there."
It was less than two months ago that Indiana was 15-4 and 5-1 in the Big Ten coming off an 89-70 win over Maryland. The Hoosiers are 4-8 since then.
But with a win against Northwestern tonight, the Hoosiers are aware their dreams of an NCAA tournament bid will be one step closer to being saved.
"I know that winning is going to take us to where we want to go," Troy Williams said.
"I think they are aware of (the pressure)," Crean added. "Absolutely. That's why fixing you and fixing what needs to be fixed with your offense and some adjustments defensively and things like that are so important when it comes to games."
Filed to: Northwestern Wildcats