Big Ten Power Rankings: March 10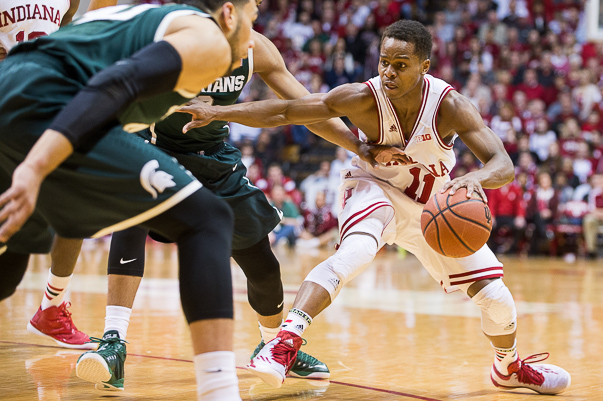 The Inside the Hall Big Ten Power Rankings are back for a final week, as Wisconsin has clinched the outright Big Ten title and teams now prepare for the Big Ten tournament, starting tomorrow.
Here's a look at where each team stands following the conclusion of league play in 2015:
14. Rutgers (10-21, 2-16, PPP: .90, PPP Allowed: 1.08) (Last week: 14) … A 14-game losing streak is what has defined the Scarlet Knights' second half of this season after they started 10-7 and 2-2 in the Big Ten, including a win over eventual outright champions Wisconsin. But the Scarlet Knights simply have been overpowered in many of their games since then, with their regular season mercifully coming to an end in Ann Arbor with a 79-69 loss. What that scoreline did not indicate, however, is that the Wolverines led, 75-48, with the comeback a sign that maybe the Scarlet Knights still have a sign of life to them heading into the Big Ten tournament.
13. Penn State (16-15, 4-14, PPP: .96, PPP Allowed: 1.02) (Last week: 13) … Heading into Sunday's game at Minnesota, the Nittany Lions were in the midst of a six-game losing streak — their second such drought in the Big Ten season. And against the Golden Gophers, the Nittany Lions led by as many 13 in the second half before it collapsed as the two teams exchanged leads late. But with the game tied in the final possession, the Nittany Lions turned to their most important contributor — D.J. Newbill, who has been used in 31.3 percent of Penn State possessions in league play (second-most in the league) — who nailed a 3-pointer at the buzzer to give them their first win since Feb. 7.
12. Nebraska (13-17, 5-13, PPP: .93, PPP Allowed: 1.04) (Last week: 12) … What has been nothing short of a disappointing season for the Cornhuskers has continued into the Big Ten tournament, as Tim Miles' squad heads to Chicago on an eight-game skid. This losing streak, which dropped the Cornhuskers from 5-5 in the Big Ten to sole possession of 12th place, has had its share of drama as well. It was in this skid that Miles banished his players from their locker room and lounge — a privilege he just reinstated on Saturday — and on Sunday in their regular season finale against Maryland the Cornhuskers were in fact competitive. They came back late against the Terrapins in Pinnacle Bank Arena but allowed a late jumper from Dez Wells that sealed a 64-61 loss. Even more troubling, though: It was just their third game since Jan. 24 in which Nebraska scored at least 60 points.
11. Minnesota (17-14, 6-12, PPP: 1.04, PPP Allowed: 1.07) (Last week: 9) … The Golden Gophers had reason for optimism heading into this past week of play following their Feb. 26 win in East Lansing over Michigan State. But any momentum Richard Pitino's team had from that win quickly went to the wayside in a 13-point home loss to Wisconsin and then another heartbreaking, buzzer-beating loss to Penn State on Sunday. The Golden Gophers had back-to-back wins just once this Big Ten season — as consecutive losses were much more common than consecutive wins. And they head into Chicago forced to play on the opening day of the Big Ten tournament, losers of five of their past six games.
10. Northwestern (15-16, 6-12, PPP: 1.02, PPP Allowed: 1.12) (Last week: 11) … As of recently, the Wildcats have earned the reputation of being a team that won't give in. That was epitomized during Tuesday's game against Michigan in Evanston, as the Wildcats twice came back from deficits in the final minute of both regulation and overtime to clinch double overtime. In fact, the Wildcats trailed by six points with just 10 seconds left in the first overtime until Tre Demps hit back-to-back 3s to force double OT. And then the Wildcats were able to grind their way to a win in double OT, forcing the Wolverines to go 2-for-6 from the field in the final five minutes. They now have won five of their past seven games — four of those wins coming in Evanston — and they will have to travel just 20 miles to the United Center for this week's Big Ten tournament.
9. Michigan (15-15, 8-10, PPP: 1.03, PPP Allowed: 1.07) (Last week: 10) … It hasn't been an easy season for the Wolverines, especially following last season's Big Ten title squad. This Michigan team — which KenPom.com rated the 16th-least experienced in the country — has had its fair share of injuries and overtime struggles and it has had frustrating results mixed with positive ones. That was exemplified this past week in its double OT loss at Northwestern and ensuing double-digit win against Rutgers. Regardless, the Wolverines enter this week's Big Ten tournament as the No. 9 overall seed with a chance of playing Wisconsin in the quarterfinals — a team they took to overtime earlier this season in Ann Arbor.
8. Illinois (19-12, 9-9, PPP: 1.01, PPP Allowed: 1.01) (Last week: 8) … The Fighting Illini had a chance on Saturday to win just their third game on the road in Big Ten play, however they were unable to get close enough to give Purdue a scare in West Lafayette. One positive the Fighting Illini can take from that game (and their earlier game this past week) is that Rayvonte Rice is returning to his pre-injury and pre-suspension production levels, as he scored a season-high 25 points against the Boilermakers. And as they head into Thursday's game against Michigan, one thing can be expected — in the two games they played this season, both have gone to overtime.
7. Indiana (19-12, 9-9, PPP: 1.11, PPP Allowed: 1.11) (Last week: 7) … Much like last year's Iowa squad, the Hoosiers have dangerously slid from an NCAA tournament lock to quite possibly missing an NCAA tournament bid entirely. With another two losses this past week to Iowa and Michigan State in Assembly Hall, the Hoosiers have now lost four of their past five games and eight of their past 12 overall. And because of that, the Hoosiers could be facing a second straight season of missing the NCAA tournament entirely if not for some success in Chicago this week for the Big Ten tournament.
6. Ohio State (22-9, 11-7, PPP: 1.08, PPP Allowed: 1.01) (Last week: 4) … The Buckeyes faced a wake-up call in State College last Wednesday, trailing by as many as nine points early in the second half before embarking on a 39-13 run that handed them their third straight win, a 77-67 triumph over Penn State. But in their regular season finale against Wisconsin, the Buckeyes simply underwhelmed at home — trailing at halftime, 37-23, before losing 72-48 to the league champions. And despite their 22-9 record, they ended the regular season on Sunday with just two wins over KenPom top 50 teams — Maryland and Purdue, each in Columbus.
5. Michigan State (21-10, 12-6, PPP: 1.10, PPP Allowed: 1.01) (Last week: 6) … All season long, the Spartans have struggled with free throws. That was quite apparent in Saturday's 74-72 escape of a win at Indiana, as they went 7-of-14 at the line in the closing minutes and allowed an 11-point lead at the under-4 timeout to nearly completely disappear had it not been for a missed Hoosiers free throw with just two seconds remaining that could have tied the game. Regardless, the Spartans have now won six of their past eight games — with four of them coming on the road — as they have earned themselves a double bye in the Big Ten tournament and more time for Branden Dawson to recover from concussion symptoms sustained in last week's Purdue game.
4. Iowa (21-10, 12-6, PPP: 1.11, PPP Allowed: 1.03) (Last week: 5) … As they peak at the right time, the Hawkeyes have put their mid-season struggles aside and have now won six straight games heading into the Big Ten tournament. Their fifth straight win came against Indiana on Tuesday, as they dominated the second half against the Hoosiers in Assembly Hall en route to a 14-point win. They then handled Northwestern, a team that has been surging of late, in Iowa City on Saturday in a 69-52 win. They fell just short of earning a double bye in the Big Ten tournament, but they will not have to worry about their NCAA tournament fate this year like they did in 2014.
3. Purdue (20-11, 12-6, PPP: 1.04, PPP Allowed: 1.00) (Last week: 3) … From 14th place in the Big Ten standings last year to earning a double bye in this year's Big Ten tournament, the Boilermakers have produced an incredible turnaround led by Matt Painter. There is no underestimating their offseason additions of senior guard transfer Jon Octeus, who provided maturity and driving expertise, and 7-foot-2 freshman Isaac Haas, who allowed the Boilermakers to continue their system of play even when 7-foot A.J. Hammons goes to the bench — as both have played big roles in their rise to the top half of the league standings. Forget the early-season losses to Gardner-Webb and North Florida, because the Boilermakers have played their way into serious NCAA tournament consideration.
2. Maryland (26-5, 14-4, PPP: 1.02, PPP Allowed: .99) (Last week: 2) … Sunday's win at Nebraska was a coronation of sorts for the Terrapins as they set a school record 26 regular season wins. Except it was not really a coronation as they once again struggled to finish off an opponent. Nebraska came back from a six-point deficit at the under-four timeout to trim the Terps' lead to just one point, until Dez Wells hit a game-sealing jumper with less than 10 seconds to go to officially fend off the Cornhuskers. But it's not like that wasn't the norm for the Terps this season — after all, 12 of their 14 league wins this season came within a 10-point margin of victory.
1. Wisconsin (28-3, 16-2, PPP: 1.21, PPP Allowed: 1.00) (Last week: 1) … Far and away, the Badgers have been the best team in the Big Ten this season. And they put their emphatic stamp on the Big Ten regular season title with two wins in their final two regular season games this past week. Wisconsin's 16-2 league mark is the best from a Big Ten champion since Ohio State's 16-2 squad in the 2010-2011 season — and remember, those two losses came more than 700 miles away from Madison in Piscataway, N.J., and College Park, Md., respectively. With the Big Ten tournament nearby in Chicago and the Badgers not likely to travel far at least early on in the NCAA tournament, they appear primed to make another deep March Madness run after last year's Final Four appearance.
Filed to: Big Ten Power Rankings, Wisconsin Badgers