March Watch: Hoosiers squarely on the bubble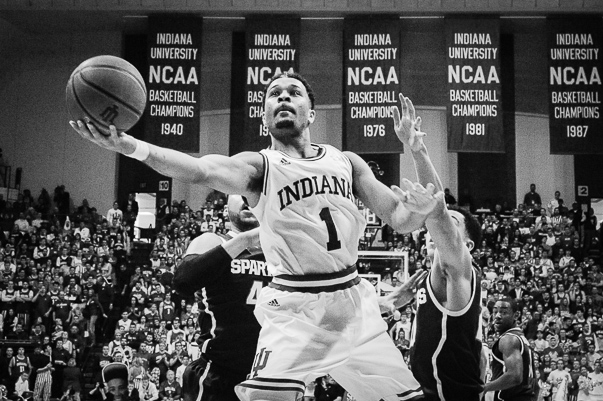 In last week's March Watch, we wrote it was a critical week for Indiana's NCAA tournament chances. Well, the Hoosiers lost to Iowa and Michigan State and now faces a must-win situation on Thursday versus Northwestern in the Big Ten tournament at the United Center in Chicago.
The Hoosiers are 19-12 overall and finished with a 9-9 record in Big Ten games, but have lost eight of their last 12 games. Their best win in that stretch came against Minnesota, a NIT team. And for the first time since March Watch debuted this season in early February, Indiana's postseason fate is clearly up in the air.
Overview
Indiana's tournament resume has some strengths, but is not without its weaknesses. On the plus side of things: The Hoosiers have wins over Butler, SMU, Ohio State and Maryland, four teams that are solidly in the field. IU has three wins over the RPI top 25, four over the RPI Top 50 and eight over the top 100. Working against Indiana is a recent loss to Northwestern and the fact that it picked up seven of its nine conference wins against the bottom half of the Big Ten. The Hoosiers clearly need a win Thursday against Northwestern to stay on the right side of the tournament bubble and may even need to beat Maryland on Friday to solidify a bid.
Nitty Gritty Profile
· Record: 19-12 (9-9 Big Ten)
· RPI: 58
· SOS: 31 (via CBS)
· Home Record: 15-4
· Away Record: 3-6
· Neutral Court Record: 1-2
· vs. RPI Top 50: 4-8 (via ESPN)
· vs. RPI Top 51-100: 4-3 (via ESPN)
Current Projections
· ESPN Bracketology (Joe Lunardi): 12 seed in West Region vs. BYU in Dayton (First Four game)
· CBS Sports (Jerry Palm): 11 seed in West Region vs. Ole Miss in Dayton (First Four game)
· Assembly Call (Andy Bottoms): 11 seed in South Region vs. Temple in Dayton (First Four game)
· Crashing the Dance: No. 39 overall seed
· Bracket Matrix: Third No. 12 seed
How far Indiana fell in projections in just one week is staggering. In the ESPN bracket, the Hoosiers fell two seed lines. In the CBS bracket and the Assembly Call bracket, it was a four seed line drop. The Crashing the Dance model dropped Indiana seven spots in the overall seeding in one week and Bracket Matrix dropped the Hoosiers from the top No. 7 seed a week ago to the third No. 12 seed.
A look at the conference as a whole
As for the Big Ten at-large, the latest ESPN bracketology still has the league as a seven-bid league with Indiana as one of the "last four in" and Purdue as one of the "last four byes." Illinois is currently listed among the "next four out." Here's a brief look at other profiles across the league:
· Wisconsin (28-3, RPI 4): The Badgers are the top two-seed in most projections and will probably need an early upset of Duke in the ACC tournament to get to the top line. Most concerning to the Badgers if they are to receive a two-seed is the prospect of getting tossed into Kentucky's bracket, which could easily happen if Wisconsin is sent to the regional closest to Madison (Cleveland).
· Maryland (26-5, RPI 9): Maryland has won seven in a row and continue to win close games better than anyone in the league. As a result, Mark Turgeon and the Terps are right on the cusp of a No. 2 seed.
· Michigan State (21-10, RPI 27): Two big wins for Michigan State last week – Purdue at home and Indiana in Bloomington – lifted the Spartans to a double-bye in the Big Ten tournament, which could be crucial as Branden Dawson works his way back from a head injury. The Spartans are a No. 7 seed in most projections.
· Iowa (21-10, RPI 40): Besides Maryland, Iowa might be the hottest team in the conference. The Hawkeyes are below Michigan State in the RPI, but have the third best resume in the league. Given that this team was just 15-10 a few weeks ago, it's been a nice reversal of fortune for Fran McCaffery and company.
· Ohio State (22-9, RPI 42): The Buckeyes are a lock to make the field, but the weak non-conference schedule likely has this team headed for an 8-9 game unless it can pull off a run in Chicago. However, with D'Angelo Russell playing as well as anyone, this is a team that no one will want to face in the tournament.
· Purdue (20-11, RPI 56): Purdue is in the best shape of the three Big Ten bubble teams with a double-bye to Friday in the Big Ten tournament, but the Boilermakers are likely to get Iowa and a loss there could make things interesting again. Still, it's hard to imagine Purdue, a team that won 20 regular season games and 12 league games, getting sent to the NIT.
· Illinois (19-12, RPI 61): Illinois is in a similar position to Indiana with a must-win scenario on Thursday in the Big Ten tournament. The Fighting Illini will take on Michigan and if they win, they'll get top-seeded Wisconsin. A win against Michigan won't do much more than help Illinois hold its current position, which means that a win over the Badgers is probably a necessity for Illinois to go dancing.
2015 Tournament Sites
· First round: Dayton
· Second, third round: Charlotte, Columbus, Louisville, Jacksonville, Omaha, Pittsburgh, Portland, Seattle
· Regional: Cleveland, Houston, Los Angeles, Syracuse
· Final Four: Indianapolis
Filed to: NCAA Tournament