The Minute After: Northwestern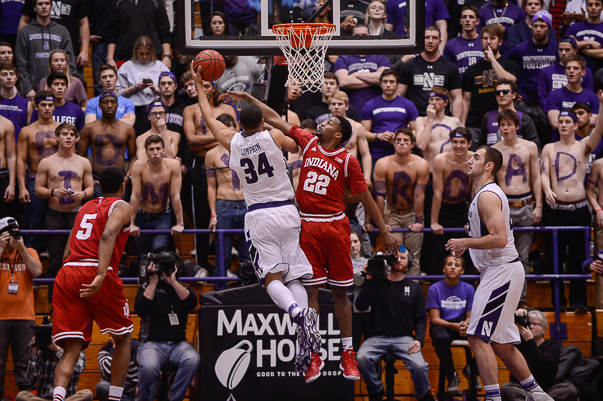 Thoughts on a 72-65 loss to the Wildcats:
EVANSTON, Ill. – The 3-pointers stopped falling. Indiana's energy started to sag. And when Vic Law and Yogi Ferrell got tied up at the 13:53 mark in the second half and exchanged some words after the fact with the Wildcats up three (49-46), Northwestern's contingent of Welsh-Ryan Arena started to roar.
The momentum began to swing the Wildcat Way, and Indiana fell into an awful offensive drought. After an even 40-40 first half where both teams blazed out of the gate at 1.41 points per possession each and played little defense, Troy Williams hit a lay-up at the 13:23 mark to pull the Hoosiers within one at 49-48.
But from there it was clank after clank after clank. Indiana failed to record a point for the next 10:06 of the game until Williams hit a jumper in the paint at the 3:17 mark. Indiana tried to rally from there, scoring 17 of its 25 second half points over that final 3:17. A press, one Tom Crean said in his post-game remarks in hindsight he could have started sooner, helped a little. But the 12-point hole it had dug itself was just too big.
"The same shots we were making with ease in the first half, we were missing in the second half," Tom Crean said in his post-game press conference. "The same looks."
All and all, okay: The shots weren't that bad of looks. But as each one missed, a Hoosier squad that's shown plenty of fight this season regardless of score or location, seemed to sink into the abyss. Indiana's first couple 3-pointers in the first half came off patience and ball movement. And they were able to find their way into the paint a bit to free things up as well. It gave the Hoosiers little trouble and they'd enter the locker room hitting 64.3 percent from distance (9-of-14). But it mattered little as far as gaining an advantage was concerned, because Indiana's defense allowed Northwestern to shoot an 60.3 eFG% and rebound 60 percent of its misses for 11 second-chance points.
Yet as the drought hit, the body language sunk and things just looked a little out of rhythm. The crowd and situation got to the Hoosiers unlike any other time this season. The energy just wasn't there. There wasn't an adjustment. They just keep shooting over the zone and it wasn't working. On a night it started 9-of-14 from distance, it ended 12-31, hitting just 3-of-17 in the second half. Indiana also could have kept things close by hitting more free throws, as it hit just 7-of-16 (43.8 percent) for the contest.
On the other side of the ball in the second half, Tre Demps made sure Northwestern would keep the lead as he went off, blowing by the Hoosiers on a couple occasions He finished with a game-high 23 points on 8-of-12 shooting.
Northwestern's win gave the Wildcats their first four-game Big Ten winning streak since 1967. Let's run that back: Northwestern has not won this many Big Ten games in a row since the Peace and Love Era. Indiana now has lost eight of its last 12 against the Wildcats.
This loss wasn't a good look for the Hoosiers. But they get a while to clean this one out of their system. Iowa doesn't come to town until Tuesday, and an opportunity to win out against the Hawkeyes and then Spartans the following Saturday is still in play to close out the Big Ten schedule.
Filed to: Northwestern Wildcats