What to Expect: Northwestern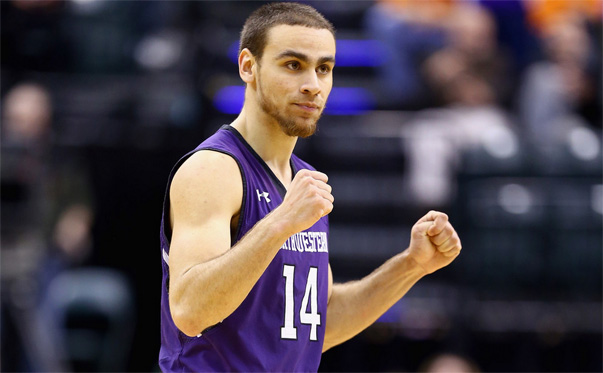 Indiana goes on the road for the final time this season on Wednesday night for a trip to Evanston to face Northwestern at Welsh-Ryan Arena. The Wildcats are 13-14 overall and 4-10 in the Big Ten, but have won three in a row.
The game will be broadcast on Big Ten Network at 7 p.m. ET with Eric Collins and Stephen Bardo on the call:
Indiana picked up its first win away from Assembly Hall in more than a month on Sunday at Rutgers with an 84-54 rout that was the worst home loss for the Scarlet Knights in 10 years.
Now it will look for a fourth Big Ten road win in a venue that's typically filled with a large contingency of Hoosier fans in Welsh-Ryan Arena. Indiana won in Evanston last season, but Northwestern has some momentum late in the season with three straight wins (at Minnesota, Iowa, Penn State).
A win would give Indiana its 20th on the season and make the Hoosiers a near certainty to make the NCAA tournament field next month. A loss, however, would mean there's still work to do to close out the regular season in Bloomington.
MEET THE WILDCATS (All stats are for conference games only)
It's not going to be an overnight fix, but second-year coach Chris Collins appears to have Northwestern headed in a positive direction. Collins has mixed some Bill Carmody era holdovers in Tre Demps and Alex Olah with a solid cast of young players, highlighted by guard Bryant McIntosh and wing Vic Law, and has the Wildcats playing well in late February despite just a 4-10 conference mark.
The backcourt rotation is led by Demps, a junior, and McIntosh, a freshman who is from Greensburg and was recruited some by Indiana throughout his prep career. Demps is the team's leading scorer in league play at 13.1 points per game on 39.7 shooting from behind the 3-point line. He's 15th in the conference in assist rate (23 percent), but his primary value comes as a shooter from deep and he's knocked down eight 3s over Northwestern's last three games. Per Shot Analytics, Demps is most comfortable from the left wing in league play: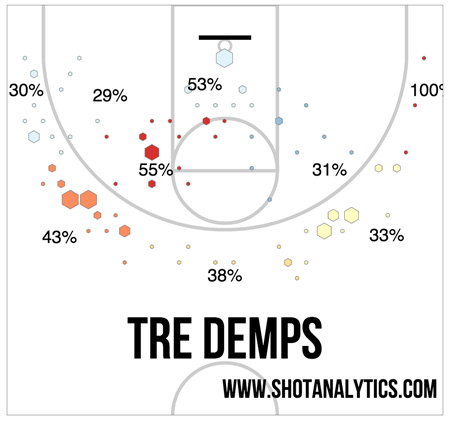 McIntosh, meanwhile, is a strong candidate for All-Big Ten freshman honors as he's done a very solid job of running the team as a freshman. The 6-foot-3 Indiana native, who started his prep career at New Castle and finished it at Greensburg, is averaging 12.8 points per game in Big Ten games. He's hitting 38.5 percent of his 3s and is fourth in the conference in assist rate at 28.8 percent. His shot chart in Big Ten play is most favorable from the center and left sides: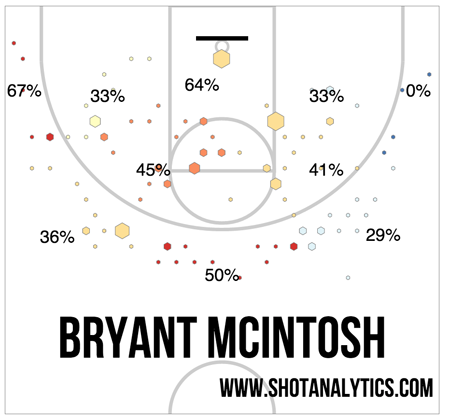 The rest of the perimeter/wing rotation includes Law, a 6-foot-7 freshman who was named the Big Ten freshman of the week on Monday as well as freshman Scottie Lindsey, senior Dave Sobolewski, sophomore Sanjay Lumpkin and sophomore Nathan Taphorn.
Law is the standout of the group and owns the 9th best defensive rebounding percentage in the conference and a solid 6.5 percent offensive rebounding percentage. His overall offensive numbers aren't great – he's shooting just 34.9 percent on 2s and 40 percent on 3s in league play – but is coming off a 22-point effort against Penn State at Welsh-Ryan.
Lindsey, a 6-foot-5 guard, is earning more minutes in the absence of JerShon Cobb, who has been out the last four games. He's scoring just 3.6 points per game in conference play, but is top 20 in the league in both steal and block percentage. Sobolewski is a non-threat offensively and essentially just a space filler for when McIntosh needs a break. Taphorn is a 3-point specialist who is hitting 50 percent of his 3s in Big Ten games while Lumpkin is a low usage offensive player who does a solid job finishing the attempts he does take (64.2 percent on 2s).
Olah, a junior who is 7-foot and 270 pounds, has steadily improved over his career and averages 10.8 points and 5.7 rebounds per game in conference play to anchor the frontcourt. Olah does a nice job of drawing fouls (33.9 free throw rate) and finishes when he gets to the line (83.3 percent). He's strangely taken 17 attempts from 3 in Big Ten play and has knocked down just one of those attempts from deep, but is making 51.3 percent of his 2s. The backups at the five are 6-foot-8 freshman Gavin Skelly and 6-foot-10 senior Jeremiah Kreisberg, a grad transfer from Yale, neither of which contributes significantly statistically.
A LOOK AT THE NUMBERS (Tempo-free stats via KenPom)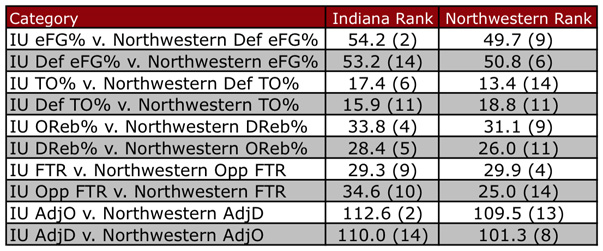 Pace figures to be a key factor in this one as Indiana is currently playing the second fastest tempo in Big Ten play at an average of 64.7 possessions per game and Northwestern is the 12th fastest team at 59 possessions per game on average.
But if these two teams do get up and down a little bit, the lack of defense could produce some entertainment and scoring. Indiana is last in the Big Ten in defensive efficiency and Northwestern isn't far behind, although the Wildcats did just hold Penn State to .68 points per possession over the weekend.
The Hoosiers, on paper, have an edge offensively with better shooting, free throw rate and offensive rebounding percentage numbers. Northwestern has been playing zone recently, but Collins may need to rethink that strategy as Indiana can load the perimeter with shooters and fill it up from distance.
The Olah matchup is obviously a concern for Indiana as the Hoosiers really don't have anyone who can guard him, but the big men who have really hurt IU have pounded the offensive glass, which isn't necessarily Northwestern's strong suit.
WHAT IT COMES DOWN TO
Pomeroy is basically viewing this game as a toss up as his numbers predict a one-point win for IU and a 56 percent chance of the Hoosiers picking up their 20th win. Vegas opened with IU as a 2.5-point favorite and Sagarin likes the Hoosiers by three.
The atmosphere for Indiana games at Northwestern isn't your typical hostile Big Ten road atmosphere as Hoosier fans typically fill in a good portion of Welsh-Ryan and if IU gets going, can become an audible majority.
The Wildcats are still a program in the process of building, but unlike teams like Nebraska and Rutgers, who are packing it in recently, Northwestern is playing some of its basketball late in the season which makes it essential for Indiana to play well in order to walk out with a victory.
(Photo credit: Andy Lyons/Getty Images North America)
Filed to: Northwestern Wildcats