Indiana to encounter streaking Northwestern on Wednesday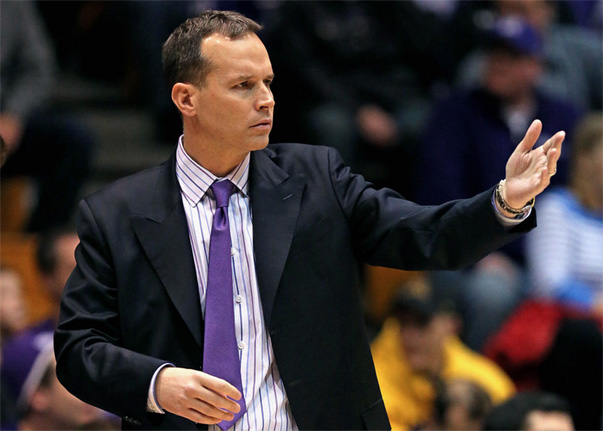 It took more than three years for Northwestern to earn a winning streak of at least three games against Big Ten opponents.
Tonight in Evanston, the Wildcats (13-14, 4-10) will be going for an even more impressive feat: their fourth straight Big Ten win. The last time they achieved that, their current coach Chris Collins wasn't even born. They last did it in 1967.
Their opponent, who will be trying to prevent a four-game winning streak, is Indiana.
Heading into tonight's game as the Hoosiers (19-9, 9-6) look to stop the Wildcats' streak, they also have their sights set on their fourth road win of the season — something they have done just twice in Crean's prior six years as Indiana's head coach.
"It would be pretty important," junior Yogi Ferrell said. "It would be our fourth road win game and our tenth win in the conference. So let's get this win, especially get No. 20. It would be great for our team, a great push for us heading into our last part of the season."
But there is no underestimating the Wildcats — at least not anymore.
After starting the Big Ten season with a win against Rutgers, Northwestern fell into a 10-game losing streak, with six of those losses by single digits. It would have been easy to overlook the Wildcats, especially after their 10th loss in a row — a 68-44 drubbing against Michigan State, in Evanston, just over two weeks ago.
Since then, it's been a different story for the Wildcats. As Indiana coach Tom Crean explained during his pregame press conference on Tuesday, he noted that Northwestern made changes following that loss. They fouled less in their zone. They continued to switch defenses with effectiveness. And the results started to come.
They upset Iowa in overtime. They followed it with a win at Minnesota. They then cemented those two wins with a 60-39 beatdown of Penn State, their largest margin of victory against a Big Ten opponent since it beat Indiana, 75-53, six years ago to the day — in Crean's first season with the Hoosiers.
"It was coming all year," Crean said. "I don't think there's any question. This league, it's hard to get any traction and they've certainly gotten some, but it's been coming because they've been so close in so many games. You go back to the Maryland game where they were up eighteen in that game on the road and lose really with a second to go. They've been in so many games that have come down to one or two possessions."
In this three-game winning streak, the Wildcats have simply continued to do what they have done best all season. They are the Big Ten's No. 2 3-point shooting offense. They have shot 31-of-70 from behind the arc in those three wins. They have consistently utilized 7-foot Alex Olah. In each of those three games, he has scored double digits and has had a usage rate of at least 20 percent.
Crean on Tuesday even compared the way the Wildcats use Olah to how Wisconsin uses its 7-footer Frank Kaminsky in that not only can the Wildcats rely on him for scoring, they can play through him as well: as evidenced by his seven assists in his past three games.
"They can put literally five shooters on the floor at times," Crean said. "Really no less than four. I think that's what gives them such an advantage right now, too."
Tonight's game represents significance for both programs.
The Wildcats can clinch their first four-game winning streak in league play in 48 years. The Hoosiers can clinch their third 20-win season in their past four for the first time since they had seven straight 20-win seasons from 1996 to 2003.
And while the Hoosiers might have a significant edge over the Wildcats in the Big Ten standings, they know how much of a challenge tonight's game will represent. As Ferrell said, "we're going to get their best shot."
"They're going to be an extremely tough challenge," Crean said. "They always were going to be. Northwestern is very hard to play. They're extremely hard to play in their building. And it's going to be that much harder because they're playing with all this confidence that they have right now."
Crean provides Collin Hartman update
Indiana forward Collin Hartman's playing status remains up in the air for tonight's game, Crean said, after sustaining a bone bruise in his lower left leg during the second half of Sunday's win at Rutgers. It was not a knee injury, as was initially suggested.
Hartman is just one of four Hoosiers to have seen minutes in every game this season despite tearing his ACL in his right leg last March. He also took over as a starter when Hanner Mosquera-Perea was sidelined with a knee injury.
"It certainly could have been a lot worse," Crean said. "And we are fortunate there. His status for tomorrow's game is uncertain."
(Photo credit: Jonathan Daniel/Getty Images North America)
Filed to: Northwestern Wildcats