What to Expect: Purdue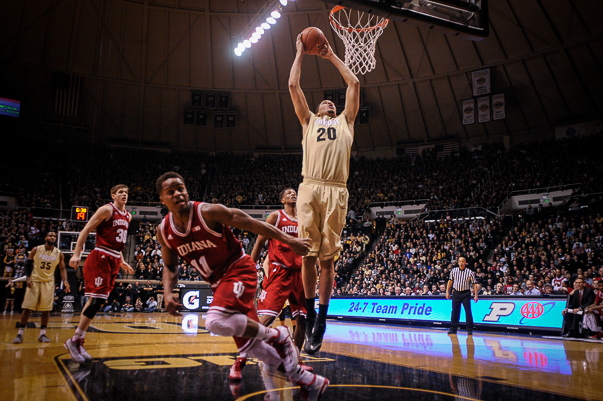 Indiana will look for its ninth conference win on Thursday night when it welcomes Purdue to Assembly Hall for the first time since 2013. The Boilermakers are 17-9 overall and 9-4 in Big Ten play.
The game will be broadcast on ESPN at 7 p.m. ET with Rece Davis, LaPhonso Ellis and Seth Greenburg on the call:
As we wrote in the preview for the first Indiana-Purdue game this season back in late January, the rivalry has failed to produce much drama in recent seasons. The Boilermakers have won the last two meetings between the two teams handily and prior to that, Indiana beat Purdue four straight times by double figures.
Still, it's a game that fans on both sides look forward to and Thursday night's tilt will be no different with both teams fighting for positioning in the Big Ten standings and NCAA tournament bids.
Purdue sits in a three-way tie for second place in the league standings, but still has plenty of work to do make the tournament due to a shaky non-conference record that included losses to Gardner-Webb and North Florida. And with road trips to Columbus and East Lansing still to go, Thursday's tilt at Assembly Hall looms large. Indiana is just a game behind the Boilermakers, Maryland and Michigan State and is playing to move up in the standings and potentially grab a double bye in the Big Ten tournament.
MEET THE BOILERMAKERS (Note: All stats are conference games only)
Purdue dominated the first game in West Lafayette for a couple of reasons. First, it shot 71.9 percent on its 2s and held Indiana to just 44.7 percent on its own 2-point attempts. Indiana took the ball right at A.J. Hammons and had eight shots blocked. The Boilermakers also limited Indiana to just 4-of-19 shooting from behind the 3-point arc and shot 15 more free throws than the Hoosiers.
With IU's defense overcompensating for Hammons and Isaac Haas, driving lanes were opened for guys like Raphael Davis (19 points) and Bryson Scott (11 points). When the final buzzer sounded, the result was a 83-67 beatdown that had the Mackey Arena faithful in a frenzy.
The same matchup problems remain for Indiana going into Thursday, but the Hoosiers will likely be better equipped to handle them with Hanner Mosquera-Perea available this time. Hammons is still playing the majority of the minutes at the five (nearly 60 percent) and is making 60.6 percent of his 2s in league play. He's also leading the league in block percentage and is in the top eight in both offensive and defensive rebounding percentage. Haas, meanwhile, is making just 51.2 percent of his 2s and only 48.9 percent of his free throws in Big Ten play, which makes him a good candidate to foul if he catches the ball too deep in the post.
Painter played a more extended rotation in the first game in West Lafayette with Scott playing 22 minutes, but the last two games, he's used just nine players and Scott didn't log a single minute in either game.
Junior Raphael Davis continues to draw fouls at a very nice clip in league play (4.7 per 40 minutes), but has really struggled from the perimeter (31.8 percent). Senior guard Jon Octeus also gets to the line frequently (4.9 fouls drawn per 40 minutes) and is a high energy player who can get to the basket and finish. Octeus is shooting the highest percentage on 2s among Purdue's perimeter players at 54.1 percent.
Freshman wing Vince Edwards is coming off Big Ten freshman of the week honors and is in the top 20 in the conference in both offensive rebounding percentage (7.5) and assist rate (24.7). Sophomore Kendall Stephens battled a finger injury earlier in the season and is streaky from the perimeter, but is coming off a 4-of-7 performance from deep against Nebraska. When Stephens gets going from 3, it's typically from the right wing or left corner, per Shot Analytics: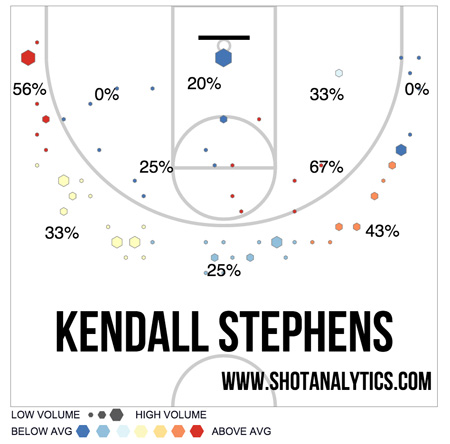 Assuming Painter sticks with the nine-man rotation, the others you can expect to see are freshman guard Dakota Mathias, who starts, but is hitting just 24.4 percent of his 3s in Big Ten play. Freshman guard P.J. Thompson is a low usage backup point guard and sophomore Basil Smotherman is a wing who can bring energy and get into the lane. There's always the possibility that Painter will again call Scott's number based on his success as a defender and slasher in last month's game, but that opportunity was partly due to foul trouble to Octeus, who played just 16 minutes.
A LOOK AT THE NUMBERS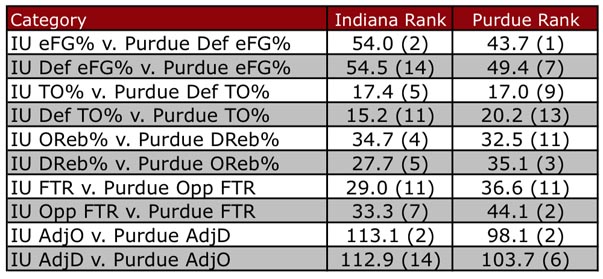 With six wins in its last seven games, there's no doubt that Purdue is playing well. It's defense has emerged as one of the best in the conference, particularly from inside the 3-point arc as Big Ten teams are making just 41 percent of their 2s against the Boilermakers.
Indiana hopes to remove that as being a major part of the equation as the Hoosiers are scoring 39 percent of their points in Big Ten play from behind the 3-point line, which leads the conference. The game in West Lafayette was a woeful shooting performance by Indiana from the perimeter and simply cannot be repeated if Thursday's outcome is to change.
While simply shooting the ball better is a major key for IU, Purdue is vulnerable on the defensive glass as Big Ten opponents are rebounding 32.5 percent of their misses. Purdue is also the second worst team in the conference at turning the ball over, which is something it did on 19.4 percent of its possessions in the first contest and IU was unable to take advantage of it.
With Mosquera-Perea and also Jordan Fuchs available in this game to go along with Emmitt Holt, the Hoosiers are still undersized in the paint, but should be better equipped to defend the post and not get constantly caught in over help situations that lead to easy buckets. Purdue is making 51.3 percent of its 2s in Big Ten play, which is a number that Indiana can probably live with, but giving up 71.9 percent on 2s again would be tough to overcome.
WHAT IT COMES DOWN TO
The Pomeroy projection likes Indiana by five and gives the Hoosiers a 68 percent chance at victory while Sagarin's model likes IU by just 3.5 points.
Indiana has been fantastic at home this season with a 15-1 record and a unblemished 6-0 mark in conference play at Assembly Hall. Purdue has three Big Ten road wins (Penn State, Northwestern and Rutgers) and sits at 5-6 overall in games played away from Mackey Arena.
At stake for Indiana is pride after being embarrassed last month in West Lafayette and for Purdue, it's a chance at a season sweep and another win to bolster the NCAA tournament resume. Assembly Hall, after some average atmospheres since the Maryland win, should be at its best this season and Indiana must establish its offense early after a disappointing start in the first meeting between the two teams. Ultimately, this one will come down to how well IU is able to contain the post defensively and whether the Hoosiers can find the open looks it needs to generate a lead and turn the crowd into a significant advantage.
Filed to: Purdue Boilermakers