What to Expect: Purdue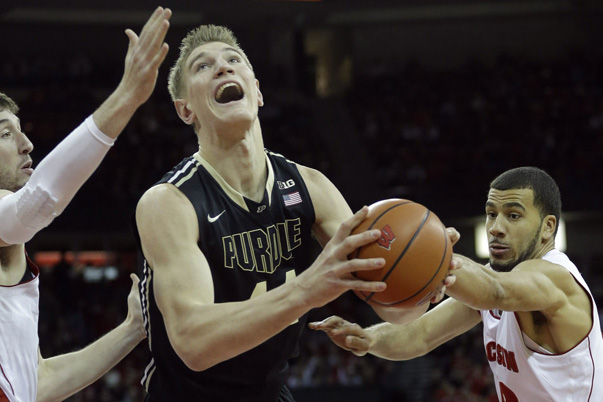 Indiana continues a two-game roadtrip on Wednesday night in West Lafayette at Mackey Arena for a rivalry matchup with Purdue. The Boilermakers are coming in at 12-8 overall, 4-3 in Big Ten play and are coming off a 67-63 win over Iowa on Saturday.
The game will be broadcast at 9 p.m. ET on BTN with Gus Johnson and Stephen Bardo on the call:
For the first time since Feb. 4, 2010, we may have an Indiana-Purdue game that has some drama. This is a rivalry that, in its past eight meetings, has been decided by an average of 19.4 points. Indiana has won four of those contests by an average of 23.2 points and Purdue has taken the other four by an average of 15.5 points.
These two teams couldn't be more different in terms of their personnel and the ways in which they attack, which could add intrigue to a series that has been lacking in recent years.
Purdue has two 7-footers in freshman Isaac Haas and junior A.J. Hammons. Indiana has one of the most dynamic perimeter units in the country, led by Yogi Ferrell, James Blackmon Jr. and Troy Williams. The Boilermakers score 58.6 percent of their points in league play on 2s. The Hoosiers get just 44.4 percent of their points on 2s. Purdue scores only 21.7 percent of its points against conference opponents from behind the 3-point line. Indiana gets 37.5 percent of its points from distance.
For Indiana, which has already won two road games in league play, this is a chance to steal another one away from Assembly Hall in what should be an electric environment. And for Purdue, which needs to start collecting quality wins to hold out any hope for an NCAA tournament berth, it's an important one to keep the dream alive.
MEET THE BOILERMAKERS
It should come as no surprise that Purdue is playing through the post. With a pair of 7-footers who are interchangeable, the Boilermakers present a difficult matchup for most teams in a college basketball landscape where productive size is at a premium. In Hammons and Haas, Matt Painter is getting 20.2 points, 10.5 rebounds and 3.5 blocks per game.
The 7-foot-2 Haas is the starter and is making 59.3 percent of his 2s in Big Ten play, but Hammons is actually getting more minutes:

The rest of Purdue's nine-man rotation is a mixed bag in terms of productivity, which may speak to why Painter has been unable to ride this size to a better mark than 12-8 overall through 20 games.
Junior Raphael Davis has been solid in league play in terms of drawing fouls (4.4 per 40 minutes) and he's also hit five of his 12 attempts from behind the 3-point line. Senior guard Jon Octeus, who was an even later addition to the roster for Purdue than Emmitt Holt was for Indiana, is an athletic guard who can defend and also get to the basket. Octeus is making a team-best 61.4 percent of his 2s in Big Ten play.
Sophomore wing Kendall Stephens is battling a finger injury and played just 15 scoreless minutes against Iowa. When healthy, Stephens is capable of going off from the perimeter, as evidenced by his 6-of-12 performance from deep earlier this month at Penn State. Freshman wing Vince Edwards has struggled offensively in Big Ten games as he's hit just 48.6 percent of his 2s and 21.1 percent of his 3s, but is the team's best distributor in league play with an assist rate of 23.2 percent.
The other three pieces who may see time include freshman guard P.J. Thompson, who has taken just 11 shots in seven Big Ten games, freshman Dakota Mathias, a 3-point specialist who is making just 31 percent from deep on the season and sophomore Basil Smotherman, who is coming off a 13-point game against Iowa and may see big minutes if Stephens is again ineffective.
A LOOK AT THE NUMBERS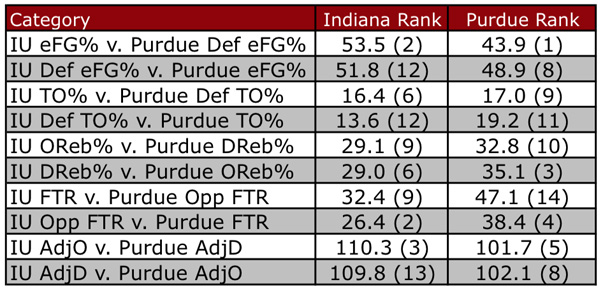 As mentioned in the intro, these two teams couldn't be more different. Purdue's strengths all lie inside as the Boilermakers are very good on the offensive boards and are very good at defending in the paint. Big Ten opponents are making just 40.1 percent of their 2s against Purdue's huge front line.
Indiana, meanwhile, is up to first in conference play in 3-point shooting and when shots are falling from the perimeter, this team has proven it can beat a top 15 team.
There are a few key areas where something is going to give, which will likely decide the outcome. First, Indiana is allowing league opponents to make 53.1 percent of its 2s. The Hoosiers have to figure out a way to provide some resistance inside or Purdue has the opportunity to have an absolute field day inside.
Second, Purdue is susceptible on both the defensive glass and in sending teams to the lines, which are two areas in which Indiana must be somewhat productive. Even if offensive boards for IU don't lead to much inside, stealing extra possessions that could lead to perimeter looks holds major value.
And finally, there's the turnover battle, where Indiana (16.4 TO%) has been better than Purdue (19.2 TO%) through seven league games. The Hoosiers are coming off their second worst performance of the season in that regard – 24.1 percent on Sunday in Columbus – so a return to average or somewhere close to it could prove pivotal.
WHAT IT COMES DOWN TO
For the fifth time, Indiana is an underdog on the road in Big Ten play and the Hoosiers are 2-2 through their first four with wins at Nebraska and Illinois and losses at Michigan State and Ohio State.
Vegas opened with the Boilermakers favored by three, which seems appropriate when you consider Purdue just beat Iowa at home and Indiana just lost by 12 at Ohio State. KenPom likes Purdue by one with just a 46 percent chance of an IU win and the Sagarin predictor likes Purdue by one as well.
From a pure matchup perspective, this game should be fascinating to watch from a size versus shooting perspective. Both teams are going to have to adjust to each other, but Purdue will have to dominate inside to win while Indiana will have to hit 3s to prevail. When you toss in the rivalry aspect and the energy that should be present in Mackey Arena, this one could be a joy to watch, which is what college basketball and this rivalry, which has been lacking recently, should be about.
(Photo: Mike McGinnis/Getty Images North America)
Filed to: Purdue Boilermakers