Notebook: IU scorches Minnesota defense in 90-71 win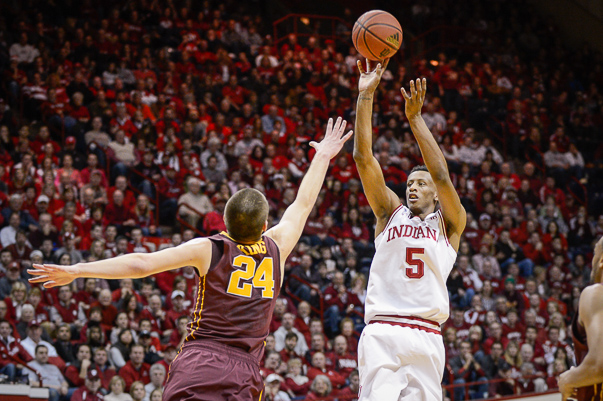 In many of Indiana's games this season, the Hoosiers have had concerns on how they will match up against bigger opponents — especially those active on defense, as well. They struggled against the likes of Purdue and Wisconsin.
Coming into Sunday's game against Minnesota, one of the top defenses in the country in forcing turnovers and a team that has the 13th-best effective height in the nation, there was additional cause for concern.
But on the other side of things, the smaller Hoosiers have posed several match-up threats for their opponents. That was epitomized in Indiana's 90-71 win over the Golden Gophers on Sunday.
"They're so tough to guard," Minnesota coach Richard Pitino said. "They put you in so many binds with the way that they play because they play small. And we don't have a whole lot of depth to go blow-for-blow with them when they're playing small.
"They just kicked our butt. Flat-out kicked our butt."
For much of this season, the Golden Gophers have prided themselves on their size and their defense. They press, they play tough half-court defense with their length and force turnovers. A lot of them. They came into Sunday's game ranked No. 3 in the nation in forced turnover percentage at a 26.0 percent rate.
On Saturday, Indiana coach Tom Crean said the key to the game would be recognition — knowing when and how to attack the Golden Gophers based on the defenses they were showing, whether it be zone or man-to-man off misses. And to start the game, the Hoosiers struggled with that.
In fact, Indiana, whose tallest starter was 6-foot-7, had three turnovers in its first four possessions as Minnesota jumped out to a 7-2 lead early on. But from there, the Hoosiers locked in.
"The whole key, like I said, was going to be recognition and understanding when we had a quick shot, understanding when we could reverse it," Crean said. "First couple possessions we were a little slow against their zone, then we started to get it figured out. Our guys did a tremendous job."
By the end of Sunday's game, Indiana finished with 18 turnovers and a season-high 27.4 percent turnover rate. But it wasn't due to any lack of ability to attack Minnesota's defense.
They moved the ball effectively against the Golden Gophers' zone. They got second-chance efforts. They found open looks — many, actually. Indiana finished with a 32-of-54 mark from the field, its 75.9 percent effective field goal rate its highest in a Big Ten game in more than 12 years.
But even more impressive were the Hoosiers' 18 3-pointers. Not only was it a school record, it also was a Big Ten single-game record. And they came from six different players — including two 3s from Troy Williams.
"When they bring the pressure up like that, the biggest way to attack it is to reciprocate the same pressure and put the pressure on the defense," freshman Robert Johnson said. "That's something we tried to go out there and do. We had a few turnovers this game, but I think we'll be okay."
Just how impressive was the Hoosiers' offensive performance?
Indiana's 1.37 points per possession — in spite of those turnovers — was the most Minnesota allowed in a game since a 90-61 loss to Ohio State on March 14, 2010 — nearly five years ago.
The Golden Gophers couldn't match the Hoosiers' small lineups and shooting ability. They simply don't have the guard depth to do so, Pitino said. And when they tried to play zone and force the matter inside, the Hoosiers simply would find the open shot.
All season long, Indiana has been concerned about how it can stop opponents. But on Sunday night, it was the Hoosiers that could not be stopped.
"Again, it's spacing," Crean said. "It's spacing. It's ball movement. It's getting the ball advanced up the court. I'm really proud of the recognition. A couple times we might have shot it too quick or tried to make a drive that wasn't there. But I'm really, really proud of the way they moved the ball."
Brian Jones gets VIP experience, inspires Crean
A few weeks ago, Crean met lifelong Indiana fan and Bloomington native Brian Jones II. At the time, he was in hospice care suffering from a severe case of ALS.
On Sunday, Jones and his family were handed media passes and had the chance to attend the Hoosiers' win over Minnesota. They also had the chance to sit in on Indiana's postgame press conference. And Crean wanted to make it special.
Instead of sitting and speaking at a raised table as he usually does, Crean stood next to Jones — his right hand around his wheelchair as he answered questions from the media.
"I was as inspired walking out of there seeing him as maybe he would have been happy to see me," Crean said. "Probably 10 times more I was inspired walking out of there. This is something I've had planned. He didn't know it. But when he would be able to get here, we're going to do this press conference together."
According to a web page run by a close family friend, Jones' battle against ALS started last April, when during a stint on an exercise bike at the YMCA his legs "stopped working properly." It wouldn't be until October that he was diagnosed with Lou Gehrig's Disease.
Jones' condition has quickly deteriorated — but nonetheless he has inspired Crean.
"It's a rare, rare person that can make you feel better about you when you're there trying to make them feel better about them," Crean said. "That's what this guy's got. That's why we're doing this."
As Crean continued during his press conference to compliment Jones, who was wearing a grey Indiana sweatshirt and candy-striped pants, his sister stopped to tell Crean that Jones wanted a hug. That he wanted to say, "Thank you."
And as the press conference concluded, Crean had a personal message for Jones — who made his way from hospice care to Assembly Hall on Sunday as he continues to fight ALS.
"I'm really excited that you came here tonight," Crean said. "I'm excited that you got to see us tonight. I pray for you every day. I hope you just continue to get better.
"I appreciate you guys putting him up here where people can see. This is a model of perseverance right here."
Filed to: Minnesota Golden Gophers