Hoosiers look forward to return to the "DMV"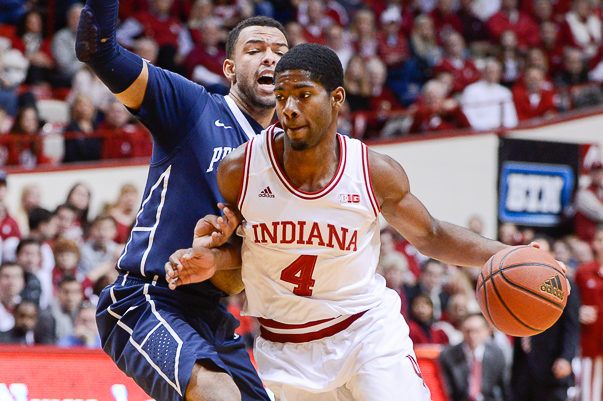 In recent years, the Indiana men's basketball program has built a connection with the Washington, D.C., Maryland and Virginia area.
The current pipeline between the "DMV" and Bloomington formed back in May 2008, when Oxon Hill, Md., native Maurice Creek committed to the Hoosiers. It solidified just over a year later in September 2009 with the commitment of Hyattsville, Md., native Victor Oladipo. Those two had a chance to play near home in the 2013 NCAA tournament Sweet Sixteen at the Verizon Center in Washington, D.C.
The pipeline still remains strong. Current Hoosiers Robert Johnson and Troy Williams are from Virginia, and Stanford Robinson is from Maryland. And tonight presents their first opportunity to play close to home, as the Hoosiers (17-7, 7-4) take on No. 19 Maryland (19-5, 7-4) in College Park at 9 p.m.
"It's always good when you're away from home and you get to play in front of your friends and family," Johnson said on Tuesday. "I'm definitely excited to see them."
Indiana's connection to the Washington area stems far beyond the basketball court.
As of fall 2014, more than 12,000 Indiana University alumni resided in the area — making it the third-largest IU alumni base in the country. Another 12 current IU student-athletes are from either Maryland, Virginia or Washington, D.C. Indiana coach Tom Crean said on Tuesday that "we love that area."
Outside of player personnel, Crean also made a coaching hire from the area, when in 2012 he added former Team Takeover (D.C.) AAU coach and Towson assistant Kenny Johnson to his staff. Johnson was an assistant coach for the Hoosiers for two seasons and led the recruitment of Robinson, Robert Johnson and Williams to Bloomington.
"It's a great place for us," Crean said.
Tonight's return and Xfinity Center debut marks one of excitement for the Hoosiers — Johnson said that depending on ticket availability from his teammates, he expects to have 16 or 17 friends and family members in the Xfinity Center.
The game itself, however, will be a challenge.
The Terrapins are 14-1 at home this season — their only loss in College Park coming to Virginia in early December. Their struggles have come mainly on the road, including their 89-70 loss to the Hoosiers on Jan. 22 and most recently a 71-55 loss at Iowa on Sunday, but at home the Terps have an average +13.2 scoring margin, including wins over Michigan State and Minnesota.
And once again, Maryland will pose the same matchup issues they did just two weeks earlier — from guard Dez Wells and his driving ability to Jake Layman and his post-up and perimeter play as a big man.
Crean expects "there will be a bounce" in the steps of those Hoosiers returning home tonight. But whether that results in a spark that sets off another 89-point performance is left to be decided.
"Will we shoot it again like we did here a couple weeks ago? That remains to be seen," Crean said. "We have to move the ball to have a chance to beat this team the way that we played a couple of weeks ago."
Filed to: Robert Johnson, Stanford Robinson, Troy Williams