Five takeaways from Indiana's win over Michigan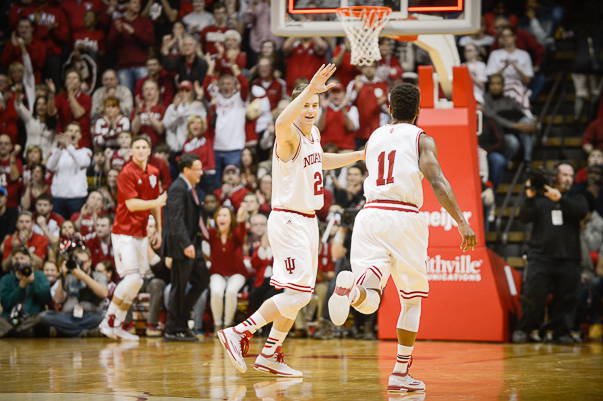 Indiana bounced back from a loss at Wisconsin with a narrow 70-67 win over Michigan on Sunday afternoon at Assembly Hall. The win moved the Hoosiers to 17-7 overall and 7-4 in the Big Ten.
Here's a look at five takeaways from the win over the Wolverines:
· Indiana continues to find ways to win close games: A season ago, Indiana struggled to close out games for a variety of reasons. Turnovers was chief among them as was a lack of capable shot makers to turn to. The script has been flipped through eleven league games as Indiana now has seven conference wins and six of them have been decided by six points or less.
Sunday was another example of Indiana not playing its best game, but still figuring out a way to claim a win. The Hoosiers built an 11-point lead against the Wolverines with 14 minutes to play, but Michigan never folded and ultimately had a chance to tie the game at the buzzer. Still, Indiana never let go of control of the game, which is a sign of growth over last season.
"I'd say the difference has been mindset, our mental mindset going into a close game like that is just to get a stop and whatever is necessary to get it, we're going to get it," Yogi Ferrell explained. "We go out there, we fight for each other and we fight for the team and we come out with the outcome we want."
· Another afternoon of (mostly) good Troy: We've written several times about the production of Troy Williams in IU wins versus losses. It was a tough first half for Williams on Sunday as he logged 15 minutes, but had four turnovers and just six points and three rebounds.
The second half was a different story as Williams exploded for 14 points, five rebounds, an assist and a steal in 16 minutes. More importantly, he didn't turn it over at all after the break. All of his points in the second half came either at the basket (three dunks, one layup) or at the foul line (six of six).
"Just stayed in, kept moving, got back cuts, dunks, got fouled a couple of times," Williams said of his second half performance. "I got more comfortable out there, got the steal for the 3-pointer (for Robert Johnson). I guess after that I just got more comfortable."
· Ferrell continues All-Big Ten worthy season: Another game, another stellar performance for Yogi Ferrell. He again played major minutes – 38 in total – and did a little bit of everything for Indiana. The junior point guard started out hot offensively with 4-of-5 shooting and 11 points in the first half, but struggled a bit shooting after intermission.
That didn't stop him from impacting the game as Ferrell dished out four of his six assists in the second half. His final assist of the afternoon was a lob for Williams with 30 seconds to go that extended Indiana's lead to 69-64.
"Yogi is such a good player," Michigan coach John Beilein said. "I've been in this league eight years now and there's few point guards that I could say are playing as well as he is."
· Indiana again struggles to defend in the post: The Hoosiers got welcome news on Sunday as Hanner Mosquera-Perea returned to play four minutes, but it's going to take time for the junior forward to get back into game shape and become a bigger part of the rotation.
With Collin Hartman playing the five, Tom Crean had to deploy a variety of defensive looks to try and slow down Michigan's frontcourt players, Ricky Doyle and Mark Donnal, but the duo combined for 7-of-8 shooting in the paint.
"We weren't doing a good job with their five man," Crean said. "The number one thing those guys do is rebound the basketball and today, they did more than that."
The addition of Mosquera-Perea will give Crean another alternative to defend in the post as the stop gap solution in recent weeks has been Ferrell or Stanford Robinson.
· Blackmon's (successful) return: Freshman guard James Blackmon Jr. could only sit and watch last Tuesday as his teammates trailed by as many as 32 points and ultimately fell by 14 to Wisconsin in Madison.
Blackmon Jr. returned to the lineup on Sunday and started strong with 12 points and six rebounds in the first half. He went on to finish the afternoon with 13 points, eight rebounds and two assists in 30 minutes.
"I was excited to get back out there," he said. "It was so hard to sit out, especially since Wisconsin, since they're the top team (in the conference). Coming in I worked hard on the defensive things, the things I had to know to get back into it and that helped me get going."
Filed to: James Blackmon Jr., Michigan Wolverines, Troy Williams, Yogi Ferrell