What to Expect: Michigan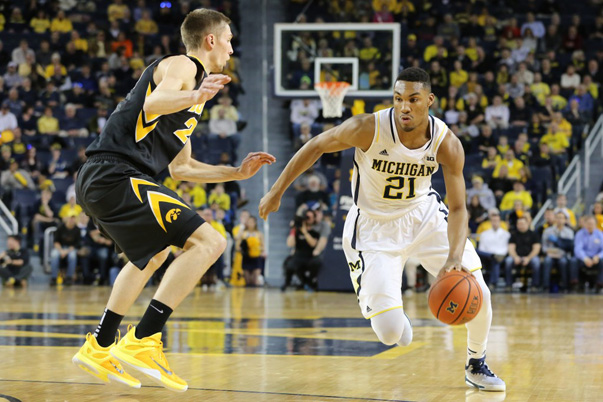 Indiana returns to Assembly Hall on Sunday for a matinee matchup with Michigan. The Wolverines are 13-10 overall and 6-5 in conference play following a 72-54 loss to Iowa on Thursday night.
The game will be broadcast on CBS at 1 p.m. with Kevin Harlan and Clark Kellogg on the call:
No team in the Big Ten has been decimated by injuries this season like the Michigan Wolverines. After a run to the national championship game in 2013 and a trip to the Elite Eight in 2014, some regression was bound to happen in Ann Arbor. That's to be expected when, over the course of two years, you lose five players via early entry to the NBA.
But no one could have predicted the injuries that have completely derailed this Michigan club.
Junior Caris LeVert, a preseason first team All-Big Ten selection, is out for the season. Sophomore point guard Derrick Walton has battled a foot injury for most of the season, has missed three straight games and is unlikely to play anytime soon. Junior Spike Albrecht has a hip injury that he has decided to play through. Freshman D.J. Wilson has a knee injury that will force him to take a medical redshirt. Other Wolverines have missed time with various illnesses.
Michigan's NCAA tournament hopes, which were hanging by a thread thanks to a 6-4 start in league play, were possibly put to rest on Thursday as the Wolverines suffered their worst home loss in five seasons. The next stop for Michigan? Assembly Hall, a building that hasn't been kind in recent years as IU has won the last five series meetings in Bloomington.
MEET THE WOLVERINES
Without LeVert and Walton to anchor his backcourt, John Beilein has forced to go deep into his bench for some unexpected lineups. The Wolverines started the season with a lineup of Walton, LeVert, Zak Irvin, Kameron Chatman and Mark Donnal and only Irvin remains in the lineup Michigan has used the past three games.
The current lineup consists of Irvin, 2013 Final Four hero Albrecht and three freshmen – Ricky Doyle, Muhammad-Ali Abdur-Rahkman and Aubrey Dawkins.
Irvin (pictured), the Indiana Mr. Basketball in 2013 at Hamilton Southeastern, is averaging 11 points in Big Ten games, but is making just 36.2 percent of his 2s and 31.7 percent of his 3s. In Beilein's system, Irvin and Dawkins share the 3 and 4 spots with Abdur-Rahkman and Albrecht as the guards.
The 6-foot-6 Dawkins, the son of Stanford coach Johnny Dawkins, is hitting a team-best 51.7 percent of his 3s in Big Ten play and is coming off a 16-point performance against Iowa. An under recruited spring signee, Dawkins is a promising freshman who should only improve with experience.
Abdur-Rakhman, another late signee, is a solid slasher who is making 60.6 percent of his 2s in league play and is averaging 14.5 points over his last two. He's paired in the backcourt with Albrecht, who is a solid distributor (24.4 percent assist rate), but has struggled from deep in Big Ten play (30.8 percent on 3s).
Walk-on Andrew Dakich will likely see minutes in the backup point guard role.
The frontcourt picture is currently headlined by Doyle, who is a 6-foot-9 freshman and senior Max Bielfeldt, a 6-foot-7 post player who also likes to step out. Doyle has really struggled in conference play as he's averaged just 2.2 rebounds and 4.9 points in about 18 minutes per game. Bielfeldt is making close to 55 percent of his 2s in Big Ten play and can step out for the occasional 3-pointer as well. He's the team's second leading rebounder in conference games at 4.2 per contest.
Freshman Chatman, a Jordan Brand All-Star and the highest rated member of Michigan's 2014 recruiting class, has been a disappointment. The 6-foot-7 forward fell out of the lineup after two conference games and has an effective field goal percentage of just 34.9 for the season.
A LOOK AT THE NUMBERS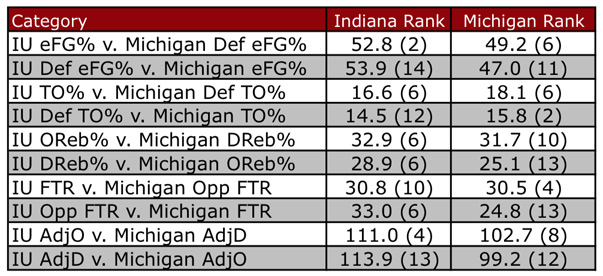 This Michigan team is significantly worse offensively than the group that torched Big Ten opponents for 1.24 points per trip a season ago on its way to a 15-3 league record and comfortable outright Big Ten regular season crown. These Wolverines are ahead of only Rutgers and Nebraska in terms of offensive efficiency in league play and are making just 34.2 percent of their 3s and 44.2 percent of their 2s in conference games.
That said, Indiana's defense has held only two of its 10 conference foes under one point per possession thus far, so Michigan may have some opportunities to find its offense.
Indiana, on paper, looks to have advantages on both the glass and in terms of getting to the foul line and while Michigan rarely turns it over (15.8 TO%), the Hoosiers aren't far behind with a turnover percentage of 16.6.
In four Big Ten home games, Indiana is scoring 1.18 points per possession and Michigan just gave up 1.4 points per trip at home to Iowa.
WHAT IT COMES DOWN TO
The Pomeroy ratings favor Indiana by eight, with a 73 percent chance of a win and Sagarin's model likes the Hoosiers by 7.5. Of IU's eight remaining contests, this is the highest probability for a win, according to Pomeroy.
Given that it's a nationally televised game on a weekend, the Assembly Hall crowd should be lively as Indiana looks for a seventh league win, which would match last season's total, against an opponent that is depleted due to injuries and also on two fewer days of rest.
The Hoosiers also have injury issues, but Tom Crean sounded optimistic after Tuesday's game that James Blackmon Jr. would have a chance to go by Sunday and with the return of Hanner Mosquera-Perea expected in the next 10 days, Indiana is hopeful that it'll be able to meet the final portion of the schedule with a full complement of players available.
At 6-4 in Big Ten play, Indiana has exceeded expectations so far, but the Hoosiers must continue to take care of business at home to solidify their NCAA tournament hopes. A win Sunday over the Wolverines, who took Michigan State to overtime in East Lansing on Feb. 1, is the first step in the process.
(Photo: Dustin Johnson, UMHoops)
Filed to: Michigan Wolverines