The Minute After: Rutgers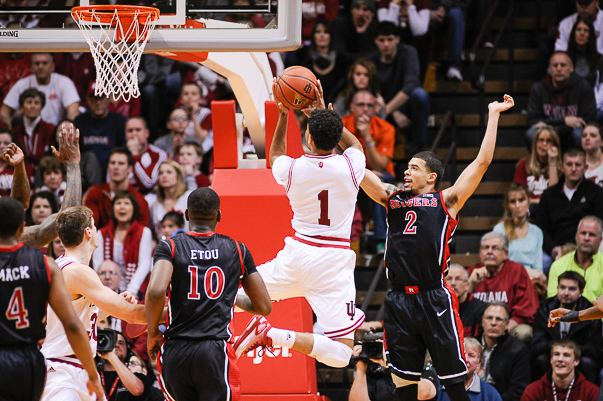 Thoughts on a 72-64 win over Rutgers:
Sometimes it doesn't come as easy as it should. You get stuck. You can't break free.
So it went for the Hoosiers on Saturday inside Assembly Hall. Indiana couldn't buy a bucket to start the contest. Even close-range good looks weren't finding their way through the hoop. The Hoosiers opened the game 3-of-14 from the field. They ended the first half just 3-of-11 from distance. Were it not for the turnover-prone Scarlet Knights coughing the ball up – which Indiana turned into six points off turnovers to add to its 16 fast break points – the Hoosiers could have been down at the break instead of having a two-point lead (32-30).
The start of the second half didn't fare a lot better for IU. Myles Mack hit back-to-back-to-back 3s at its onset. He was fouled and hit all three free throws a few minutes later. Mack hit yet another triple at the 11:33 mark. He gave the Hoosiers a taste of their own medicine, and the Big Ten's worst offense had a seven-point lead (52-45) on the road midway through the second half. Indiana was struggling to string together consecutive stops on the defensive end or scores on the offensive end. But it did just enough over the final 11:33 to survive against Rutgers and emerge victorious.
Start here: To close that seven-point gap, the Hoosiers strung together four consecutive stops on the defensive end and tied it up at 52 off a James Blackmon Jr. 3-pointer. They went 4-of-5 from distance. Beyond that make from Blackmon Jr., Robert Johnson hit one to start Indiana's surge. Nick Zeisloft also hit two key ones late. The Hoosiers also made 11-of-12 from the line over that final 11:33. When Rutgers had to foul in the final minute to try and get back into the contest, Indiana had three different players (Yogi Ferrell, Johnson and Zeisloft) go 6-of-6 from the line to not afford the Scarlet Knights a window of opportunity.
Blackmon Jr. started slow, but ended the contest with a team-high 20 points. The freshman hit just 2-of-6 from distance but had a number of nice buckets at the hole off some hesitation dribble work — including a few over that final stretch. Fresh off what Tom Crean deemed good defensive work on A.J. Hammons in the first half earlier in the week, Stanford Robinson got the start this afternoon in place of Troy Williams. In 16 minutes, Robinson had no turnovers, two assists, five boards and four points. He didn't really take any of the reckless shots he's made a habit of this season. Robinson certainly isn't the shooter his teammates are, but for a team that lacks a lot on defense, Robinson can give some needed help there if he can keep it together on the offensive end.
It'll be interesting to see where his role goes during the back half of this Big Ten season.
Indiana's final scoring surge helped them outshoot the Scarlet Knights (54.7 vs. 50.9 eFG%). Indiana also grabbed 44.8 percent of its misses today but failed to convert on a number of second chance opportunities — both teams had seven second chance points — for it to have a big impact in the outcome. Rutgers entered the contest scoring .89 points per possession in conference play. The Scarlet Knights put up 1.04 today, its third best number in Big Ten play.
Not every win will be pretty. Not every one will have the look and feel over Indiana's romp over Maryland last Thursday. But a W is a W. And it's a good sign the Hoosiers can emerge victorious even when they don't perform at their best.
Filed to: Rutgers Scarlet Knights