Five takeaways from Indiana's loss to Ohio State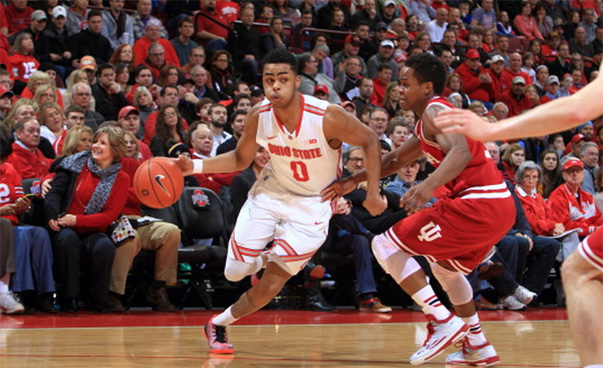 COLUMBUS, Ohio – Indiana jumped out to a 14-6 lead, but never got going defensively on Sunday afternoon in an 82-70 loss to Ohio State at Value City Arena. The loss dropped the Hoosiers to 5-2 in the Big Ten and 15-5 overall.
Here's a look at five takeaways from the loss to the Buckeyes:
· This was easily IU's worst defensive performance of the season: The numbers are not pretty: 1.32 points per possession allowed and a 2-point field goal percentage defense of 74. It was an afternoon that these Hoosiers need to quickly forget as Ohio State got what it wanted when it wanted with no resistance.
The performance dropped Indiana to 13th in the Big Ten in defensive efficiency as the Hoosiers are allowing league opponents to score 1.10 points per possession. That, of course, has been negated in several games because of IU's elite offense (1.10 PPP) in league play, but as John Gasaway pointed out last night on Twitter, these Hoosiers have allowed opponents to make 61 percent of their 2s.
Improvement must begin with doing a better job of containing dribble penetration as Ohio State shot layup after layup on Sunday and won comfortably as a result.
· Turnovers killed IU's first half momentum: Indiana started out hitting everything and with excellent ball movement, but as Ohio State tightened up the defensive pressure, careless mistakes quickly began to pile up. The Buckeyes haven't been great defensively this year, but they do force more turnovers than any other Big Ten team and on Sunday, they turned IU's mistakes into easy points on the other end.
IU turned it over on 31.1 percent of its first half possessions and finished with a turnover percentage of 24.1, its second highest mark of the season behind the Louisville loss in early December.
"We reverted back to our mistakes," Tom Crean said. "Troy (Williams) tried to make plays that weren't there. Stan (Robinson) tried to make plays that weren't there. James (Blackmon Jr.) and Rob (Johnson) didn't cut and move without the ball the way that they need to."
· Yogi stays hot from distance: If there was a positive to take from the loss, it's that Yogi Ferrell appears to be finding his stroke from the perimeter. After knocking down 7-of-8 from behind the 3-point line against Maryland, Ferrell hit 6-of-11 from distance in Columbus. His 3-point percentage is now 39.1 in Big Ten games.
The one concern about Ferrell's increased shot attempts in Sunday's game is whether it came because IU's movement and cutting off the ball wasn't where it needed to be.
"We weren't as good of a movement offense," Crean said. "We still had our spacing, but we didn't move the defense the way we needed to so we never really made them have to do two or three things at once."
· A tough afternoon for Troy Williams: After averaging more than 15 points in IU's four-game winning streak, sophomore Troy Williams struggled against the Buckeyes. He made all four of his field goal attempts, but had five turnovers and just two rebounds in 27 minutes.
There's no doubt that Williams has been one of the Big Ten's best thus far in league play and there may be no player more important to IU's success when you examine his numbers in IU's five league wins versus its two losses:

· D'Angelo Russell wasn't going to be stopped: Indiana's defense deserves scrutiny for its performance, but Ohio State freshman guard D'Angelo Russell also deserves credit for a brilliant performance.
After struggling in the Jan. 10 game in Bloomington, Russell finished with 22 points, 10 assists and six rebounds in 32 minutes despite battling cramps for a good part of the second half.
"He's such a prolific scorer, he's always going to get his shots," Ferrell said. "When he gets open shots like he did today against us, he's going to knock them down. He did a great job of distributing the ball, we helped too much off of him and they've got great shooters who knocked them down."
(Photo: Ohio State Athletics)
Filed to: Ohio State Buckeyes, Troy Williams, Yogi Ferrell