Five takeaways from Indiana's win over Maryland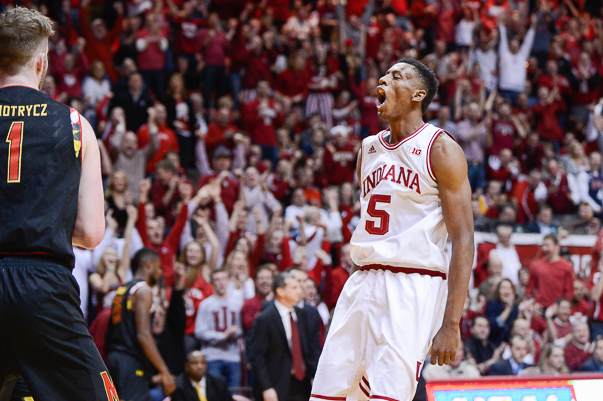 Indiana moved to 15-4 overall and 5-1 in the Big Ten with an 89-70 rout of No. 13 Maryland on Thursday night at Assembly Hall.
Here's a look at five takeaways from the win over the Terrapins:
· This was easily Indiana's best offensive performance of the season: The numbers speak for themselves: 1.39 points per possession against a team that came in giving up .90 points per possession in Big Ten play. 15-of-22 from behind the 3-point line. An effective field goal percentage of 75. And a turnover percentage of just 15.6 percent, a number that was a rarity a season ago.
Add it all up and the onslaught was just too much for even a red-hot Maryland team, which came into Assembly Hall with a three-game winning streak and a 17-2 record overall.
"Indiana was terrific all night from the start to the end," Terrapins coach Mark Turgeon said. "Made some incredible shots. Yogi Ferrell made a lot of tough shots. (James) Blackmon was great. The whole team was great and they were hard to guard."
· Ferrell rises to the challenge: Maryland freshman guard Melo Trimble came into Thursday night as one of the best stories in college basketball and a major reason the Terrapins have been able to rise into the top 15 nationally in both polls. Sports Illustrated picked him as the best freshman in the country earlier this week.
Yogi Ferrell, meanwhile, has been a bit of an afterthought nationally on an Indiana team that just recently broke into the polls. Ferrell, whether he would admit it or not, surely had the individual battle with Trimble in the back of his mind and he responded accordingly with a dominant performance.
It wasn't that Trimble played a bad game – he finished with 10 points in 32 minutes – but he had no answer defensively for Ferrell. IU's junior guard was nearly perfect from behind the 3-point line (7-of-8) and also had five assists and no turnovers in 37 minutes.
"I was just trying to take what the defense gave me," Ferrell explained. "And I was just letting it go and then it was all up to the ball from there."
· Hartman flipping the narrative on IU's size deficiency: When the Hoosiers lost Hanner Mosquera-Perea to a knee injury on Jan. 12, many wondered how the Hoosiers would handle opposing teams with legitimate size on the frontline. There will still be games where IU is vulnerable in this regard, but through three games without Mosquera-Perea, this group is forcing teams to match up to IU's smaller lineups.
In Thursday's win, Turgeon played 6-foot-10 Damonte Dodd, the Big Ten's second best offensive rebounder, just 10 minutes and went with smaller lineups for a majority of the night.
The reason? Collin Hartman.
At just 6-foot-7, Hartman is a nightmare matchup for opposing centers because he's been knocking down perimeter shots and he's also proven himself capable of getting to the rim. He did a little bit of both against Maryland by knocking down all three of his 3-point attempts and also getting to the line, where he converted on four of five attempts. He also had three blocked shots.
· A fourth straight solid effort for Troy Williams, Blackmon heating up: Many wondered how sophomore wing Troy Williams would respond to his no-show performance earlier in the month at Michigan State. Four games later, we have an answer.
For the fourth straight game, scored 15 or more points on better than 50 percent shooting from the field. Williams had a few unnecessary turnovers, but the good far outweighed the bad as his final line had a little bit of everything: 16 points, seven rebounds, two assists and two steals.
As for Blackmon Jr., he hit three of his five 3-point attempts and finished with 22 points. Over his last two games, he's seven of 11 on 3s.
"I think we saw (this shooting performance) coming," Blackmon Jr. said. "I don't think our shots are something we're going to be worried on because we know we're going to get it going."
· Crean deserves major credit for this team's success: Just as Tom Crean deserved some of the questioning that arose during the rocky period back in the fall when Devin Davis was injured and two players were suspended, he now deserves praise for getting this team to where it currently sits.
Picked to finish in the bottom half of the league by many, Indiana is one of the country's surprise teams through its first 19 games. Crean is the leader of the program and his ability to put this team's pieces in the best position to succeed should be commended.
He still isn't talking big picture with this group as he prefers to just stay in the moment and focus on continued improvement.
"There's a ton of room for improvement," he said. "It's one really good win against a really good team and what I like the best about this team is every time we have struggled, they have really responded. Now we've got to keep responding and improve."
Filed to: Collin Hartman, Tom Crean, Troy Williams, Yogi Ferrell