Hoosiers hoping toughness continues into Penn State game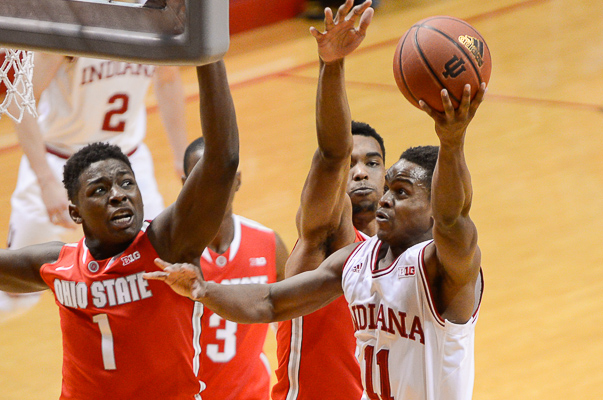 It was a game that Indiana fans remember for the wrong reasons.
Last season on Feb. 12, the Hoosiers were stunned when Penn State came back from a 64-53 deficit with 2:26 remaining to win, 66-65, in front of a sold out Assembly Hall. It was the defining moment of a season of fragility for the Hoosiers.
More than 11 months later, both teams will meet again in Assembly Hall, tonight at 7 p.m.
"As we get ready for tomorrow night," Indiana coach Tom Crean said, "We're playing a team that never stops coming. And we learned that certainly last year in here."
But time around, the circumstances have changed.
Heading into tonight's game, Crean has praised his team for the mental toughness it has displayed in recent games.
It came back after a second-half Nebraska run to defeat the Cornhuskers, 70-65, in Lincoln. And after a 20-point loss at Michigan State, the Hoosiers rebounded with a 69-66 win over then-No. 22 Ohio State in which they turned the ball over often and did not shoot well.
Through the first three games of the Big Ten season, the Hoosiers appear to know what it takes to win close games.
"For the most part it's playing with toughness," junior Nick Zeisloft said. "You've got to play with toughness every night in this league. And in most leagues, if you're going to win at a high rate you've got to play with a physical and mental toughness every night."
Just this past Saturday, the Hoosiers' toughness was tested late when the Buckeyes went on a 9-2 run in the span of 1:14 to trim Indiana's lead from a 10-point cushion to just three with 2:08 remaining. Last season against the Nittany Lions, the Hoosiers had five turnovers in the final 2:53. Against Ohio State last Saturday, the Hoosiers had one but had allowed four offensive rebounds during the Buckeyes' run.
However, after the Hoosiers' lead was put in danger, they responded by converting 6-of-6 free throws and with just one turnover, they were able to hold on for the win. Something they were not able to do last season.
Crean said on Monday he knows his team will make "youthful, inexperienced mistakes" this season. But, he said, as long as his team plays hard and competes late, it will make up for the mishaps that last season's team couldn't recover from — like the loss to Penn State.
"Our situation is we just have to continue to get better inside of the games and keep learning that it's not going to be a perfect game," Crean said. "There's going to be times the shots aren't going, there's going to be times fouls are called, there's going to be time mistakes come. But, you have to be able to overcome them. The fact that we've had a couple very close wins for us right now of our two (Big Ten) wins I think will only come back to help us."
Penn State's Johnson suspended indefinitely
Penn State coach Pat Chambers suspended senior John Johnson on Monday for "conduct inconsistent with team standards and values" and has not given a timetable for the 6-foot-1 guard's return.
In his second season with the Nittany Lions after transferring from Pittsburgh, Johnson is averaging 7.4 points and more than 20 minutes per game off the bench. In two games last season against Indiana, Johnson averaged 7.5 points per game in 44 total minutes of action.
"They are a really good team, with or without him in my mind," Crean said. "He can certainly score the ball. But they have other guys that can score it.
"My first reaction is that these kinds of situations – and I don't know what he did – but these situations tend to rally teams. They cause teams to have an even tighter circle, especially when you go on the road. Pat is pretty good at having a good mindset when they go on the road anyway. My guess is that this is only going to add to it and be a benefit for them."
Filed to: Penn State Nittany Lions