What to Expect: Penn State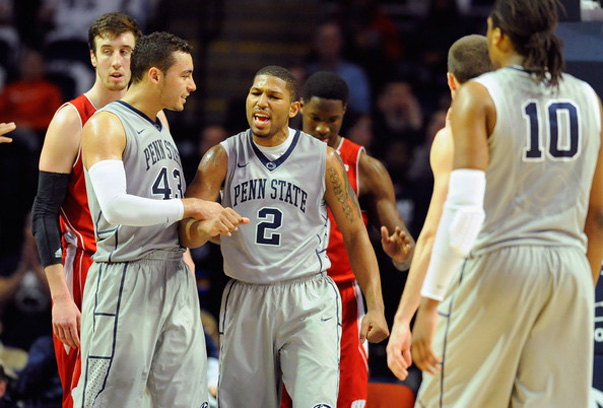 After a hard-fought 69-66 win over No. 22 Ohio State on Saturday, Indiana is back in Assembly Hall on Tuesday night for a meeting with Penn State. The Nittany Lions are 12-4 overall, but 0-3 in Big Ten play.
The game will be broadcast on BTN at 7 p.m. ET with Dave Revsine and Jimmy Jackson on the call:
Both KenPom.com and Vegas projected Indiana to start conference play 0-3, but three games in, the Hoosiers sit at 2-1 with a road win at Nebraska and Saturday's win over the Buckeyes already on the ledger. But as we saw on Sunday night when Rutgers beat Wisconsin, the Big Ten is going to produce its share of upsets as the season rolls along.
Indiana will play its first league game as a favorite this season on Tuesday against Penn State, which came into Bloomington last February and dealt the Hoosiers a head-scratching defeat. The Nittany Lions are 0-3 with just one win over a top 100 team in the Pomeroy ratings, but if there's one thing you can be sure of with a team coached by Pat Chambers it's this: competitiveness will not be an issue.
With three of its next four games after Tuesday coming on the road, a 3-1 start would give Indiana a little bit of breathing room on a schedule that, at least on paper, is easier on the backend.
MEET THE NITTANY LIONS
Penn State has just one player averaging in double figures in scoring and just one player averaging more than 30 minutes per game: senior guard D.J. Newbill. The 6-foot-4 combo guard is a stat stuffer: He leads Penn State in points, assists and steals. Newbill comes to Bloomington averaging 21.3 points per night and he's making 74 percent of his free throws, 51 percent of his 2s and 38 percent of his 3s. Newbill can also get to the foul line as evidenced by his strong free throw rate (he's attempting 46 free throws per 100 field goal attempts). Here's a look at where Newbill is most effective, per Shot Analytics: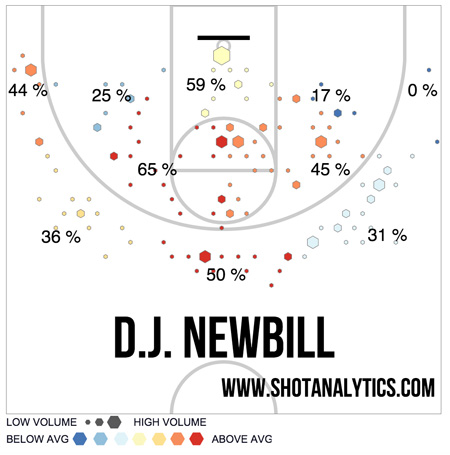 Newbill is clearly most dangerous in the middle of the floor. He's hitting 50 percent on top of the key 3s and is also very efficient on left wing jumpers at 65 percent. For a player using 29 percent of available possessions and 92 percent of available minutes, his offensive rating of 113.5 is very good.
The job of the rest of the Penn State guard rotation is to act as complementary pieces to Newbill unlike past seasons when Tim Frazier and Jermaine Marshall were still around. Freshman point guard Shep Garner has started all 16 games and is the team's third leading scorer at 9.4 points per contest. The 6-foot-1 Garner is clearly a big part of Penn State's plans moving forward and he's played well so far by hitting 55 percent of his 2s and 37 percent of his 3s.
Guards Geno Thorpe and John Johnson are also rotation pieces, but are a notch below Newbill and Garner when it comes to efficiency. Thorpe does a great job of getting to the foul line (73.3 percent free throw rate), but turns it over too much (21.4 turnover percentage) and is a poor 3-point shooter at just 24 percent. Johnson is coming off a very good game against Michigan where he scored 16 points and hit four of his eight 3-point attempts in 27 minutes. (Update: Johnson has been suspended by Penn State.)
Junior Brandon Taylor occupies the wing forward spot in the Penn State lineup and is a high volume 3-point shooter with limited success. Taylor has hoisted a team-high 88 attempts from distance and is connecting at just a 28.4 percent clip. He is strong, however, from the left corner, where he's knocking down 50 percent.
Senior Ross Travis is the team's best rebounder on both ends (10.9 OR% and 19.2 DR%), but has some head-scratching numbers otherwise. The 6-foot-7 Travis is making just 18.2 percent of his free throws, 48.3 percent of his 2s and 21.4 percent of his 3s.
Juniors Donovan Jack and Jordan Dickerson round out the rotation with both guys averaging right around 16 minutes per night. Dickerson, who is 7-foot-1, is making just 47 percent of his 2s and is foul prone (7.8 fouls called per 40 minutes). Jack is the team's most efficient player on 2s (58 percent).
TEMPO-FREE PREVIEW
We're not quite to the point of the conference season where league only stats should be heavily replied upon as Indiana's numbers, despite being 2-1, are heavily skewed from one lopsided loss. Thus, the following numbers are full season, with national rankings in parenthesis: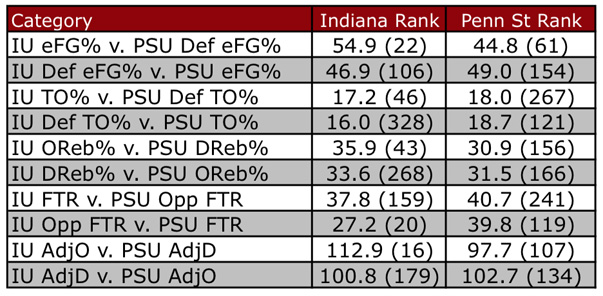 Indiana's primary advantages on paper seem to be on the free throw line and the offensive glass. Penn State's opponent free throw rate is near 41 percent and Indiana's is just 27 percent, so exploiting that discrepancy and looking to drive with the purpose of getting fouled should be a focus for the Hoosiers.
Penn State is the better defensive rebounding team, but doesn't go to the offensive boards hard like Indiana. The Hoosiers are coming off a game where they rebounded 43.2 percent of their misses and a focus on crashing the boards hard could pay off tremendously.
The Nittany Lions were a solid, but not spectacular defensive team in non-conference play, but given that Michigan just torched them for 1.16 points per trip, the defense will certainly need to be better to keep up with Indiana.
WHAT IT COMES DOWN TO
The Pomeroy projection is for a 9-point Indiana win with an 80 percent chance for victory. Sagarin's model is even more bullish on the Hoosiers with a 10-point margin separating the two teams.
But given that Indiana lost at home to Penn State last season, nothing is for certain, particularly in a Big Ten season where Rutgers just beat Wisconsin. The Nittany Lions will be a desperate team looking to avoid an 0-4 start in league play, which is a hole that no team wants to try and dig out of given the glut of teams fighting in the middle of the pack.
After a third win over a top 25 team on Saturday and with the students back in the Assembly Hall seats, it should be a great environment for Indiana to have success and a solid chance to march on to a third Big Ten win.
(Photo credit: Rich Barnes/Getty Images North America)
Filed to: Penn State Nittany Lions