Five takeaways from Indiana's win over Ohio State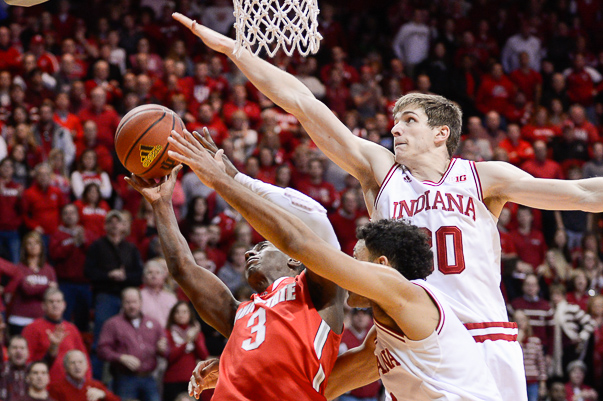 Indiana bounced back from a disappointing loss at Michigan State on Monday for its third win against a ranked opponent this season, 69-66 over No. 22 Ohio State. The win moved the Hoosiers to 12-4 overall and 2-1 in the Big Ten.
Here's a look at five takeaways from the win over the Buckeyes:
· The Hoosiers bounced back, once again, from a loss: Just as it did following losses to Eastern Washington, Louisville and Georgetown, Indiana didn't let a poor performance in its previous game carry over. Although the Hoosiers started slow on Saturday afternoon, Indiana controlled the game for most of the afternoon and its work on the glass was the primary difference.
Despite a size advantage in the front court for the Buckeyes, Indiana corralled 43.2 percent of its misses in the win and scored 19 second-chance points.
"After Louisville, we were plus nine in the rebound margin going into the Michigan State game," Tom Crean said. "So we made really good improvements there and in that game we didn't rebound it very well at all. We blocked out decently, but we didn't go to the offensive glass. Today there was much more … we have to get more offensive rebounding. We have to be a gang rebounding team on both ends of the court."
· "Good" Troy makes an appearance: Indiana sophomore Troy Williams was a no-show statistically in Monday's loss to Michigan State going scoreless in 17 minutes and was benched for the game's final 13 minutes. On Saturday, Williams was engaged early and often as he finished with 15 points and a career-high 12 rebounds.
He's still an adventure to watch with the ball sometimes when he gets a full head of steam, but when he makes the simple play and lets his athleticism take over, he's difficult to stop. Williams had a pair of ridiculous second half dunks that got the crowd into the game and afterward, he admitted lacking an "edge" going into the Michigan State loss.
"I would say my mindset was definitely different," he explained. "Going into Michigan State I didn't have the mindset I had going into this game. It was more just like, I was out of it, just didn't have any edge to me.
"In this game and the practices that led up to this game, I decided that's never going to happen again with me and I'm not going to let my team down again because I know who gives energy to my team the most. I just came into this game and brought energy to it."
· Indiana's bench play provides early spark: The Hoosiers fell behind 9-2 by the time the first media timeout arrived and it was IU's bench that scored the next seven points to cut the Ohio State lead to just one by the 14:17 mark of the first half.
Collin Hartman scored his only basket of the game for IU's second field goal and then Nick Zeisloft, who had scored just 12 points in the previous four games, hit a layup and a 3-pointer. Zeisloft finished with eight points in 23 minutes and Hartman had two points, six rebounds and three blocks in 24 minutes.
"That's momentum, you never know where it's going to come from," Crean said. "And we needed some energy at the beginning of the game. Somebody has to establish their will early on in the game and Ohio State did and we didn't match it and we go to the bench and we did."
· Blackmon Jr. scores 16 of his game-high 18 in second half: Through 20 minutes, James Blackmon Jr. was struggling offensively. The freshman from Marion was just 1-of-5 from the field and had two points and three rebounds in 13 first half minutes.
But the second half was a different story as Blackmon Jr. hit a layup and a 3-pointer early that ignited him offensively. He would go on to finish with 18 points (on 6-of-13 shooting) and added seven rebounds. Postgame, Blackmon Jr. disputed the notion that he's been in a slump recently.
"I don't think it's really a slump, I just have to do different things to get going," he said. "Like today I hit the glass, started rebounding, and that got me going. I got a couple easy buckets and then I was back in rhythm. I think that's what happened today."
· Ferrell makes life uncomfortable for D'Angelo Russell: As we noted in our game preview, Ohio State freshman D'Angelo Russell came in averaging 19.3 points in Ohio State's 13 wins and just 13.6 points in their three losses.
Indiana junior guard Yogi Ferrell didn't play a great game offensively, but his defense on Russell, who shot just 3-of-15 from the field and finished with 13 points, was a game changer in the eyes of Crean.
"Yogi wants those challenges. He wants those – it doesn't matter the size of the guy," Crean said. That's how Victor (Oladipo) was. And you know, when you're the best defender, you've got to go take that. We mix defenses and things of that nature, but the way D'Angelo Russell has been playing; and for us to know that we have to really plan on him and Marc Loving, I thought our guys handled it well."
Filed to: Ohio State Buckeyes