What to Expect: Ohio State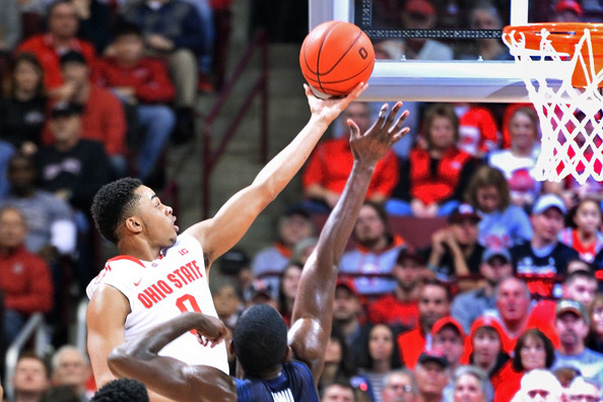 Indiana returns to Assembly Hall for the first time in nearly three weeks for its Big Ten opener against No. 22 Ohio State. The game will be broadcast at 12 p.m. ET on ESPN with Bob Wischusen and Dan Dakich on the call:
Indiana came out of its first two Big Ten games, both on the road, with a split. The Hoosiers won at Nebraska on New Year's Eve, but were blitzed on Monday night in East Lansing by Michigan State.
It's hard to be disappointed with a 1-1 start on the road in conference play given just how difficult it is to win at a place like Michigan State, particularly when the Spartans are desperate for a win.
However, there's a major difference between showing up and competing for a hard fought loss and getting run out of the building. The latter happened to Indiana on Monday and how the Hoosiers respond tomorrow afternoon will tell us plenty about where this team is mentally as conference play kicks into full swing.
MEET THE BUCKEYES
For the first time since the 2009-2010 season, Aaron Craft isn't the Ohio State point guard, but the Buckeyes still have one of the better floor leaders in the conference in Shannon Scott. A former McDonald's All-American, it's finally Scott's team to run as a senior and his assist rate (39.2 percent) is 11th in the country. Scott is also in the top 25 nationally in steal percentage, but has struggled a bit offensively. He's making just 25.7 percent of his 3s.
Joining him in the Ohio State backcourt is arguably the league's top freshman, D'Angelo Russell. As we pointed out earlier this week, when Russell scores it well, it is generally a sign that Ohio State is going to have a good chance to win. The Louisville native is averaging 19.3 points in the team's 13 wins and just 13.6 points in its three losses. Russell is a tough cover because he's a very good 3-point shooter (45.8 percent) and can also get into the lane to find teammates (29.2 percent assist rate). Here's a look at Russell's shot chart, via Shot Analytics: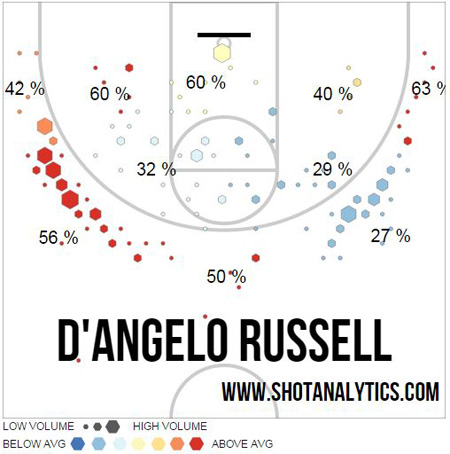 Joining Scott and Russell in the Ohio State starting lineup are senior Sam Thompson and sophomore Marc Loving, who is the team's second leading scorer after a minimal role as a freshman. Thompson has always been one of the Big Ten's best finishers and is making 66.2 percent of his 2s this season. Loving, meanwhile, is hitting a ridiculous 54.5 percent of his 3s and has an effective field goal percentage above 65.
Another backcourt rotation piece is redshirt freshman Kam Williams, who has an offensive rating in the top 10 nationally because he rarely turns it over (4.9 percent turnover rate) and shoots it well (63.9 effective field goal percentage).
Senior Amir Williams is the starter at center, but is averaging just 20.1 minutes per game. Williams is a very good shot blocker, but has battled foul trouble for much of his career and has never been a great finisher for his size. However, he has improved in that regard in his final season as he's making 71.7 percent of his field goal attempts. Senior Trey McDonald is the backup for Williams and graduate transfer Anthony Lee also sees sporadic minutes.
The other rotation pieces who could have an impact on Saturday are freshman Jae'Sean Tate, the team's best offensive rebounder (offensive rebounding percentage of 11) and freshman Keita Bates-Diop who is long and can knock down outside shots (43.5 percent on 3s).
TEMPO-FREE PREVIEW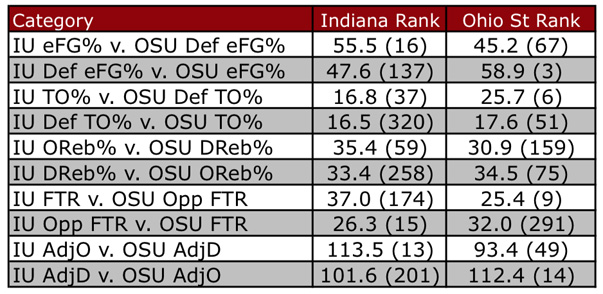 Both teams boast a similar offensive profile: Elite shooting, low turnover percentage, solid offensive rebounding and not great at getting to the foul line.
Where the major difference lies is defensively as Indiana continues to struggle to stop teams and Ohio State, while it's not the elite defense that Thad Matta has enjoyed in the past, is still very solid. The Buckeyes are in the top 15 nationally in both steal and block percentage while Indiana isn't in the top 250 in either category according to KenPom.com.
Through three Big Ten games, Ohio State is scoring 1.08 points per possession (3rd) and giving up 1.03 (10th). In its first two league games, IU is scoring just .93 points per trip (11th) while giving up 1.05 (11th). That's obviously not much of a sample size to draw upon, but Indiana is going to need a much more efficient effort offensively on Saturday afternoon if it hopes to keep up with the Buckeyes.
WHAT IT COMES DOWN TO
Pomeroy sees the matchup as pretty even since it's being played in Bloomington as he predicts a 79-78 win for Ohio State and a 55 percent chance for a Buckeye victory. Sagarin's model likes Ohio State by three.
The key matchups is obviously Russell, but the Hoosiers also have to worry about keeping tabs on Loving on the perimeter as well as taking care of the ball around Scott, who can easily change momentum with steals and easy buckets on the other end.
The atmosphere in Assembly Hall has the potential to be a game changer for Indiana, but the Hoosiers are going to need a better shooting performance from James Blackmon Jr. as well as better games from Hanner Mosquera-Perea and Troy Williams, who were basically no-shows in East Lansing.
A win on Saturday afternoon could help regain some of the momentum this group enjoyed following the New Year's Eve win over Nebraska. A loss, however, will put tremendous pressure on Tuesday's game against Penn State, a team that won last year in Assembly Hall following a major collapse by IU.
(Photo credit: Source: Jamie Sabau/Getty Images North America)
Filed to: Ohio State Buckeyes