Around the Big Ten: A key injury, Wisconsin's chances at 18-0 and more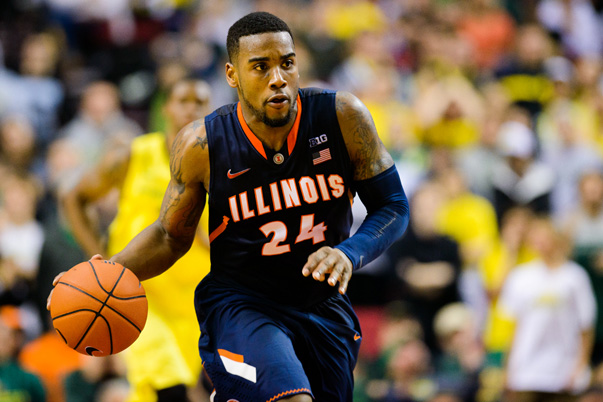 With conference play underway, Around the Big Ten takes you through the conference for the latest news, storylines and injury updates on IU's conference foes:
· Illinois: An 0-2 start to conference play was tough enough to swallow, particularly with a late lead in the opener at Michigan, but things got worse in Champaign on Tuesday when it was announced that senior Rayvonte Rice is out indefinitely with a broken left hand. The Illini won't have any time to regroup, either, as No. 11 Maryland comes to the State Farm Center on Wednesday evening.
· Iowa: A pair of shaky performances against Iowa State and Northern Iowa late in the non-conference season left many doubting the Hawkeyes, but the program is on the cusp of entering the Top 25. Junior forward Jarrod Uthoff was the Big Ten player of the week after averaging 16.5 points, 7.0 rebounds and 3.5 assists per game in wins at Ohio State and over Nebraska in Iowa City. With Uthoff, Aaron White and Gabriel Olaseni, the Hawkeyes have one of the most versatile frontcourts anywhere.
· Maryland: Mark Turgeon was on everybody's preseason "coaches on the hot seat" list, but those press clippings have already been archived as the Terrapins are the surprise of the Big Ten at 14-1 overall. Maryland has a solid mix of experience (Dez Wells, Jake Layman, Richaud Pack, Evan Smotrycz) and youth (Romelo Trimble, Jared Nickens, Dion Wiley) that is producing the nation's 23rd best defensive and 30th best offense, according to KenPom.com.
· Michigan: The Wolverines are banged up — sophomore point guard Derrick Walton has an injured toe, junior point guard Spike Albrecht has an undisclosed lower body injury and junior Caris LeVert just had a wrap removed from his left hand — but are 2-1 in the league after a Tuesday night win at Penn State. Michigan had one of the nation's best offenses a season ago, but it's taken a significant step back this year which may ultimately limit the ceiling for this group.
· Michigan State: The Spartans have again battled injuries this season as Branden Dawson was out for a couple of weeks with a left wrist injury and freshman Javon Bess is slowly working into the rotation after surgery in October to repair the fifth metatarsal in his right foot. However, Tom Izzo said after Monday's win over Indiana that as his roster returns to full health, he expects significant improvement. The addition of Bess could be pivotal as it could allow Michigan State to go bigger up front and bring a shooter, most likely Bryn Forbes, off the bench to balance out the rotation.
· Minnesota: The computers still like the Gophers — they're No. 40 in the Pomeroy ratings as of Wednesday morning — but an 0-3 conference start provides little margin for error for a team with NCAA tournament aspirations. As Ameila Rayno of The Minneapolis Star Tribune points out, Minnesota let a major opportunity against Ohio State on Tuesday night slip through its hands and time is running thin for Richard Pitino's group to break through.
· Nebraska: Tim Miles isn't hitting the panic button on this Nebraska team, as evidenced by his postgame remarks following a loss at Iowa on Sunday. "I'm not going to divorce them when things are bad and remarry them when things are good. We've got to keep working," he told reporters. This isn't an unfamiliar position for the Huskers, who started 0-4 in league play last season before rallying to make the NCAA tournament. With the returns of Moses Abraham and Leslee Smith imminent and home games against Rutgers and Illinois up next, this team could get things going in a hurry.
· Northwestern: Year two for Chris Collins in Evanston has presented a new set of challenges as the Wildcats are going to take some lumps because of youth. But given the limited postseason aspirations for Northwestern, that's not necessarily a bad thing as it's giving two key newcomers, Bryant McIntosh and Victor Law, experience that should pay off down the road. As the Big Ten pointed out in its weekly release, McIntosh's 11.8 points per game are second on the team.
· Ohio State: As freshman D'Angelo Russell goes, so go the Buckeyes. The freshman, who is a Louisville native, is averaging 19.3 points in the team's 13 wins and just 13.6 points in its three losses. Last night's game was a perfect example of how good Ohio State can be when he plays well and how much it struggles when he isn't scoring. In a 74-72 overtime win at Minnesota, Russell's 25 first half points helped build an 12-point halftime lead. But he scored just two points in the next 25 minutes as Ohio State had to hold off a late surge by the Gophers.
· Penn State: Pat Chambers led the Nittany Lions to a 12-1 non-conference mark, but an 0-3 start in league play (including a loss at Rutgers) has this team once again headed for a finish in the bottom half of the conference. Tuesday's loss at home to Michigan left Chambers questioning his team's mindset and also at a loss for words on why the program always starts out slowly in league play.
· Purdue: The Boilermakers entered league play in a similar position to Michigan. Both teams had a pair of head scratching non-conference losses that lowered expectations and now both have started off league play on a positive note. With Wisconsin and Maryland, the league's two best teams, up next, the 2-0 start for Purdue is huge and if the Boilermakers continue to play through the post first and foremost, there's not many conference foes who can match the combo of A.J. Hammons and Isaac Haas.
· Rutgers: Many wondered if Rutgers would even win a game in the Big Ten this season, but Saturday's 50-46 win over Penn State at home squashed that discussion quickly. Through its first two conference games against arguably the league's two worst teams, Rutgers is scoring just .77 points per possession, which doesn't bode well once the meat of the schedule arrives.
· Wisconsin: The Badgers have responded to their disappointing loss to Duke in early December as most great teams do. Bo Ryan's club has reeled off seven straight wins and four have come on the road. As heavy a league favorite as there has been in recent years in the Big Ten, Ken Pomeroy projects a win for the Badgers in each of its remaining 16 conference games with the best chances for a loss coming at Maryland on Feb. 24 (38 percent) and at Ohio State on Mar. 8 (38 percent).
(Photo credit: Michael Arellano/Emerald)
Filed to: Big Ten