Notebook: Hoosiers still learning mental toughness after Michigan State loss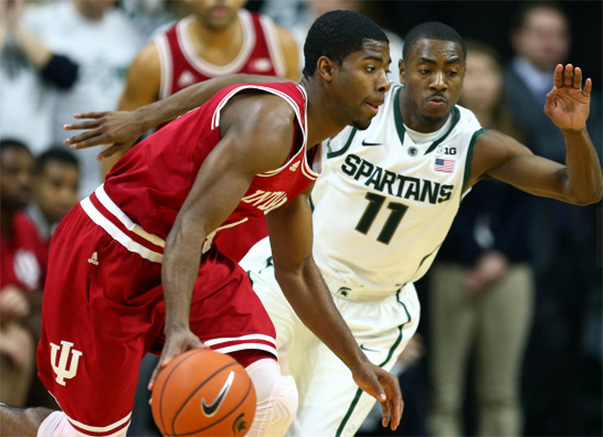 As Indiana coach Tom Crean watched film from Monday's 70-50 loss at Michigan State, he couldn't help but realize the Hoosiers actually had numerous chances to get back into the game against the Spartans.
A stop here, a basket there, one more pass and one less dribble, he thought, and the Hoosiers were right where they wanted to be.
But that wasn't the case. Crean found that his team played nowhere near the level he had expected them to. He felt the team didn't play with a purpose on offense. That his players got their heads down early and never recovered.
And after a 20-point loss, Crean realized he still has plenty of work to do with his team.
"It's never out of your mind, you work with that into your psyche as you go through it and you prepare for Ohio State," Crean said. "And we've got to get tougher, there's no doubt about it. We've got to get tougher, we've got to get mentally tougher."
As the Spartans built their lead on Monday, taking advantage of rushed Hoosiers shots and capitalizing on transition baskets, Crean never felt like the game was completely out of reach. After all, his team has a top 15 offense, nationally, and a top 20 offense in effective field goal percentage.
All the Hoosiers needed was that one spark, for someone to take momentum into their own hands, Crean said. He felt like the game wasn't out of their reach. Of course, however, a comeback never occurred.
It turned into a teaching moment afterward, instead.
"You can't get quiet when it's not going well for you," Crean said. "Somebody's got to be the momentum-getter. There were numerous times momentum was up for grabs; first half, second half. And as good as they were playing, momentum was still up for grabs. And they kept it, we didn't grab it. And so that becomes you never know who is going to grab momentum. Is it youth, is it an older guy, is it a big guy, is it a guard?
"You never know, you've just got to be prepared when it's there."
In showing the tape of the Michigan State game to his team, junior Yogi Ferrell said the team can "definitely learn" from the loss. Freshman Robert Johnson said his biggest takeaway was that the Hoosiers have to come into every game with the same intensity and "100 percent effort." But talk is talk.
Crean said he is most looking forward to seeing whether his team has the right mindset to compete against Ohio State (13-3, 2-1) in Saturday's noon game in Assembly Hall. That his team understands, especially with its shooting ability, that the game is longer than they think.
And Ferrell said the Hoosiers are ready to make a statement.
"It always hurts to lose by 20," Ferrell said. "But you definitely learn from that. Next day we got practice and got in film and watched the game. It just gives us an extra edge to try and come out, especially on our home court, and try to make a statement from the last game."
Ohio State's Scott concerned with Yogi Ferrell
Heading into Saturday's game, the Buckeyes have their eyes on stopping Ferrell, "one of the toughest players to guard in the country," according to Ohio State senior guard Shannon Scott.
In Ferrell's three games against the Buckeyes in his career, the Indianapolis native has scored 48 points along with nine assists, and this season the 6-foot guard is the Hoosiers' second-leading scorer with 16.3 points per game.
"Just the way he plays, he can get past anybody and shoot the 3-ball," Scott said. "He's a hard player to guard. But it's not just on me, as a whole team defense we have to worry about how to stop players like that.
"You know Yogi is going to score, he's a great player. but our main thing is to make him shoot hard shots. No easy looks, just have our hands in his face at all times."
Crean still undecided on potential benching of Hanner Mosquera-Perea
Crean said on Friday he still is unsure whether he will take junior Hanner Mosquera-Perea out of the starting lineup after his zero point, one rebound performance against Michigan State.
After the game against the Spartans, Crean said Perea is now in "a dogfight" for a starting role against freshman Emmitt Holt, and throughout the week Crean said he has not been hesitant to switch things up in practice.
"I think he's responded well," Crean said. "He's had a good week. He knows he didn't play well. I've thought about a lot of things. So I may make a switch there, like I said the other night. I don't know."
Filed to: Hanner Mosquera-Perea, Ohio State Buckeyes, Tom Crean, Yogi Ferrell