Five takeaways from Indiana's loss at Michigan State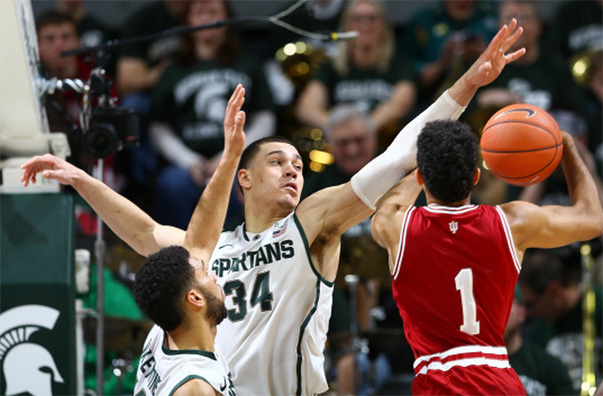 Indiana fell to 1-1 in the Big Ten and 11-4 overall with a 70-50 loss at Michigan State on Monday at the Breslin Center. Here's a look at five takeaways from the loss to the Spartans:
· The Hoosiers never found their footing: After handling the road atmosphere at Nebraska so well last Wednesday, the Hoosiers struggled from the get-go in East Lansing on Monday. From the time junior big man Hanner Mosquera-Perea left the game just 1:24 in due to foul trouble, the Hoosiers were never really able to find their rhythm against the Spartans.
They were unable to establish their inside-out game and found themselves dribbling instead of passing, ultimately starting the game just 2-for-16 from the field. By then, the Spartans were ahead 19-4 and were well on their way to a blowout of the Hoosiers.
Indiana finished just 17-of-60 from the field and with 0.82 points per possession — its worst marks of the season — and 20 points below its previous lowest points output this season. Not a great follow-up performance after Wednesday's win in Lincoln.
"I was concerned about how we were going to score in this game and how we were going to stop them," Indiana coach Tom Crean said after the game. "Because when you don't attack them with screens and move the ball at a pace, we just didn't do any of that. So we have got to get better in a hurry. This league is obviously very unforgiving."
· Indiana did little to defend the paint: With Mosquera-Perea's foul trouble and nearly nonexistent games from Troy Williams (zero points, one rebound in 17 minutes) and Emmitt Holt (four points, two rebounds in 22 minutes), the Hoosiers offered little resistance to the Spartans in the paint.
Unsurprisingly, the opportunistic Spartans capitalized on the size advantage and rebounded 50 percent of their misses en route to 17 second-chance points and 30 points in the paint. And the advantage in the paint translated to the Spartans' defense, as well. With Indiana's offense floundering, the Spartans produced seven blocks, rebounded 75 percent of the Hoosiers' misses and forced them into a 33.3 percent 2-point shooting rate.
But with this result, it's becoming apparent that a pattern is starting to emerge: When Indiana allows its opponents to rebound more than 40 percent of its misses this season, the Hoosiers are just 1-3. And they will see plenty more caliber rebounding teams this season.
· Perea's starting job might be in danger: After Mosquera-Perea left early due to foul trouble, the 6-foot-9 forward would see only eight more minutes of game time on the evening. He finished with no points, one rebound, one block and two fouls.
The 6-foot-7 freshman Holt was his replacement, and though he was by no means successful against the Spartans, Holt came up with positive numbers on the stat sheet.
Following the game, Crean blasted Mosquera-Perea, as well, noting his starting job is now in danger.
"He was certainly not ready to play tonight and now he will be in for a dogfight at that position because Emmitt Holt was," Crean said. "He didn't play well but he was a little more ready to play."
· Michigan State had a bigger sense of urgency: Before Monday's game, Tom Izzo said he told his team that energy and effort are going to be the two things that would win this game for the Spartans.
After a league-opening loss to Maryland and several missed opportunities during the non-conference season, the Spartans opened the matchup against the Hoosiers with "probably one of the best halves of basketball that we've played," Izzo said. It was a 36-17 game by halftime.
Crean, meanwhile, felt like the Hoosiers' leadership was "left somewhere back in Bloomington," and noted his disappointment in how his team never gave the Spartans much trouble, especially on the defensive end of things.
The result: Michigan State left with a win, "one we really needed," Izzo said, while the Hoosiers now face internal questions.
"We just have to get our urgency revisited, quickly," Crean said.
· Blackmon's offensive slump continues: Freshman guard James Blackmon Jr. struggled once again on Monday, finishing the game just 1-for-14 from the field and 0-for-5 from behind the arc.
After starting the season's first eight games 26-of-48 (54.2 percent) on 3-pointers, Blackmon Jr. has gone 11-of-41 (26.8 percent) since then. And on 2s, Blackmon Jr. is shooting more than 27 percentage points worse in his past six games than he did in his first nine.
(Photo credit: MSU Athletic Communications)
Filed to: Hanner Mosquera-Perea, James Blackmon Jr., Michigan State Spartans, Troy Williams