The Minute After: Michigan State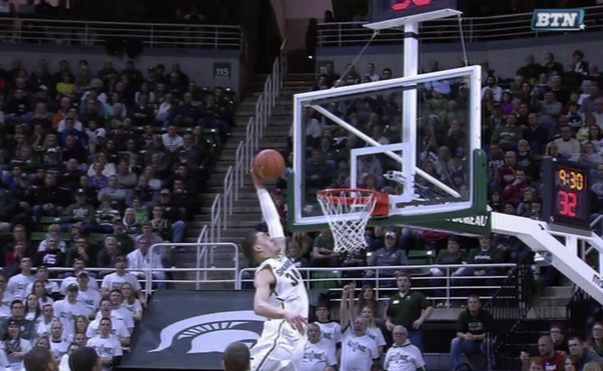 Thoughts on a 70-50 loss to the Spartans:
An abysmal offensive start for the Hoosiers only compounded itself as the first half went along.
Yes, Michigan State did a nice job with its perimeter defense early, not letting the Hoosiers get into the lane for kickouts to 3-point shooters or dumpoffs to the short corners. A good 3-point defending team, the Spartans stopped the attack and also kept Indiana's shooters close.
Still, when the Hoosiers have had to take even semi-contested 3-pointers this season, they've found a way to drop them in the bucket. It's the luxury of having multiple guys shooting at a high clip from distance. Keep hunting and somebody's going to hit.
But not tonight. No, this was Brick City at the Breslin Center. There was an airball from Robert Johnson. There were 3-balls that hit only the backboard. There were some that barely kissed the rim. So many ugly misses. By game's end, the Hoosiers hit just 5-of-24 from distance (20.8 percent). James Blackmon Jr. missed all five of his attempts from distance, was blown by for a score out of an MSU out of bounds play and missed an open Collin Hartman in the corner in the second half, as his attempt to score over the trees in the paint didn't work out. The freshman started the game 0-of-10 and finished just 1-of-14 from the floor.
We can keep going down the line. Nick Zeisloft, already in the midst of a shooting slump, finished 1-of-6 from distance. Yogi Ferrell hit just 3-of-10. At half, only Ferrell (3-of-7) and Emmitt Holt (2-of-3) had scored. The rest of the Hoosiers went a combined 0-of-19.
It all added up to a 19-point deficit at halftime (36-17) and was just too big a hole to climb out of, despite the Hoosiers losing the second half by just one point (34-33) and turning the ball over on just 9.8 percent of their possessions. With the current state of its defense, this Indiana team can't shoot a 32% eFG and score .81 points per possession in conference play — especially on the road — and expect to be in the contest.
Troy Williams has been sensational of late, but he got a taste of Branden Dawson (14 points, 13 rebounds) early. Williams didn't start the second half and failed to score a point. Hanner Mosquera-Perea picked up two early fouls and spent the first half getting chewed out by Tom Crean. After his double-double against Nebraska, he finished with no points and just one rebound. Without him battling on the glass, the Spartans were able to rebound 50 percent of their misses.
A lot to gripe about here, but Michigan State entered as the clear favorite and has never lost back-to-back home games to start the season under Tom Izzo. It was an off night against a veteran team that simply couldn't lose and played like it to start the contest.
The Hoosiers must forget this one. You must do that, too. Turn the page. A ranked Ohio State squad comes to Bloomington on Saturday afternoon. And Tom Crean Indiana teams have fared well against Top 25 Big Ten opponents inside Assembly Hall.
Filed to: Michigan State Spartans