The Inside the Hall Mailbag: January 2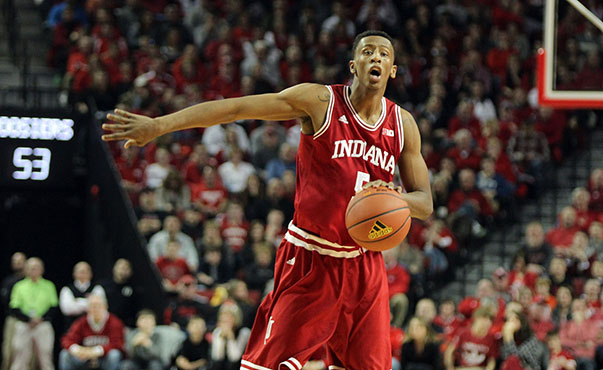 The Inside the Hall Mailbag is a collection of questions tweeted to us via Twitter (@insidethehall), submitted on our premium forum and sent to us via our Facebook page. Submit your questions and we'll answer as many as we can.
kmark22 in the premium forum writes: Alex, what do you think has really turned around Troy Williams game and has Stanford's shooting right handed hurt him? He just doesn't seem comfortable shooting the ball.
Williams was brilliant in Montreal over the summer, but I think the suspension to start the season set him back and there was definitely an adjustment period for him after returning to the lineup. I think his ball handling improved greatly in the offseason and while he still looks to be out of control sometimes when he gets going full steam ahead, his turnover percentage is down more than eight percent. I think his confidence has also grown from the fact that he's getting the opportunity to act as the primary ball handler in some halfcourt sets.
As for Robinson, there are a couple of problems I see right now. First, he's really struggling at the foul line, which just about makes it a certainty that he's going to be on the bench in a close game late. His free throw rate (FTA/FGA) is 72.7 percent, which is excellent, but that's negated by the fact that he's hitting just 46.9 percent from the line. It's tough to say how much of a factor the hand switch has been, but so far, it hasn't helped the percentages at all. Second, his shot selection has been poor in many instances. He's taken eight 3-point attempts (all misses), which isn't his game at all, and he's also shooting just 40 percent at the rim. On a team that is loaded with offensive options, his chance to see the floor is to play defense and finish at the rim. Unless he's able to make a bigger impact defensively, he's probably a fringe rotation guy. — Alex Bozich
@rbkl on Twitter writes: With B1G play full steam ahead, will we ever see Crean run sets with HMP and Holt on the floor together?
This is a question that comes up almost daily, but given that IU likes to deploy lineups that can space the floor, I don't see playing two bigs simultaneously as something that helps in that regard. Nothing against Emmitt Holt or Hanner Mosquera-Perea, but neither player has a game outside of five to seven feet.
If you watch IU when things are clicking offensively, the ball is moving around the perimeter. IU's goal is to create mismatches and when you've got four guys that can make perimeter shots on the floor, it's almost impossible to guard. — Alex Bozich
OldeHoosier in the premium forum writes: I couldn't believe Emmitt Holt didn't play one minute in the second half at Nebraska. He was incredible in the first half! Why oh why isn't he getting more playing time?
Holt was fantastic in the first half in Lincoln, so I agree that it was a bit surprising that he didn't play in the second half. He did appear to land awkwardly on one of his first half layups, but I don't think his absence was due to an injury. Although Mosquera-Perea started slow, I think Holt not playing in the second half had more to do with Hanner's play late than anything else.
As Nebraska mounted its run, my guess is Tom Crean wanted to stay with as much experience as possible and then down the stretch, Mosquera-Perea was fantastic, so removing him from the game would have been the wrong move. Given that Mosquera-Perea only played four first half minutes, he was rested to the point where he could play major minutes in the second half (18).
Holt is very much still in the learning process with his development and I believe the staff has done a nice job in bringing him along slowly and putting him in positions where they feel he can succeed. Is there an argument to be made that he should play more? Absolutely. But it's hard to argue Wednesday's outcome. — Alex Bozich
Shknqk in the premium forum writes: What are the recent stat trends that might suggest we are an evolving, different team than looking at the overall seasonal trends? (Rebounding, AdjD, TOs, etc)
I think the rebounding is the main thing here, particularly the defensive glass. Here's a look at the offensive rebounding percentage of IU's top 150 KenPom opponents so far this season:
SMU: 33.3
Eastern Washington: 41.7
Pittsburgh: 52.1
Louisville: 52.0
Butler: 25.0
Georgetown: 30.0
Nebraska: 17.9
Those last three performances have been very good for Indiana and while the overall defensive rebounding numbers are a weakness (225th nationally), things seem to be trending in the right direction. — Alex Bozich
Missouri Hoosier in the premium forum writes: A month ago, the team had two glaring weaknesses: rebounding and defense. Now that the rebounding has improved considerably over the last few games, defense, and specifically our perimeter defense, seems to be the biggest thing holding the team back. Obviously a primary focus is continuing to get individual improvement, but do you think there's anything CTC can or will do schematically to enhance our ability to stay with shooters and limit penetration?
One thing that can help, if done correctly, is something we saw on Wednesday: pick up pressure defensively earlier in the possession. That can help shorten possessions and can also lead to the occasional turnover. It could also help IU speed teams up, which isn't always easy to do in Big Ten play.
Beyond that, IU has to become much better with its help defense and also at simply stopping dribble penetration. Each team has a few matchups that must be contained closely on the perimeter and there are going to be times when help is needed if someone gets beat off the dribble. However, there's also a scouting and knowing your opponent element to it that the players must be accountable for. If you're guarding a player who isn't a great shooter on the perimeter, there's no reason to get beat on a straight drive with any regularity. — Alex Bozich
@scottbush8 on Twitter writes: Now that non-conference play is over, how many games do you feel IU needs to win in conference to get a tournament bid?
The baseline for the NCAA tournament bubble is probably a 9-9 conference mark and I think anything better than that should make fans feel pretty good about this group's chances. Even in a down year for the conference, it would be hard to see the committee leaving out a Big Ten team with 20 wins that also had a trio of top 100 wins in the non-conference. — Alex Bozich
Oleman on the premium forum writes: We have seen the beginnings of a press. Do you think we'll see more and more of that as the season progresses?
I talked about it a little bit above, but yes, I feel it can be useful in certain situations. Will it be something that's utilized regularly? Probably not. But as we saw on Wednesday, it can provide an element of surprise as the first time IU threw it at Nebraska, the Cornhuskers committed a 10-second violation. I think using it as a tool to shorten possessions and also attempting to speed up opponents is where it's most useful for this team as I don't see the Hoosiers forcing a ton of turnovers out of it. — Alex Bozich
mcoghlan on the premium forum writes: Now that you have had the non-conference portion of the schedule and one big ten game, what would you say the ceiling and floor for this team is?
Ceiling? Hard to say how far this team could go if it made the NCAA tournament because so much comes down to matchups and how well you're playing at the time, particularly for lower seeded teams. Record wise, I'd say 13-5 in the Big Ten which would be 23-8 going into the Big Ten tournament is probably the ceiling.
As for the floor, if the defense doesn't improve some and IU doesn't beat most, if not all of the inferior opponents remaining on its schedule, seven Big Ten wins and a 17-14 mark going to Chicago is probably the low point for this group. — Alex Bozich
@cvillestack on Twitter writes: What is the plan to replace Coach (Je'Ney) Jackson? IU has been impressive packing on size since his arrival.
On an interim basis, Chris Virtue, who has been at IU for eight years, will take over for Jackson. Virtue's responsibilities, according to his bio, have been primarily with softball, volleyball, women's golf and men's tennis, but he's also assisted with men's basketball since the 2010-2011 season, so he's familiar with the program.
I don't know this for a fact, but my guess is that a permanent replacement for Jackson will be added in the offseason. — Alex Bozich
Filed to: Emmitt Holt, Je'Ney Jackson, Stanford Robinson, Troy Williams