Five takeaways from Indiana's win over Butler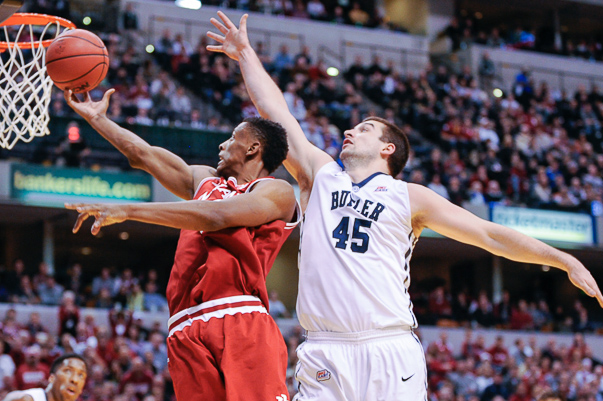 INDIANAPOLIS — Indiana moved to 9-2 on Saturday afternoon with an impressive 82-73 win over No. 23 Butler in the Crossroads Classic at Bankers Life Fieldhouse. Here's a look at five takeaways from the win over the Bulldogs:
· Indiana won the rebounding battle and won the game as a result: Tom Crean said on Friday that the team who won the battle on the boards would emerge victorious in this contest. He was not wrong.
The Hoosiers came in as the inferior rebounding team but left Bankers Life Fieldhouse as the decisive winner on the glass this afternoon. Indiana rebounded 34.1 percent of its misses and held Butler to an offensive rebounding percentage of just 25, its second worst performance of the season.
Most encouraging? The team effort from Indiana. Troy Williams corralled 11 boards, Hanner Mosquera-Perea had nine and James Blackmon Jr. had eight. Rebounding may never be a strength for this group of Hoosiers, but this was certainly a performance to build on.
· This was the best game Troy Williams has played to date at Indiana: We first had a chance to see the offseason progress of the sophomore wing during IU's August trip to Montreal, but Williams had struggled to find consistency through his first eight games. But over his last two, Williams has 36 points, 19 rebounds and just two turnovers.
On Saturday, his 22 points led the way for Indiana and he was productive as a guy who hit open shots and also as a slasher and distributor for his teammates (three assists). The talent Williams possesses has never been a question, but finding a way to get him to use athleticism while still maintaining control has been a challenge. It appears Williams may finally be turning the corner in that regard.
"Today seemed like a day where you had to get to the basket and run in transition," he explained. "And if I did that, it would be hard to stop me. That's exactly what I tried to do."
· Yogi carries the second-half load: The first 20 minutes were a struggle for Yogi Ferrell. He played just nine minutes, had two fouls and failed to score. Without his defensive presence on the floor, Butler's Kellen Dunham scored 18 points before intermission and a late first half run put momentum in the hands of the Bulldogs.
The second half, however, would lead to a reversal in fortunes for IU's junior point guard. He attacked the basket and got to the foul line, where he made seven of his nine attempts. He hit three of the five 3-pointers he took. And most importantly, he locked up Dunham to the point where Butler was forced to rely on its secondary offensive players, which hurt the Bulldogs drastically.
"He's got a tremendous presence, and to me I am always harder on him because he has it in him and he doesn't get nearly the national credit he deserves for what kind of a two-way player he is," Tom Crean said. "He wants to guard, it doesn't matter who we ask him to guard. He will take that matchup and he'll do the right things with it."
· Role guys deliver: On an afternoon where Indiana never got freshman James Blackmon Jr. going offensively, the Hoosiers had to rely on several secondary options who delivered key performances.
Chief among them was Mosquera-Perea, who scored eight points and also was a defensive presence with four blocks. Mosquera-Perea still made a few unnecessary turnovers, but his growth in recent weeks seems to be accelerating — as does his confidence.
The Hoosiers also received a boost from Collin Hartman and Nick Zeisloft, who both started the second half in place of Blackmon Jr. and Robert Johnson for their experience, according to Crean. Zeisloft hit a key 3-pointer to put Indiana ahead 69-65 with 5:25 to play and Hartman had four points, two rebounds and two assists in 14 second half minutes.
· Indiana's ability to take care of the ball is a team strength: Eleven games into the season, Indiana ranks 33rd nationally in turnover percentage, according to KenPom.com. Such a figure would have been unthinkable a year ago, but the Hoosiers have made ball movement and making the simple play a staple of their offense.
Against the Bulldogs, Indiana had just 11 turnovers for a turnover percentage of 14.4, which is the second best performance for a Butler opponent this season.
As well as Indiana is shooting the ball this season, the ability to take care of the ball and not waste possessions is an essential piece to this group's offensive success.
Filed to: Troy Williams, Yogi Ferrell