Hoosiers face significant rebounding test against No. 23 Butler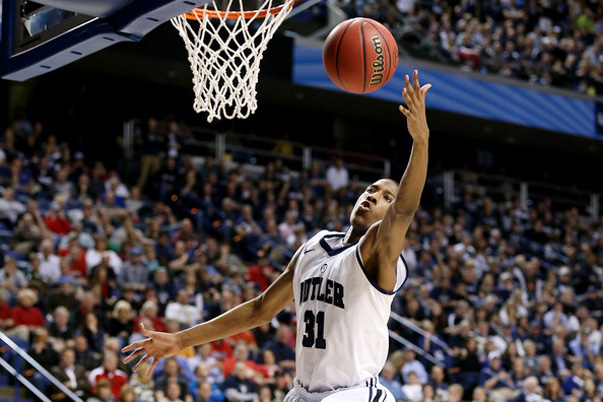 Heading into Saturday's game against No. 23 Butler in the annual Crossroads Classic, Tom Crean said he already has known for a while what the game will come down to.
"Rebounding will be a huge factor in the game tomorrow," he said on Friday. "No matter who wins it, that number is going to probably have a lot to do with it."
Indiana's rebounding issues have been well-documented this season — the Hoosiers allow opponents to rebound 35 percent of their misses, ranking No. 274 in the country as of Friday afternoon. Butler, meanwhile, rebounds 35.2 percent of its misses — ranking in the top 75 in the nation. Indiana has had time to prepare, though.
With final exams this week, the Hoosiers have not played since Saturday against Grand Canyon — leaving them time to prep for Saturday's 2:30 p.m. game in Bankers Life Fieldhouse. In that span, sophomore Collin Hartman said, Crean has come up with a game plan for the Bulldogs. A plan the Hoosiers are quite confident in.
"We have a great game plan," Hartman said. "We just have to focus on staying with them and defending. They're a tough team. They play hard, they crash the boards. We have to box out and run with them on the floor. Just stay to us and focus on what we need to do and our own game plan."
What caught the Hoosiers' attention the most about Butler this season stemmed from its 74-66 win over North Carolina — in which the Bulldogs had 28 offensive rebounds against the then No. 5-ranked team in the country. In that game, 6-foot-9 Kameron Woods led the team with eight offensive boards. Just behind him, a name Indiana is all-too familiar with: 6-foot-4 junior Roosevelt Jones, with six.
During Indiana's 88-86 loss to Butler in the 2012-2013 season, Jones nearly recorded a triple-double: scoring 16 points, grabbing 12 rebounds and notching seven assists. On Friday, Crean acknowledged just how difficult it was — and still is — to stop him.
"We didn't do a very good job of getting him under control a couple years ago," Crean said. "He drives well. He's very strong. It's very hard to put anybody out there because of that size and the way that he plays. When he's able to drop his shoulder, he's really going to a runner, a floater type of shot. He gets it up high off the glass. He's a tremendous rebounder. You just have to be very efficient, stay in front of him, not give him any angles."
Freshman James Blackmon Jr. said the Hoosiers have prepared all week for the challenge of being competitive on the boards on Saturday. Crean reiterated multiple times his team will have to be effective in blocking-out to have a chance of winning.
But with classes completed for the semester, Indiana has readied for one last test this week. And Crean knows it won't be an easy one.
"We have a lot of respect for Butler, a lot of respect for how they play," he said. "They're one of the more experienced teams. A lot more experienced than us. But I think our guys are excited to go in for that challenge and play in that environment."
Filed to: Butler Bulldogs