What to Expect: Grand Canyon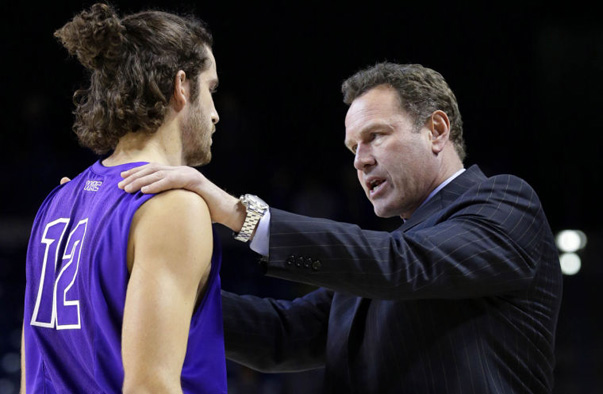 Following its first game away from Assembly Hall this season — a 94-74 loss to Louisville at Madison Square Garden — Indiana returns home on Saturday night for a meeting with Grand Canyon University.
It's the first ever meeting between the two schools and it will be broadcast at 5 p.m. ET on BTN with Steve Physioc and Jon Crispin on the call:
Guarantee games have become a staple in college basketball, but so far such matchups have not been particularly kind to Big Ten teams this year. A guarantee game, for those unfamiliar with the term, is one program paying another to come play in its gym without a return game. Seven of Indiana's first nine contests have been guarantee games and the Hoosiers dropped one of them to Eastern Washington back on Nov. 24. After Grand Canyon, the Hoosiers have just one more guarantee game on the schedule (Dec. 22 vs. the University of New Orleans.)
But as we've seen over the last couple of weeks, many of these games are no sure thing despite the fact that their main purpose is to schedule a win. Purdue lost at home to North Florida. Michigan lost at home to the New Jersey Institute of Technology and Eastern Michigan. And most recently, Nebraska fell at home to Incarnate Word.
Ultimately, each of these teams will have the chance to play in the NCAA tournament if business is taken care of inside of Big Ten play. But as Indiana enters its game with Grand Canyon, it's a game the Hoosiers must avoid any letdown in with tough contests with Butler and Georgetown still looming before conference play tips on New Year's Eve.
BACKGROUND, PERSONNEL
Grand Canyon is in just its second season as a member of Division I. Since 2006, the school has undergone a dramatic transformation which has included hundreds of millions of dollars of spending on campus upgrades, dorm additions and a new basketball arena. The campus continues to expand and it appears to be a university on the rise. The program won't be eligible for postseason play until the 2017-2018 season, but hired former Phoenix Suns guard Dan Majerle last year to lead the transition to Division I.
Majerle played at Central Michigan during the same time that Tom Crean was a student at the university, which helped facilitate Saturday's game. As for the team he'll bring to Bloomington, the Antelopes have played just one team in the KenPom top 100 and that was Kentucky (85-45 loss). Most recently, Grand Canyon lost at home to Idaho State, 67-51.
Grand Canyon has three guys averaging in double figures: Senior guard Royce Woolridge, senior guard Jerome Garrison and junior guard Ryan Majerle, Dan's nephew. Woolridge came to Grand Canyon via Washington State and Majerle had previous stops at Toledo and Grand Valley State.
Woolridge is the team's leading scorer (12.3 ppg), but has been terribly inefficient. He's using 30.3 percent of Grand Canyon's possessions while on the floor, but has an offensive rating of just 85.3 and an effective field goal percentage of 42.5. Garrison is making more than 38 percent of his 3s and has a free throw rate of over 50 percent, which suggests he's the most crucial matchup coming in. Majerle has struggled from distance (29.7 percent), but is hitting 90 percent from the line and takes care of the ball well (11.8 TO%).
Those three players are combining to score more than half of Grand Canyon's points, but there is some size up front to contend with, even if it's not particularly proficient. Freshman Kerwin Smith, who is 6-foot-9, has been the team's starting center in recent weeks and is a decent shot blocker, but not much of a scorer. There's also 6-foot-9 senior Daniel Alexander, who previously played at Texas A&M, who averages 6.1 points and 4.1 rebounds in just over 20 minutes per game.
Two other names to know on the roster are 6-foot-4 Joshua Braun, who makes close to 35 percent of his 3s and averages 6.3 points and 6-foot-8 freshman Matt Jackson, who gets the "nearly invisible" tag from KenPom but does contribute 3.1 rebounds per game.
TEMPO-FREE GLANCE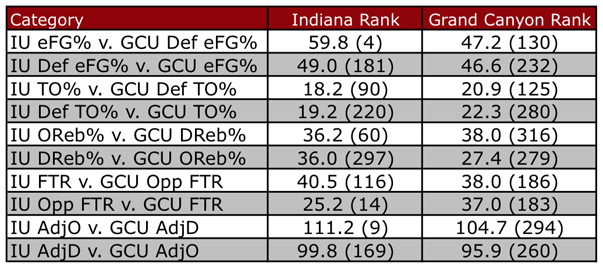 There's plenty to like from the IU side of things from this graphic.
First, Grand Canyon is worse on the defensive glass than Indiana, so second-chance points should be available if the Hoosiers miss some shots that usually fall. Second, Grand Canyon doesn't shoot it well nor does it go to the offensive glass very well either. And finally, Grand Canyon turns it over at a much higher rate than the Hoosiers.
WHAT IT COMES DOWN TO
The Pomeroy prediction is Indiana by 18 with a 95 percent chance of victory and Sagarin likes the Hoosiers by 17. This is a game that Indiana should win and do so handily, but as we've seen in recent weeks with upsets in guarantee games, nothing is a guarantee.
Coming off a loss to Louisville that was closer than the final 20-point margin suggests, it'll be interesting to see if Indiana comes out focused and puts the game away early. With no game separating Grand Canyon and Butler next Saturday, this is a good opportunity for the Hoosiers to get back on track and get some more experience for some of its younger players heading into a tough final stretch before league play begins.
All tempo-free stats via KenPom.com.
Filed to: Grand Canyon Antelopes