The Minute After: Louisville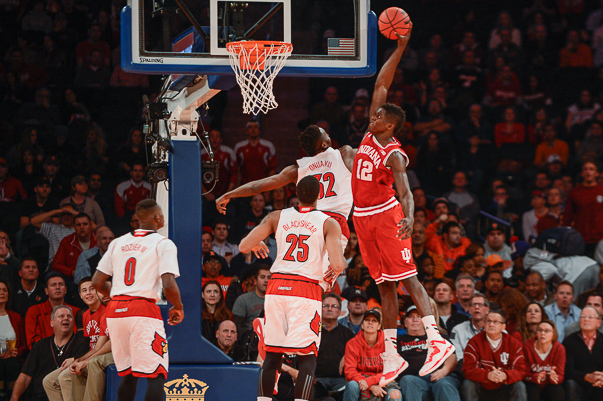 Thoughts on a 94-74 loss to the Cardinals:
Despite a valiant effort from the Hoosiers under the lights at Madison Square Garden, at one point leading by four in the second half, No. 4 Louisville was just too much to handle.
Indiana, as it did against Pittsburgh, tried to gang rebound as best it could, but its lack of size was exposed again against a strong offensive rebounding squad. The Cardinals flat out dominated the offensive glass, rebounding 52 percent of their misses leading to a ton of easy opportunities and 25 second-chance points. Its defense, as it does, also turned the Hoosiers over a lot (24.6 TO%) and that led to 19 points off turnovers.
With Yogi Ferrell off the floor in the first half, Indiana had a number of miscues in a row and Louisville made the Hoosiers pay. Stanford Robinson turned the ball over fives times in nine minutes of action tonight. Though some of IU's mistakes were a bit self-inflicted, it was still a rough performance holding onto the ball any way you slice it.
Louisville hasn't been a great shooting team this season, but that wasn't quite the case tonight against Indiana's defense. It hit a number of key shots in this one, poured in 1.22 points per possession, and bested its season average on 3-pointers (28%) by going 8-of-23 from distance (34.8%). Terry Rozier hit 5-of-8 from beyond the arc on his way to a career-high 26 points, while backcourt mate Chris Jones made a number of nice moves and worked over the Indiana defense for 24 of his own to go along with nine rebounds and five assists.
The Hoosiers also really had no answer for Montrezl Harrell inside, as he dunked again and again and again for 21 points. Harrell snagged 11 boards tonight as well. Mangok Mathiang added four blocks as Indiana guards had trouble getting the ball over his length at the rim. Louisville also scored 48 points in the paint.
Yet, even though the Hoosiers lost by 20, there were plenty of positives in this one.
Hanner Mosquera-Perea played his best game as a Hoosier. There's been a lot of talk about Emmitt Holt perhaps being the better frontcourt player of the two as of late, but that was not the case tonight. Mosquera-Perea came out of the gate like a man possessed. His first bucket of the night came from a move out of the right corner where he got by his man and scored on the other side of the hoop. It was like nothing we've ever seen from him. Mosquera-Perea also went right to work in the post early, showing little hesitation or awkwardness. He had eight of Indiana's first 13 points. The junior also had a nice block in the second half, but did find himself in a bit of foul trouble and on a night where he played well, Indiana could have used him out on the floor more.
Other positives: Louisville came into this one allowing opponents to score just .84 points per possession. The Hoosiers scored .96 per possession tonight, the most the Cardinals have allowed this season. Indiana's 74 points were also the most Louisville has surrendered this season as well. Indiana shot the lights out in the first half (7-of-10 from 3-point range) and save for a few blocked shots at the rim, also got some nice buckets in the paint as well. It trailed just 46-41 at half and was its usual mix of penetration and 3-pointers. As Tom Crean said to Andy Katz at halftime about the offense: "We're going to get whatever we want."
But after getting up by four points with 16:57 to go in the second half, the Hoosiers just ran out of gas as Louisville's relentless defense appeared to wear them down. It made just 1-of-10 from distance over the final 20 minutes, and that just wasn't going to cut it against a team that was murdering them on the boards and turning them over. They needed to keep the hot shooting up to make it a game down the stretch and it just didn't happen.
Still, if Indiana plays like this and brings similar effort to every game this season, it's going to win ball games.
"They're going to be an NCAA tournament team," Rick Pitino said after the game. "There's no doubt in my mind."
Filed to: Louisville Cardinals