Five takeaways from Indiana's loss to Louisville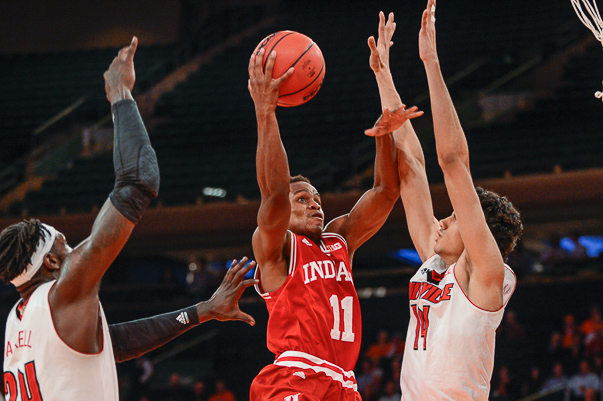 Indiana dropped its second non-conference game on Tuesday night as the Hoosiers fell to No. 4 Louisville, 94-74, in the Jimmy V Classic at Madison Square Garden. Here's a look at five takeaways from the loss to the Cardinals:
· Louisville brought physicality and Indiana was unable to match it: There were stretches where the Hoosiers hung in with Louisville relatively well and they even had a second half lead, but ultimately Louisville's defense and physicality was too much to handle.
Louisville hadn't been particularly good offensively coming in, but the Cardinals scored 1.22 points per trip, rebounded more than 50 percent of their misses and got to the foul line at a better rate than Indiana. Defensively, Louisville did allow Indiana to score 74 points, shoot an effective field goal percentage of 54.1 and score 0.96 points per possession (all season-highs), but this game was never really in doubt down the stretch as fatigue was brought to the game and the more physical, more experienced team prevailed.
"We got a lot of growth potential to get better, but the toughness level certainly and the glass level was hit tonight – we weren't ready for that," Tom Crean said of his team's effort. "We've got a short period of time obviously when you have so many games as we have to get better at it."
· Indiana was too careless with the ball: A lot was made of how Indiana would handle Louisville's pressure coming in and Rick Pitino's signature ball pressure didn't take long to become effective. The Hoosiers turned it over 13 times in the first half and despite that, only trailed by five at halftime because of hot perimeter shooting.
But as the shots stopped falling after intermission — IU made just one 3-pointer in the second half — the Hoosiers were unable to capitalize despite only having six turnovers in the second half. In all, Indiana turned it over on 24.6 percent of its possessions, which simply isn't good enough to stay in the game until the end with a top five team nationally.
· This game should end up being a positive long term: Despite the loss, no one can criticize Indiana's effort. The Hoosiers played hard and proved that their offense belongs in the conversation amongst the best nationally.
Playing in its first game away from Assembly Hall, Indiana got as stern of a test as it will receive all of the regular season and withstood some major runs from Louisville throughout the game. More importantly, getting to experience the physicality that Louisville brought to the game can only help Indiana moving forward into games against Butler, Georgetown and the overall Big Ten schedule.
"Our team has been able to learn from the games we've played for the last few weeks," Crean said. "And I hope we learn a lot from this one because that is what relentless, attacking basketball on both ends looks like, especially on the glass."
· IU had no answer for Montrezl Harrell, but few teams do: There's a reason that Montrezl Harrell is in the discussion as a national player of the year candidate. The effort and intensity he brings is rarely matched by an opponent and last night, he made all 21 of his points and all 11 rebounds look easy. Harrell racked up dunks, he intimidated around the rim and he never relented until the final buzzer.
Louisville coach Rick Pitino summed up the importance of Harrell to his team in his postgame remarks with some very high praise.
"Montrezl Harrell who I think is the best player in the nation and I've said that for quite some time," Pitino said. "He has a skill set like Kenneth Faried and (Dennis) Rodman in his prime, playing every position as if he hasn't eaten in a week, it's quite special."
· A few individual performances of note, Pitino on IU's tournament chances: No one on Indiana is going to grade out particularly well on the defensive end, but there were some strong individual performances that can hopefully be built upon.
Hanner Mosquera-Perea played far from a complete game, but he came out aggressively offensively and scored 10 points against a front line that can erase shots. Four rebounds still isn't enough for Mosquera-Perea, but a 5-of-6 performance from the field should help his confidence in that regard.
Yogi Ferrell had a lot on his shoulders in this game in 35 minutes of action and while he didn't shoot it great (4-of-10), he did pull down seven rebounds (a team-high) and dished out five assists to just two turnovers.
James Blackmon Jr. struggled from distance, but still managed to score a team-high 18 points and Nick Zeisloft came off the bench and knocked down 3 of his 5 attempts from distance.
As a bonus to this fifth and final takeaway, here's what Rick Pitino said about this IU team and its chances to make the NCAA tournament:
"Indiana, I'm really impressed with them. I was really worried about this game. They put so much pressure on you defensively. I'll say this, I've got a lot of respect for Tom and had a lot of wars with him at Marquette. He's doing a fabulous job this year with this team, because I talked to him right before the season started, we were both guests at a function in Indiana. He said I'm gonna take 30 3s. I'm gonna space people. I'll dribble-drive because that's what we have, and so he's played a fun style but he knows what he has and he lost a lot of people and they're gonna be an NCAA tournament team, there's no doubt in my mind."
Filed to: James Blackmon Jr., Tom Crean, Yogi Ferrell