Notebook: Indiana dominates Savannah State in 95-49 win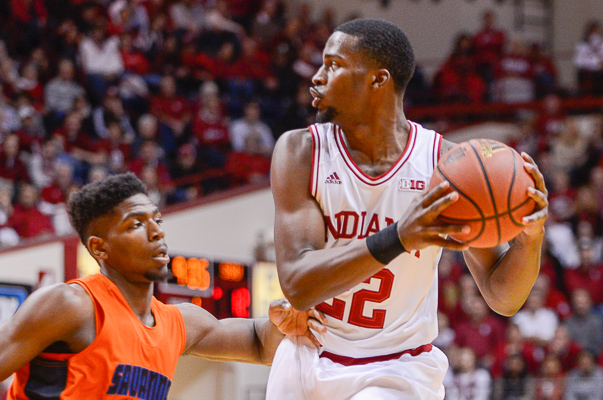 Heading into Saturday night's game against Savannah State, Indiana did not have the greatest track record against inferior opponents.
They won by just 13 over Lamar — a team that won four games last season. They beat UNC Greensboro by just eight points. And they also lost to Eastern Washington from the Big Sky Conference.
But on Saturday, the Hoosiers took care of business in Assembly Hall, dominating the Tigers en route to a 95-49 victory to extend their record this season to 7-1.
"Well, really, we learned that from our Eastern Washington game — if you don't get up for a team, they start to gain confidence and they think that they can play with you," freshman James Blackmon Jr. said. "Tonight we just wanted to start from the beginning and that's what we did."
The Hoosiers did get off to a slow start against Savannah State as they led just 10-9 with 14:55 to go in the first half. But from there, the Hoosiers did not look back.
Savannah State's offensive ineptitude combined with an improved defensive effort from the Hoosiers led to a 43-17 margin at halftime. The Tigers were averaging just 0.49 points per possession. Indiana limited their offensive rebound percentage to just 14.3 percent as well.
"We just want our players to continue to understand that they have to be in control of what they can control," Indiana coach Tom Crean said. "And they can't control everything that goes on in a game, but they can control their intensity. They can control their talk. They can control, you know, what we are trying to do with the game plan. They can control how hard they run, those type of things.
"So that's the kind of improvement we want to continue to make, and if you make that improvement, then all of a sudden your execution is better, and you get more stops."
The Tigers were able to improve their scoring and offensive rebounding rates in the second half — they finished with 0.72 points per possession and a 26.2 OR% — but all night they were unable to stop Indiana's offense. They were able to pressure it, though.
Utilizing a press, Savannah State forced 14 turnovers. Still, though, Indiana averaged 1.40 points per possession — nearly double the rate the Tigers scored at. And the Hoosiers emerged with with their second-largest margin of victory this season.
"That was a great I guess pre-test for us," junior Yogi Ferrell said. "We do know Louisville presses, so we wanted to go out there and try to beat the press as best we could, pass, attack, move. So this is a good pre-test for us."
Stanford Robinson improving in changing role
Coming off his four-game suspension to start the season, sophomore Stanford Robinson has found himself behind not only Ferrell and Blackmon on the depth chart, but also freshman Robert Johnson.
Compounded with his switch from shooting left-handed to right-handed, and Robinson has not had the easiest start to the season.
"Stan works extremely hard," Crean said. "Since he's been back, he doesn't go home after the walk-through. He eats, he sits around a little bit and then he goes back out in the gym and shoots. I see it countless; I'm worried, 'OK, are you working too hard?' I mean, he wants it so bad.
"So to me, we are trying to remind him as his shooting improves, just do what his strengths entail and just go as hard as you can go, change speed and direction, attack the rim, make simple plays, and be just a defensive hawk."
Against Savannah State, Robinson had five assists and seven points (six on baskets in the paint) in 13 minutes of action. It's the most court-time for the sophomore since the Eastern Washington game.
Ferrell praised Robinson, too, for playing downhill basketball against the Tigers and creating opportunities in the paint. It's exactly what Indiana wants out of Robinson moving forward as his shooting progresses.
"I thought tonight was a big step for him in playing that way, and statistics showed it," Crean said. "But most importantly the spirit and the mentality that he played with showed it."
Holt and Hartman 'impacting our team'
Once again on Saturday, freshman Emmitt Holt and sophomore Collin Hartman played roles in an Indiana win.
Holt was the first off the bench for Indiana on Saturday, and the 6-foot-7 forward went on to have eight points, five rebounds, two blocks and a steal in just 11 minutes of action.
Hartman, meanwhile, continued to play a role in the Hoosiers' rotation, scoring seven points in 15 minutes.
Following the game, Crean said both Hartman and Holt are being effective from the hustle game. And he expects both to continue to play a major role down the road.
"They come into the games and they really are playing like they belong," Crean said. "And they are making a difference and they are impacting our team."
Filed to: Collin Hartman, Emmitt Holt, Savannah State Tigers, Stanford Robinson