What to Expect: Savannah State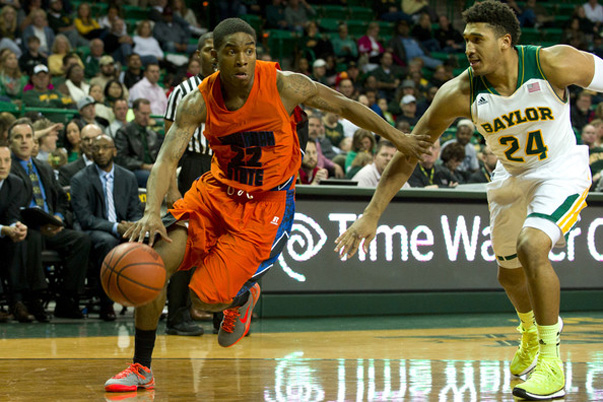 Indiana will look to move to 7-1 on Saturday night as the Hoosiers welcome Savannah State to Assembly Hall. It's the third all-time meeting between the two programs.
The game will tip at 7:30 on BTN with Chris Denari and Dan Bonner on the call:
There's little intrigue as Indiana returns to action this weekend following Tuesday's win over Pittsburgh and that's because Savannah State is another overmatched opponent in a guarantee game with the Hoosiers. The Tigers last came to Bloomington in November of 2011, Cody Zeller's freshman season, and left with a 29-point loss.
This year's Savannah State club actually has wins over Winthrop and Cleveland State (both at home) to its name to go along with a complete drubbing at Louisville and lopsided losses at Eastern Kentucky, Marshall and Winthrop. Yes, it's already played Winthrop twice. IU fans have circled games with Louisville, Butler and Georgetown on this month's schedule, but the Hoosiers first must get past this contest before the schedule ramps up on Tuesday in the Jimmy V Classic.
PERSONNEL
The Tigers come to Bloomington with just one player, senior guard Terel Hall (pictured), averaging in double figures. Hall's 10.6 points per game lead the program as does his effective field goal percentage (59.1). Against Division I opponents, the 6-foot-1 guard is making 59 percent of his 2s and is doing a solid job of getting to the foul line (68.2 free throw rate).
After Hall, the efficiency on this team takes a major nosedive. Alante Fenner, who is using 28.6 percent of possessions when on the floor, is second in scoring (9.1 ppg) in a reserve role. But that high usage rate isn't a positive as he's shooting just 36 percent from the field.
Savannah State's two best rebounders are 6-foot-7 Saadiq Muhammad and 6-foot-5 Javaris Jenkins. Muhammad averages 8.9 points while Jenkins isn't far behind at 8.8 per game. Both players are solid on the defensive glass with percentages above 17 on that end of the floor.
Freshman guard Khaleen Pinkett has taken as many free throws as he has 2s against Division I opponents, but is converting at just a 50 percent rate from the line. Brian Pearson, a 6-foot-7 junior forward, has a team-high nine blocks and also leads with 15 offensive rebounds.
A QUICK TEMPO-FREE LOOK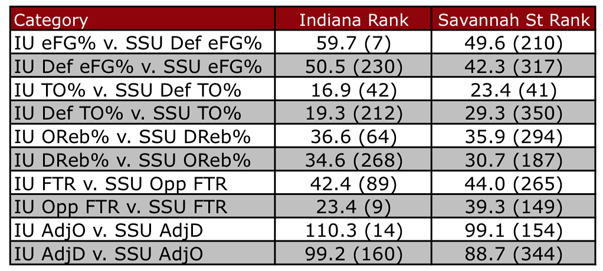 There are 351 Division I teams and only seven rank below Savannah State in adjusted offensive efficiency, according to Ken Pomeroy's ratings. Only one team turns it over more frequently than the Tigers and less than 40 shoot it worse. Simply put, this is an inept team offensively that is scoring .89 points per possession.
Savannah State is doing a decent job of forcing turnovers defensively and it's defensive efficiency ranking is actually better than Indiana's coming into this game. However, if the Hoosiers hold Savannah State close to just their season average on offense coming in, their defensive numbers should get a nice boost even though it won't really mean much at all.
WHAT IT COMES DOWN TO
Like the Lamar and UNC Greensboro game, this is a game Indiana should win comfortably. However, neither of those wins came particularly easy, so it's no sure thing to declare this contest a sure blowout without seeing how the Hoosiers respond to a lesser opponent coming off a nice win against Pittsburgh.
The Pomeroy projection is Indiana by 20 and Sagarin likes the Hoosiers by close to 23.
Things to watch for: Does Indiana come out and step on Savannah State early with a killer instinct that we haven't always seen against overmatched opponents? Can the Hoosiers put the defensive clamps on the Tigers? And how do Hanner Mosquera-Perea and Emmitt Holt follow up strong performances against Pittsburgh?
(Photo credit: Cooper Neill/Getty Images North America)
Filed to: Savannah State Tigers