The Minute After: Pittsburgh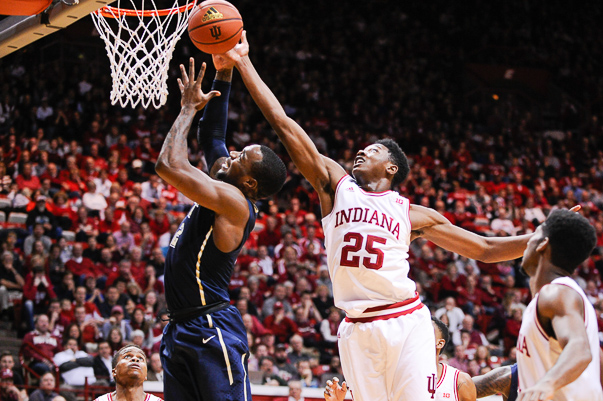 Thoughts on an 81-69 win over the Panthers:
They billed this one as a toss-up.
But the Hoosiers, save for a little lag at the end, put together a strong 40 minutes of basketball, leaving little doubt as the lead ballooned to 23 points in the second half that this was their game. While Pitt, one of the better offensive rebounding teams in the country, excelled in that category again tonight (52.1 OR%), Indiana still gave great effort on the defensive boards, gang rebounding as best it could. And it actually had a strong night cleaning up its own glass (42.4 OR%), leading to a 17-14 second-chance points advantage over the Panthers.
Couple that with adequate defense and a tremendous performance on offense, and you get a result like tonight for the Hoosiers. Indiana had one of those fun-to-watch games where it appeared Pitt — especially in the first half —  just had no chance on the dribble-drive as Indiana's ball-handlers either scored at the cup or dished it for corner 3-pointers or easy looks for teammates at the rim. The Hoosiers entered the half an efficient 5-of-7 from distance and simply didn't need to launch any more from beyond the arc in the first 20 minutes because of their work around the rim. By game's end, the Hoosiers amassed 58 of their 81 points in the paint and scored a strong 1.27 points per possession.
It was a balanced attack. No Hoosier had more than 15 (Emmitt Holt), but seven players had six or more points. With Hanner Mosquera-Perea saddled with two fouls in the first half, Holt entered the contest and continued to show he belongs … and then some. In 19 minutes of play, Holt led the Hoosiers in scoring on a perfect 6-of-6 line. At one point in the second half, he poked a rebound loose from a Panther, sprinted up the court, received the pass on the break and scored. Holt was also active on D (two blocks) and the boards (five).
Beyond Holt, Ryan Burton also needed to put in first half minutes for the Hoosiers up front and gave some solid time on the backline of Indiana's 2-3 zone, which did a decent job of keeping the Panthers at bay during that stretch.
On a night where Yogi Ferrell got into foul trouble and only had three points entering the last stretch of the game, Robert Johnson did a great job holding down point guard duties. He finished with nine assists — continuing to find teammates all game after he got into the lane — and just two turnovers to go along with six points.
Collin Hartman (seven points, seven rebounds) set the tone for Indiana's effort all game, hustling this way and that during his 24 minutes of action. His emergence as a legit rotation player after his knee injury is one of the better stories of this young season.
Join DraftKings.com's 1-day fantasy basketball league. Inside The Hall readers will receive FREE entry with their first deposit.
Pitt had a rough shooting night (40.1 eFG%) and probably could have kept itself in the game had it hit more of its high number of 3-point attempts (7-of-26, 26.9%) or converted better with all the offensive boards it gobbled up. Still, Indiana locked in a lot better than it did against Eastern Washington and UNC Greensboro. The easy drives to the lane weren't nearly as rampant this evening.
It's a step in the right direction for the Hoosiers after their defense looked lifeless for stretches in its last two outings against inferior competition. Can they keep it up against a less talented team in Savannah State this weekend to show a little consistency before a date with No. 5 Louisville at Madison Square Garden on Tuesday?
That's a question that will soon be answered.
Filed to: Pittsburgh Panthers