What to Expect: Pittsburgh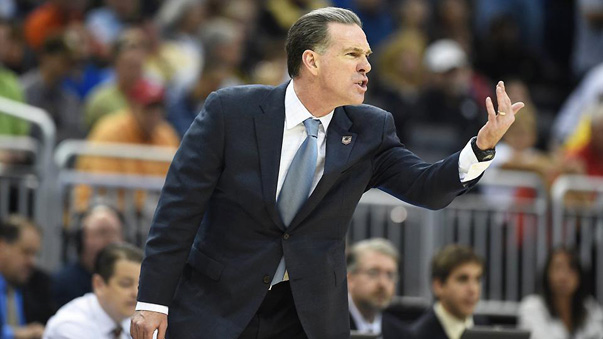 After a shaky 87-79 win on Friday night against UNC Greensboro, Indiana returns to Assembly Hall for its seventh regular season game opposite Pittsburgh in the Big Ten/ACC Challenge. It's the first meeting between the two programs since Dec. 8, 2009 at Madison Square Garden in the Jimmy V Classic.
The game will tip at 7 p.m. ET and will be broadcast on ESPN2 with Bob Wischusen and LaPhonso Ellis on the call:
Indiana's home-only November schedule is complete and whether the Hoosiers are ready for it, December is here with several significant challenges. First up is Pittsburgh, which is coming off a 2-1 trip to the Maui Invitational, which included wins over Chaminade and Kansas State and a loss to San Diego State.
The Panthers have been without guard Cameron Wright all season due to a foot injury and also lost Durand Johnson to a season-long suspension. Wright is due back soon, but without that duo, Jamie Dixon is playing a young rotation (312th nationally in experience, per KenPom) that will be entering its first true road environment.
PERSONNEL
Pitt comes to Assembly Hall with an efficient offense through its first six games, but its one that operates deliberately and will look to grind things out in a half court slugfest. The Panthers are averaging just 69.8 points per game and have just two scorers averaging in double figures in Michael Young and James Robinson.
The 6-foot-9, 235-pound Young, a sophomore, is the team's leading scorer at 14.7 points per game and is a productive offensive rebounder. He's making 63.1 percent of his 2s and 72.7 percent of his free throws. But more concerning for IU should be the potential for Young to have a monster game on the offensive glass. His offensive rebounding percentage of 14.9 is easily the high mark on the roster.
Junior guard James Robinson uses the most possessions on the roster and is the team's second leading scorer at 12.7 points per game. Robinson is a poor 3-point shooter (25 percent), but has hit 28 of his 30 free throw attempts. One of the few strengths of IU's defense this season has been keeping opponents off the free throw line and Robinson presents a significant challenge in that facet of the game. Robinson also has a team-high 35 assists and a top 50 assist rate nationally.
Beyond those two, Dixon has six other players averaging between five and 8.2 points per game and a fifth in Derrick Randall who is the team's second leading rebounder, although that's a bit inflated due to a 21-rebound performance against Chaminade. There's also plenty of size and length on the roster as just two of the nine rotation players are shorter than 6-foot-6.
Sophomores Jamel Artis and Chris Jones are both capable 3-point threats with Jones leading the team at close to 43 percent on 3s and Artis not far behind at 41.7 percent. Jones, who is listed as a guard/forward on the official roster, is a poor rebounder (just 11 total in six games) while Artis is solid on the defensive glass and typically avoids foul trouble. Backup guard Josh Newkirk, once a recruiting target for Indiana, has a 2-to-1 assist to turnover ratio and averages close to seven points off the bench.
Two others to watch are freshman Ryan Luther, who is 6-foot-9, but just hit three of his four 3-point attempts against Kansas State and 6-foot-7 freshman Cameron Johnson, who has hit 7-of-17 from distance through six games.
A TEMPO-FREE PREVIEW
We're still not to the point of the season where these numbers can be taken as gospel when comparing two teams, but the numbers for both teams at this point indicate efficient offense with a ways to go defensively: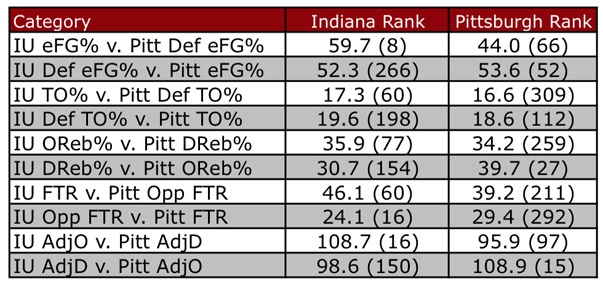 Obviously, the number that stands out for IU is the porous defense, which Jordan covered in this post from yesterday. Until Indiana is able to lock in better in that regard, it's going to be an uphill battle to find success trying to outshoot teams night in and night out.
There are some positives, however, for the Hoosiers. First, Pitt hasn't been turning teams over, they've been worse than IU on the defensive glass and they haven't been getting to the line. Those things can be easily negated if IU doesn't improve over its last several games defensively, but those are areas that are there to be exploited.
Pace also figures to be key here as Pittsburgh is playing the slowest of any major conference team not named Virginia. If Indiana has to play from behind and can't take care of the ball in the half court, it could be major trouble.
WHAT IT COMES DOWN TO
Will the Indiana team that defended reasonably well against SMU show up? Or will it be the group that just allowed UNC Greensboro to score 1.13 points per possession on Branch McCracken Court.
As much as Indiana's turnover and frontcourt problems were dissected in the preseason, neither issue was the reason IU lost to Eastern Washington and neither was the reason IU just had an unnecessary scare against UNC Greensboro. It's one thing to simply get beat by a team that is having a hot shooting night, but it's another to continuously blow assignments, have poor communication and let teams drive into the lane with little resistance.
Given that the game is in Bloomington, the KenPom model has the Hoosiers as a slight favorite (with a 58 percent chance to win), while the Sagarin numbers has the game dead even. The crowd should be more in line with that of the SMU game and should give IU a boost given that it's the first true road test for Pitt.
But the Panthers aren't going to go down easily and given that they rank 20th in 3-point field goal percentage defense, Indiana could find it tough to find open perimeter looks and is going to need to get to the line and on the offensive glass to emerge with a win.
November's victory-friendly schedule is over and December is here. Are the Hoosiers ready? We're about to find out.
Filed to: Pittsburgh Panthers