Defense a clear issue for Indiana six games into season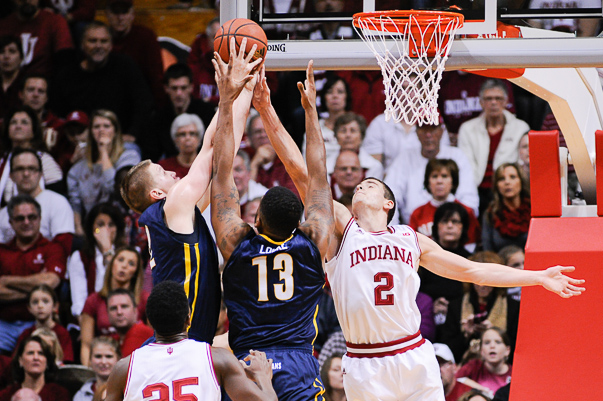 During his time at Indiana, Hoosiers coach Tom Crean has wanted to ensure that every play call gets to every one of his players. Each time a player hears a play call, they say it out loud so that it reaches their teammates. An "echo" is what the Hoosiers call it.
Through the first six games of the 2014-2015 season, though, Crean has not been hearing that echo. And on defense, the Hoosiers are struggling. After allowing 98 points in the paint to Lamar and Eastern Washington, in Friday's 87-79 win over UNC Greensboro the Hoosiers allowed 1.13 points per possession and a 60.3 effective field goal percentage.
Following Friday's win over the Spartans, Crean expressed his frustration over his defense. It simply has not been improving.
"We didn't have communication the way we need to have it," he said. "I've got to get that fixed. Every time I think that we're better at it, then I find out that we're not. I got to take full responsibility. It's not on the assistants, on nobody else but me to get our communication right. And whatever that's going to take, we're going to have to get that right because all it is is calling out who you have and calling out when you switch and calling out when we switch a defense."
Heading into the game against UNCG, as with any game, the Hoosiers' coaching staff put together a scouting report on their opponents. They knew many of the Spartans' points came from behind the 3-point line, and they mainly came from two players — Clay Byrd and Nicholas Paulos.
During the game, though, the Hoosiers struggled to stop either of them. Byrd went 6-of-11 and Paulos 6-of-8 on 3-point attempts, allowing the Spartans to stay in the game and even threaten for the lead late.
What frustrated Crean more than anything was that the two and their tendencies were on the scouting report. The on-court awareness was not there, though.
"If the scouting report says he goes over his right shoulder 95% of the time, then he's probably going to go over his right shoulder 95% of the time," Crean said. "We got to take the right shoulder away, or we have to take the left hand away or switch out when we're supposed to switch out."
"Hearts are in the right place, minds got to get in a clearer place when it comes to scouting report defense."
Defensive faults in this season's team is not something that Crean was just made aware of, either. The team has been working on it in practices, sophomore Collin Hartman said, especially on defensive communication.
But in games, Hartman admitted, the "definitive communication" still isn't there. The communication whether they are switching, whether they are in zone, is not at the level it has to be yet.
"I think our coaches do a good job of getting us prepared mentally with the game plan, what guys' tendencies are," Hartman said. "I think we just need to carry it out more on the court by communication more, just more definitive communication."
The Hoosiers will not get many low-pressure games to practice their defensive communication in the future, either. Pittsburgh, a team with the nation's No. 16 most-effective offense, comes into Assembly Hall on Tuesday for the Big Ten-ACC Challenge. Louisville, Butler and Georgetown loom in December, as well.
Crean admitted the Hoosiers' defense is a "work in progress" six games in. There is not much time left, though, before the big-time opponents await.
"Bottom line is our team has got to learn that it's one thing to want to play defense, it's another thing to be in the spot," he said. "We've got to learn how to take things away. We're not doing a really good job of understanding scouting reports, strengths and weaknesses of teams.
"We've got to get that figured out in a real hurry."
Filed to: Tom Crean