News and notes from Tom Crean's weekly radio show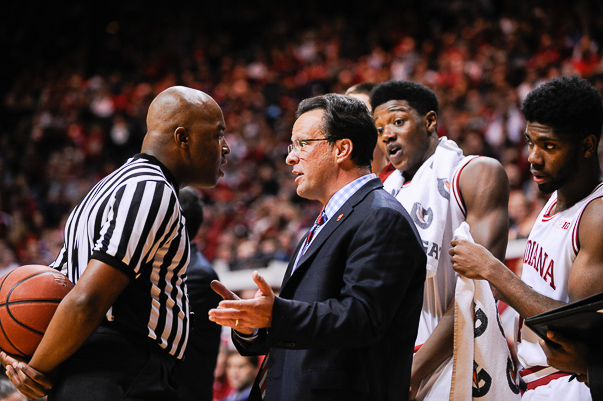 Monday night, Indiana coach Tom Crean spoke at his one-hour radio show with host Don Fischer at the Bloomington Holiday Inn. It was his first show since the opening week of November — before the season even began.
During the show, Crean spoke on a variety of issues — from player and team development to Tuesday's game against Pittsburgh in the Big Ten/ACC Challenge. News and notes from what Crean said are posted below:
— Firstly, Crean said the Hoosiers need to start making consecutive stops on the defensive end, as that will only improve the team's offense going forward. As he noted, the Hoosiers have made three stops in a row just five times through their first six games this season.
— Crean admitted the Hoosiers also have yet to gain an understanding of "how hard you have to play for every possession at this level." Acknowledging the defensive struggles his team has had early this season, Crean said he knows his team wants to win, however he believes the team has to "play harder, longer."
— Indiana's freshmen are playing "too many minutes," Crean said. But "that's the way it is" because of the close games early this season. Even junior Yogi Ferrell is playing too many minutes, he said.
— The Hoosiers also will benefit from the diversity of early-season opponents, Crean argued, saying "in the long run it will be invaluable" for them to have played a team like Lamar (which ran at them), like Eastern Washington (which dominated the paint) and like UNCG (which shot well from behind the 3-point line). Pittsburgh, though, Tuesday's opponent, is a different story. "That's going to be a whole other indoctrination for our guys," Crean said.
— To beat the Panthers, Crean said, the Hoosiers must hold them on the defensive side of the ball. He said his team needs to get back in transition, win the battle at the free throw line and most importantly contend in the rebound battle. "Bottom line is we've got to keep them off the back boards and their guards off the back boards," he said.
— Junior Hanner Mosquera-Perea is improving consistently in practice, Crean said, though there has to be a transition of his practice performance into games. Of what Crean would like to see Mosquera-Perea improve on: quicker reactions, running the court harder, moving around in the post, running after loose balls and simply a bit more awareness on the court. Once he does that, Crean said, he will become more of a post threat for Indiana but that "has to come pretty soon, though."
— Crean said he is seeing plenty of improvement from freshman Emmitt Holt, and that he "will be a big factor moving forward" as a hustle guy, an extra possession guy. The Hoosiers' coach noted Holt has improved his athleticism, ball skills, patience and free throw shooting in the short time he has been in Bloomington. But he also mentioned how Holt already has been through a lot already, and that he is maturing but also has to stay patient as he gets more experience and more prepared for games.
— Freshman Jeremiah April is no longer under any limitations after having ankle issues for much of the preseason. Crean noted his teammates are starting to see his potential, and are starting to get after him in practice. That said, Crean does not know if he is ready to face a team with the talent of Pittsburgh, but that April is making progress and that there is an urgency to get him ready for those games.
— One thing Crean lauded his team for is offensive unselfishness. In fact, he said, "what our team is doing right now is what we wanted to do last year" in the sense of passing up looks for better ones. "Let's keep taking the best shot," he said, "because we've got a lot of guys that can make shots."
Filed to: Emmitt Holt, Hanner Mosquera-Perea, Jeremiah April, Tom Crean