The Minute After: UNC Greensboro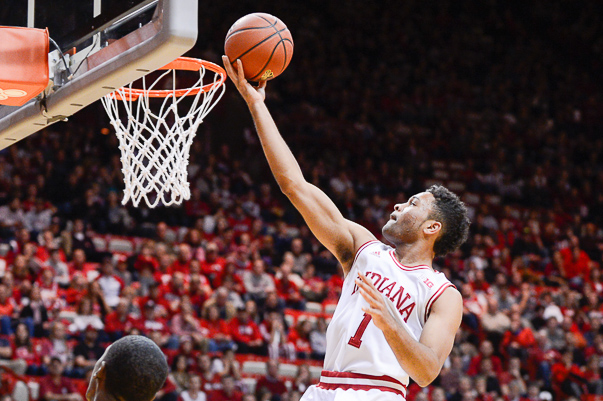 Thoughts on a 87-79 win over the Spartans:
I. This one counts as a W. It's a win.
But it failed to stifle concerns of Indiana's defense and its inability to put away an inferior opponent on Branch McCracken Court. Leading 68-49 with 12:06 to play, the Hoosiers choked away the 19-point lead. They failed to step on the Spartans' throats and put them to bed for the night, leading by only seven with just over three minutes to play. They hung on for the eventual eight-point win over the now 1-5 Spartans, a team ranking 302nd overall in the country, per KenPom.
Indiana was outscored 45-37 in the second half and gave up 1.13 points per possession to a team ranking 258th in offensive efficiency. The Spartans were white hot from 3-point range, hitting 14 of their 23 attempts (60.9 percent). Many of them came as good looks with Indiana failing to track down shooters beyond the arc. Nicholos Paulos (6-of-8) and Clay Byrd (6-of-11) did heavy damage. While Indiana allowed a much better 22 points in the paint after giving up 48 points there in back-to-back games coming into this one, it also allowed too many drives to the bucket for scores as the Spartans mounted a second half comeback.
It's the same refrain from last TMA: All the shooting in the world won't save a weak D over the long run. And Indiana has nowhere to hide on this with Pittsburgh coming to Bloomington on Tuesday.
II. Deep breaths.
For tonight at least, Emmitt Holt appears to be the safety valve for Hanner Mosquera-Perea's mistakes. Early in the second half, Tom Crean pulled Mosquera-Perea after he picked up a foul biting on a shot fake. Holt entered the contest and Crean proceeded to chew the junior out on the bench. Holt has some serious length and, for as simple as this analysis sounds, looks like a basketball player. Good instincts, good technique, good form. But he's still young, untested and unproven. The freshman failed to score in 12 minutes of action, but affected the game in other ways, picking up five rebounds and blocking two shots.
James Blackmon Jr. returned to his impressive form this evening on his way to 24 points (9-of-17) and nine rebounds, though he was just 2-of-7 from 3-point range. Blackmon Jr. also had a tip-back dunk in the second half where he appeared to out maneuver Troy Williams for it. That's athleticism we've yet to see from the freshman.
Join DraftKings.com's 1-day fantasy basketball league. Inside The Hall readers will receive FREE entry with their first deposit.
Indiana turned it over too much (18.6 TO%), but still managed a strong 1.24 points per possession thanks to a 51.8 free rate (22-of-29 from the line, 75.9 percent) and a 58.0 eFG%. Mosquera-Perea (10 points) finished 3-of-3 from the field and 4-of-5 from the line. The latter a good thing to see after he's started the season out a bit rough from the charity stripe. He was used like Williams at times in Indiana's offense, streaking in from the baseline, catching the pass from an IU ballhandler who broke down the D in the paint and using his leaping ability for scores. Williams has 11 himself on a 4-of-6 night with Robert Johnson chipping in 11 aided by a 3-of-6 performance from distance.
Filed to: UNC Greensboro Spartans