The Minute After: Eastern Washington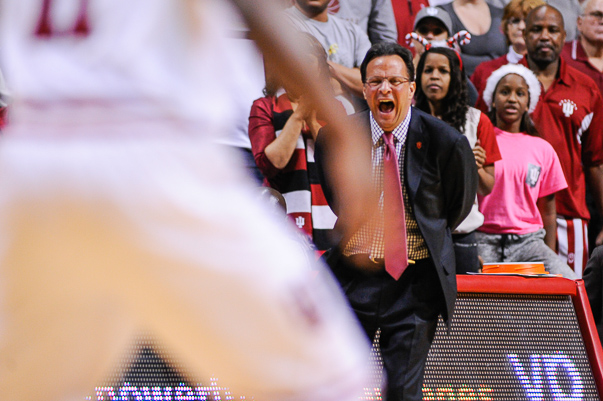 Thoughts on an 88-86 loss to the Eagles:
This is what happens when your only rotational big man can't defend the post. Indiana become helpless against the size of Venky Jois. He goes off for 20 points and 14 boards. Indiana's lack of size allows Eastern Washington to gobble up 41 percent of its misses for 20 second-chance points and 48 points in the paint.
This is what happens when your guards can't defend dribble penetration: Tyler Harvey and Drew Brandon combine for 52 points on 19-of-36 shooting and the Eagles score 1.18 points per possession.
This is what happens when James Blackmon Jr. leaves the Superman cape in the locker room, the Hoosiers shoot under 40 percent from 3-point range and Yogi Ferrell goes hero ball down the stretch: A 12-point second half lead disappears, and Big Sky comes to Big Ten country to take Indiana out.
The Eastern Washington Eagles aren't a bad team. But they're not a great team, either. However, they laid the path on how to expose Indiana: If you have a competent big man, feed him, feed him and feed him again. Indiana just doesn't have anyone capable of defending him at an acceptable level at present. Tom Crean has so little faith in Hanner Mosquera-Perea right now that he sat him for large stretches as a host of smaller Hoosiers did what they could against Jois, which wasn't much. Emmitt Holt doesn't appear ready to be part of the solution right now. He didn't even see the court. Heck: Just a few months ago, he thought he'd still be in high school. Jeremiah April and Tim Priller likely aren't going to get it done against competent competition, either.
If you have a kid or two that can dribble-drive into the paint, let him go to work time and again as well. Indiana hasn't proved capable of stopping that either. Add up this game and the Lamar win and it's 96 points in the paint the Hoosiers have allowed over their last two contests. Blackmon Jr. has been a tremendous scorer, but he's letting guys go by him with ease.
Join DraftKings.com's 1-day fantasy basketball league. Inside The Hall readers will receive FREE entry with their first deposit.
Indiana's loss spoils a fun night for Troy Williams. He did his usual sneaky baseline work for a number of scores and a couple highlight reel dunks. Williams finished the night with 19 points on 8-of-14 shooting. Ferrell scored 14 of his 27 points down the final stretch and at least kept Indiana in this one with a puncher's chance of coming back after Eastern Washington made some big plays on their end.
But this team wasn't supposed to have to rely on him this much this year for this long of a stretch. This team has too many other guys with talent, too many other playmakers.
"We've got to get better at defending the paint. And we will," Crean said in his post-game press conference. "You have to stop that first line of attack much better."
It's early and Indiana has time to learn, grow and get better on the defensive side of the ball. But December brings Pittsburgh, Louisville and Georgetown. Big Ten season starts on New Year's Eve. Time is limited for this young group before the competition ramps up a notch, and all the 3-point shooting in the world isn't going to make up for a non-existent defense.
Filed to: Eastern Washington Eagles