Hoosiers begin busy stretch tonight against No. 22 SMU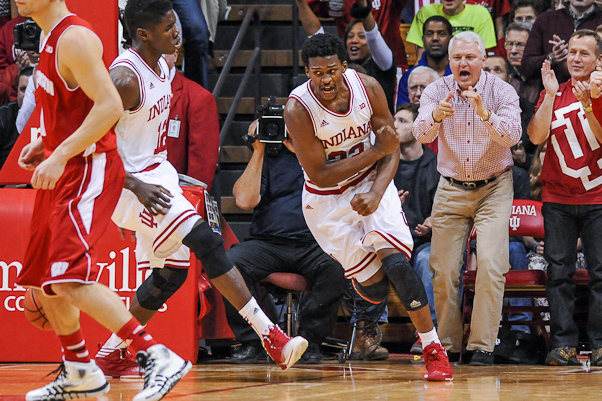 Whether they are ready or not, Indiana is about to get plenty of game experience quickly.
In the span of the next five days, the Hoosiers are set to play SMU, Lamar on Saturday and Eastern Washington on Monday.
The quick succession begins with tonight's battle at 8 p.m. against the Mustangs, ranked No. 22 in the latest AP poll. And as far as if it has come in good timing, according to Indiana coach Tom Crean, it actually proposes several challenges.
"As far as this next stretch of games, is it optimal? It is what it is," Crean said on Wednesday afternoon. "Ask the players if they want to play games and they say they love it. As for the coaches, you have to make sure that you aren't getting away from making your team better, and not just turning it into preparation time."
Indiana's first opponent in the three-game stretch will be its toughest. SMU, despite its loss on Monday to Gonzaga, is rebounding 41.4 percent of its misses thus far — and Indiana has allowed 30 offensive rebounds in its first two games alone.
But the Hoosiers will get some necessary help, starting with tonight's game. Suspended players Troy Williams, Stan Robinson and Emmitt Holt all are eligible to play tonight after missing the Hoosiers' first two games — and all should be able to help on the boards.
"I know they are anxious to get back," junior Nick Zeisloft said. "We are anxious to have them back too. We've been wanting them to be with us the whole time and unfortunately, they couldn't be. We're glad to have them back and they will add a lot to our team."
"We are really happy to have those guys back," junior Yogi Ferrell added. "Troy and Stan can get in there and rebound for us. They will mix well with us in helping us spread out the court. Pretty happy to have them back."
Tonight's battle against the Mustangs will also help the Hoosiers get a better gauge of where they stand, as well. The game will be the first test for the much-changed Indiana squad that lacks size but now has a much-improved shooting ability.
It has not affected the team thus far against the likes of Mississippi Valley State and Texas Southern. But it has yet to face a team with the size and athleticism like SMU has.
"Definitely it's a good test for us," Zeisloft said. "We will see where we are as a team. They are very athletic and long, and we haven't really seen an opponent like that thus far. So it will be a good test for us."
Of course, following tonight's game, the Hoosiers will have a quick turnaround for Saturday's game and another before Monday's game. It means Robinson, Williams and Holt will all get needed game experience in a short span.
But it also means the Hoosiers will need to remain focused in such a short span, as Crean warned. It's something that Zeisloft said his teammates are quite prepared for.
"It definitely is a big deal for us," Zeisloft said. "We've got to take care of our bodies and also be mentally ready for each game because they are hitting you pretty quickly. You've got to take it one game at a time and once one is done, have that fast transition into the next game."
Filed to: SMU Mustangs