Five takeaways from Indiana's win over Texas Southern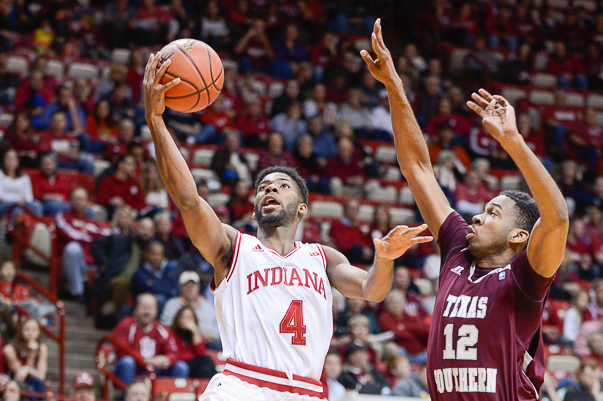 Indiana moved to 2-0 with a comfortable 83-64 win over Texas Southern on Monday evening at Assembly Hall. The game was the first in the four-game Hoosiers Showcase and also marked the return of Mike Davis to Bloomington for the first time since the 2005-2006 season.
Here's a look at five takeaways from the win:
· Johnson showing uncommon maturity for a freshman: It's only two games and the competition level hasn't been great, but freshman guard Robert Johnson is showing why he's a major part of the equation for the Hoosiers. Johnson is a little older than your typical freshman because he reclassified after his junior season from the 2013 class to 2014. The extra time to develop at the prep level obviously proved beneficial as Johnson transferred to Benedictine Prep and saw his recruitment take off the summer before his senior year there.
Arguably the most physically developed freshman that Tom Crean has ever recruited to Bloomington, Johnson's skill set is solid all around. He's a very capable perimeter shooter and he's good off the dribble despite lacking elite athleticism. In Monday's game, he was on fire early on as he had 17 points by halftime and had a lot of ball handling responsibilities once again. Johnson's turnover percentage is just 14.7 through two games, the lowest among IU's starting five which speaks to his willingness to make the simple play and not try to do too much.
Like any freshman, he'll have his ups and downs, but through two games, Johnson appears to have put a stamp on a starting position for the foreseeable future.
Join DraftKings.com's 1-day fantasy basketball league. Inside The Hall readers will receive FREE entry with their first deposit.
· Mosquera-Perea excels again: Is it too early to proclaim that Hanner Mosquera-Perea has arrived? Yes. But with each game that passes, it becomes more and more clear that the Colombia native has improved significantly. There's still plenty of work to be done, but it's obvious that Mosquera-Perea is gaining comfort, particularly offensively.
On one sequence last night, Mosquera-Perea scored six points in 1:13 and each bucket showed something different. The first score was off a solid move in the post, the second was a rim shaking dunk after a steal and the third was a midrange jumper. A year ago, it's tough to say if he would have converted any of those opportunities. Mosquera-Perea also blocked five shots in 26 minutes.
"I feel like Hanner this year has gotten better with timing the block now and going up and blocking it, so if we get beat off the dribble, we know we've got back line defense, and Hanner is going to be up there to block it for us," Yogi Ferrell said. "We're going to definitely need that from him."
· Defensively, Indiana has a long way to go: The Hoosiers have been lighting it up offensively through two games with an effective field goal percentage of 70.9. But when the games get tougher, it's tough to count on that type of efficiency to continue and getting stops is going to be imperative in tight games.
On Monday, Texas Southern missed quite a few easy looks that good teams will convert. So as the Hoosiers go back to practice and watch film in preparation for SMU on Thursday, there will certainly be plenty of learning points from watching the film from the defensive end.
· Without three rotation guys, Indiana took care of business: Assuming Emmitt Holt is going to be a contributor, the Hoosiers did exactly what needed to be done (win) in four games without Holt, Troy Williams and Stanford Robinson. Crean had to play guys more minutes than he would have liked this early in the season, but given the circumstances, Indiana comes out of the suspensions with some experience for its young players.
"They're playing an awful lot of minutes early on in the season, and we're spending a lot of time together," Crean explained. "The last couple weeks, these kids have gone through a lot, and then the games come, and you would think that would be the freedom of movement, and boy, let's go, and it's — you know, they're carrying a lot."
· Quietly, Zeisloft puts together a solid night: Monday's performance from redshirt junior Nick Zeisloft is more in line with what he'll produce on a regular basis than the offensive explosion he had in the exhibition opener.
In 32 minutes, Zeisloft made both of his field goal attempts and finished with six points, six rebounds, two steals, an assist and a turnover. More importantly, he corrected a few of the mistakes of over dribbling and trying to do too much at times that he had in previous games.
It'll be interesting to see how Zeisloft's role changes once Indiana gets Robinson and Williams back into the rotation, but regardless of whether he's starting or coming off the bench, his play so far shows he was a solid offseason addition for the program.
Filed to: Hanner Mosquera-Perea, Nick Zeisloft, Robert Johnson, Texas Southern Tigers