The Minute After: Northwood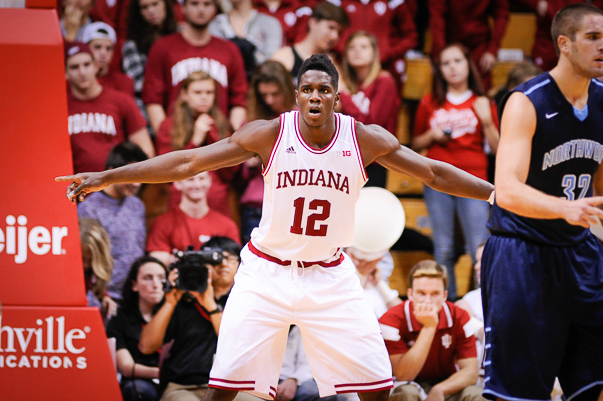 Thoughts on a 94-70 win against the Timberwolves:
I. This roster-depleted, emotionally-tested Hoosier squad started slow. Despite getting in the bonus early and being the more talented and athletic team, it took about 14 minutes to grab the lead back for good and grow it. Once the second half hit, it was pretty much all Hoosiers en route to a victory with several Indiana players making big contributions.
II. Hanner Mosquera-Perea's feel for the pace and rhythm of a college basketball game is still a work in progress. But this is fact: Tonight was his most complete game in the cream and crimson. As noted on the broadcast, the junior's previous career-high in minutes was 15; he passed that in the first half. In that first 20 minutes, Mosquera-Perea connected on a long two from the right baseline and rolled to the rim to finish an alley-oop from fellow junior Yogi Ferrell. In 33 minutes of actions, Mosquera-Perea posted a double-double (10 points, 12 boards) along with a block, an assist, a steal, four turnovers and just two fouls. A good start, but room to grow.
III. Broken record at this point, but Indiana turned the ball over at an alarming rate last season. But on this night, the Hoosiers were pretty good with the ball. Mosquera-Perea's four turnovers accounted for nearly half of Indiana's miscues (10), as its turnover rate was just 13.0 percent. Turn the ball over on just 13 percent of its possessions for the rest of the season, and the Hoosiers are going to end up with a lot less empty possessions than their 2013-2014 campaign. But it's too early right now to know if Indiana has really turned the corner in this category.
IV. I said it during the contest, but it deserves a repeat: James Blackmon Jr. was born to score. He is effortless and smooth and plays with a wisdom beyond his freshman status. Blackmon Jr. led all scorers with 26 points on 7-of-11 shooting and added a perfect 10-of-10 performance from the line. Riding his heels was junior transfer Nick Zeisloft. The Lyons Township (Ill.) product connected on 4-of-8 from distance and also chipped in a perfect 10-of-10 mark from the free throw line. Once Troy Williams and Stanford Robinson return from their four-game suspension, Zeisloft may slide back to a reserve role. If that's the case, he appears to be in line to add some scoring pop off the bench when his number is called.
Join DraftKings.com's $40,000 1-day fantasy basketball league. Inside The Hall readers will receive FREE entry with their first deposit! First place takes home $5,000 and the top 4,600 users will win cash.
Ferrell was hard to keep track of at times as he dribbled all over the place, getting Northwood defenders leaning this way and that. Indiana's point guard turned the ball over just two times in 34 minutes of action. He also hit just one of his five attempts with distance, but still finished with 16 points, six assists and four rebounds. Robert Johnson also had a rough go of it from 3-point range (1-of-6), and so Indiana finished with just a 33 percent mark from distance (9-of-27). Johnson was still able to score double figures (13 points) and hit 4-of-4 from the line. Northwood kept fouling Indiana all game and the Hoosiers made them pay for it at the line, connecting on 81.6 percent (31-of-38) and sporting a free throw rate of 66.6.
Despite the slow start, the Hoosiers scored 1.22 points per possession.
V. During garbage time, Tim Priller — who appears to be an early fan favorite — banked in a 3-pointer and Nate Ritchie threw down a dunk much to the delight of fans who stuck around during the closing minutes of the blowout.
Filed to: Hanner Mosquera-Perea, James Blackmon Jr.