Five takeaways from Hoosier Hysteria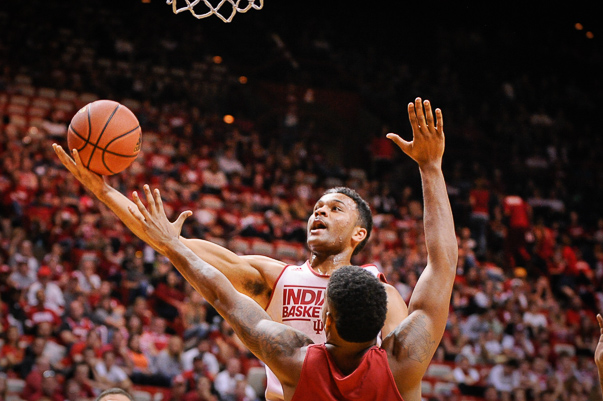 Indiana's season opening showcase, Hoosier Hysteria, took place Saturday night in Assembly Hall and included player introductions, a 3-point shootout, dunk contest and a 20-minute scrimmage.
Here's a look at five takeaways from what we saw on Branch McCracken Court:
· Indiana's offense should be significantly better: Yes, the sample size (five games in Montreal and a scrimmage) is small, but if there's one thing that stands out right now about this team, it's the possibility for a very good offense. The turnover issue still looms large, but the perimeter depth and versatility should make this team tough to guard. Yogi Ferrell is still one of the best guards in the country, but Tom Crean has surrounded him with an elite shooter and scorer in James Blackmon Jr., a combo guard who competes like an upperclassman in Robert Johnson, a veteran who seems confident in Nick Zeisloft and two sophomores, Stanford Robinson and Troy Williams, who love to attack off the dribble. There will be a learning curve to make all of the pieces fit together, but the upside of this group is tremendous.
· Mosquera-Perea shows flashes of improvement: Junior Hanner Mosquera-Perea showed a few flashes of improved hands and footwork in Saturday's scrimmage. On one particular sequence, Nick Zeisloft cut from the right corner on the baseline, received a pass from Yogi Ferrell and then dropped the ball off to Mosquera-Perea on the left block. It was a pass that Mosquera-Perea may have had trouble handling in the past, but he caught it and went up against Emmitt Holt and missed. He then collected the offensive rebound off a tip by Devin Davis and finished at the rim.
"The bottom line is, we're trying to keep it where Hanner is gaining confidence every day," Crean said on Saturday. "The more confidence he gains, the more we can stretch his game. He's on a good road, he's hungry. I'm not going to over-exaggerate it, I'm not going to over-compliment him, but you're seeing what we see – he's really working to get better. We've got to stay on that path."
· Robert Johnson is flying under the radar: Johnson hasn't been talked about nearly as much as Ferrell or Blackmon Jr., but the Richmond (Va.) native looks the part of a Big Ten ready guard. There's something to be said for a player who makes the smart play most of the time and that's exactly what Johnson is. He's not ultra explosive, but he's strong and crafty enough to get where he needs to with the ball, moves fairly well without it and can stroke it from deep. And he competes, which is what Crean said on Saturday has stood out so far.
"I think he's competitive, I think he's a pitbull, I think he's got to gain confidence that he can still be really good when his shot's not there," Crean said. "What happens with new players, especially ones that were high-volume scorers and were as good as he was and as good as James was, they have to understand that you can still really impact the game even if the shots aren't there."
Johnson won't be a featured offensive player in IU's offense immediately, but impacting the game without shots is something we saw him do in Montreal and with his ability to play facilitator and also mix it up on the boards when asked. He'll play a valuable role.
· Dual threats on the perimeter should open up the floor: Outside of Ferrell and Noah Vonleh, who didn't spend much time there, Indiana didn't have consistent perimeter shooters last season. It's a big reason why the offense was often disjointed. In Ferrell, Blackmon Jr. and Johnson, the Hoosiers now have three legitimate threats to shoot from distance or go off the dribble. The result is better ball movement and trust amongst teammates to find the open guy because there's a belief that anyone can knock down a shot.
"When you look at our higher-level shooters, they are also good at driving to the lane – Yogi, Robert and James," Crean said. "Dribbling is a weapon, not a necessity. We were able to work on that a lot this summer and we've had success. We didn't do a lot of rebounding drills before Montreal or physical taxing things. We just started to do more of those so we'll see more improvement in not over-dribbling, we'll see improvement on continuing to make the next pass."
· Defense and rebounding are still very much a work in progress: On the defensive side of things, Indiana still has a ways to go, which isn't necessarily surprising considering this is, like it or not, a young team. Nine of the team's 15 players are new to the program and two of its primary frontcourt pieces, have limited experience. Having size isn't necessarily a prerequisite to having a good rebounding team, but making first contact and getting bodies on guys, particularly on the defensive end, is. So far, as Crean said, Indiana hasn't done a lot in those areas and it showed in Montreal and on Saturday.
Right now, Ferrell is easily Indiana's best defender and how quickly the rest of the group makes progress in areas like communication, stopping unnecessary reaching and not over-helping will be pivotal.
"We have spent a lot of time breaking it down. So it's not the fatigue that shows up easily, it's the fatigue of not talking as much or we don't have our hands up as much – the little things," Crean said. "The details of it are behind when it comes to game speed. But they aren't behind when it comes to drilling. I think the effort is there. I've been seeing us come off shooters and we never do that. That's the one adjustment I've seen being in the Big Ten, you cannot chase the ball when there are so many good shooters in the league. You have to defend the shooter. Stop the ball, but defend the shooter."
Filed to: Hanner Mosquera-Perea, Hoosier Hysteria, Robert Johnson