Notebook: New tradition begins at Hoosier Hysteria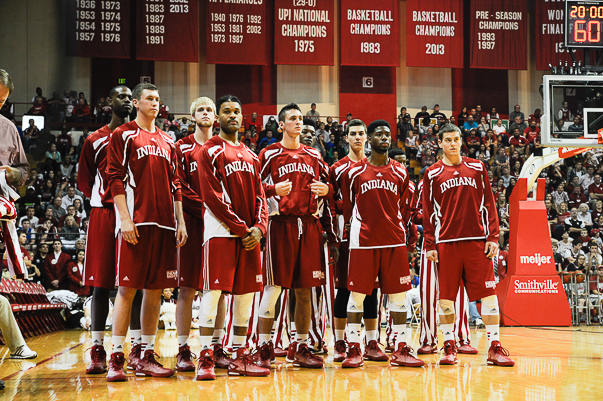 Saturday evening's Hoosier Hysteria was a first for many on Indiana's 2014-2015 roster. For nine of the program's 15 players, it was their first time donning the cream and crimson in front of a crowd at Assembly Hall.
It also was a night of firsts for Indiana basketball in general, as the Hoosiers debuted a new tradition they expect to continue for years to come.
Hoosiers start new candy-striped pants tradition
One of the most recognizable symbols in college basketball is Indiana's candy-striped pants, something the Hoosiers have worn since the 1971-1972 season.
And on Saturday night, Indiana started a new tradition in front of the fans at Assembly Hall, handing its nine newcomers their first pair of candy-striped pants.
The ceremony included former players Matt Nover, John Laskowski, Gary Long, Greg Graham, Todd Leary, Errek Suhr, Jamaal Meeks and Jerry Memering, who each handed a pair of the pants to the nine first-year Hoosiers: Nick Zeisloft, Max Hoetzel, Nate Ritchie, James Blackmon Jr., Robert Johnson, Ryan Burton, Jeremiah April, Tim Priller and Emmitt Holt.
"I loved it," Indiana coach Tom Crean said. "I think it's fantastic and I think it will really take off as a tradition. Something we can make a big part of this."
Newcomers shine in 3-point, slam dunk competitions
Two freshmen won Saturday night's skills competitions, as Hoetzel won the 3-point shooting contest and Ritchie, a walk-on, won the slam dunk contest.
Hoetzel led all scorers in the first round of the 3-point shooting contest with 22 points, beating junior Yogi Ferrell's number of 19 and clinching a spot in the final against Zeisloft, an Illinois State transfer.
Zeisloft then scored 18 in the final, as Hoetzel followed with a 21-point, winning performance.
"I don't lose 3-point shooting contests," said Hoetzel, who also won the Derby Festival Classic 3-point shooting contest in April.
In the following slam dunk contest, Ritchie qualified for the finals with both junior Hanner Mosquera-Perea and sophomore Troy Williams.
And with the last dunk of the three finalists, Ritchie took a Stanford Robinson pass off the backboard and turned it into a windmill slam.
"Haven't you seen his YouTube video?" Crean said. "Now you'll be knowing him for something other than his YouTube tapes.
"I'm not surprised with him. He turned down Division I offers, good schools, and really wanted to be at Indiana. Well-coached, he's an excellent young man. He competes."
Blackmon leads scoring in Red and White scrimmage
Though on the losing side as the Red team beat the White team, 49-42, Blackmon led all scorers in the 20-minute exhibition with 19 points on three 3-pointers.
Ferrell, who played for the winning Red side, followed with 14 points, along with four assists and two rebounds. Robinson added nine points and led with four rebounds and four assists, as well.
In all, the Hoosiers made 12 3-pointers in the scrimmage. And afterward, Crean expressed optimism that last season's shooting struggles are now a thing of the past.
"I think the days of us being concerned about are we going to make enough threes to be in games," Crean said, "I don' think that's going to happen very often."
High-profile recruits in attendance
Though Indiana received the news earlier on Saturday that the Huntington Prep (W.V.) trio of top 100 prospects scheduled to attend Hoosier Hysteria cancelled their plans, there still were several top prospects in attendance at Assembly Hall.
Leading the group were the Hoosiers' two class of 2015 commits, Juwan Morgan and O.G. Anunoby, who both traveled from Missouri to be in Bloomington.
Class of 2016 top-100 guards Rawle Alkins and Eron Gordon also were at Assembly Hall, as was 2017 top-25 prospect Paul Scruggs.
In addition, class of 2014 guard JaQuan Lyle, the former Evansville Bosse guard and Oregon signee, also was at Hoosier Hysteria. Lyle currently is attending IMG Academy in Florida after he was denied admission at Oregon.
Filed to: Max Hoetzel, Nate Ritchie