Hoosier Hysteria streaming details, Steele to serve as emcee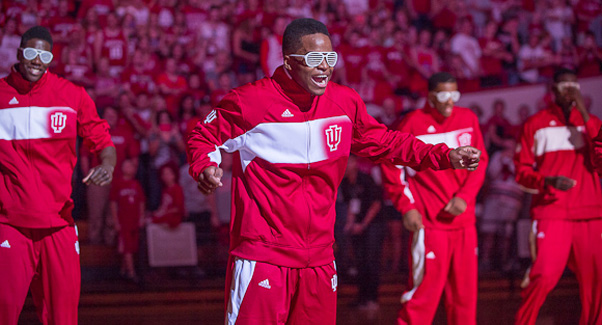 Hoosier Hysteria, the annual tip-off to the Indiana basketball season, takes place this Saturday in Bloomington as Assembly Hall doors will open at 5 p.m. ET followed by the event at 6 p.m. ET.
If you're unable to make it to Assembly Hall, the Big Ten Network will be providing digital coverage via its streaming service, BTN Plus.
According to Derek Reinglass, manager of communications at BTN, Hysteria streaming is scheduled to begin at 6:25 p.m. ET.
Fans can access the stream via a BTN Plus subscription, which is offered in two packages: school-specific or conference. The school-specific pass is $9.95 monthly or $79.95 annually and the conference pass is $14.95 monthly or $119.95 annually.
A subscription to BTN Plus is not included with a subscription to Big Ten Network.
Indiana's two exhibition games — Thursday, Nov. 6 vs. Longwood and Monday, Nov. 10 vs. Indianapolis — will also be broadcast on BTN Plus as will the Dec. 22 regular season game against the University of New Orleans.
BTN Plus already has a page set up for Hysteria, which also has links to signing up for service in order to watch the event.
Sage Steele returns for second run as Hysteria emcee, other event details
ESPN host and Indiana graduate Sage Steele will host Hysteria, according to a press release issued Monday morning by Indiana media relations.
Steele, who currently serves as a host for NBA Countdown on ESPN and ABC, was the emcee for Hoosier Hysteria in 2012 and is a 1995 graduate of Indiana with a degree in sports communications.
Here are a few other details for the event that were included in Indiana's release on the event:
· The women's team takes the floor for a workout from 5 to 5:30 p.m. Introductions and team activities will begin for them at 6 p.m. The men's team will follow and are expected to have a three-point and dunk contest and a brief scrimmage.
· Parking is free in and around Assembly Hall and Memorial Stadium and fans are encouraged to come early and tailgate.
· The Student Athletic Board will be sponsoring a 64-team 3-on-3 basketball tournament on the day of Hoosier Hysteria. The tournament will be played in the parking lot just South of Assembly Hall on official portable basketball courts. The tournament will begin at approximately 8:30 a.m. and last until roughly 3:30 p.m.. The championship game will be played at 5:30 p.m. in Assembly Hall.
· Admission is free but fans are encouraged to bring a canned food item and donate it to Hoosier Hills Food Bank. Generally, the event brings in 10-12,000 pounds of food.
· Beginning at 10 a.m., there will be a DJ near the 3-on-3 tournament. An outside edition of the Varsity Shop will be open around 1 p.m.
· The men's team will sign autographs for an hour after the event on the Assembly Hall concourse. Fans may purchase the traditional IU men's basketball calendars from the Varsity Shop or a free autograph card will be provided. Players will sign just one item per person.
Filed to: Hoosier Hysteria