Indiana announces Hoosier Hysteria details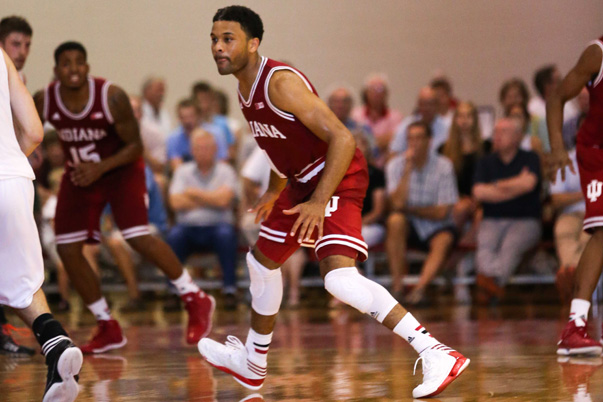 Indiana announced on Tuesday afternoon that Hoosier Hysteria will start at 6 p.m. on Saturday, October 25, and that doors to Assembly Hall will open an hour before, at 5 p.m.
This year's event also includes a 64-team 3-on-3 student-only basketball tournament, which will start at 8:30 a.m. on Saturday outside Assembly Hall. The final will be played in Assembly Hall just before the start of Hoosier Hysteria.
As always, fans are encouraged to bring canned food items to donate to Hoosier Hills Food Bank, even though admission is free as is parking. After the event, the team will sign autographs for an hour on the Assembly Hall concourse.
A full press release detailing this year's Hoosier Hysteria is posted after the jump:
BLOOMINGTON, Ind. — The 2014-15 college basketball season begins when Indiana University hold its annual Hoosier Hysteria presented by Smithville on Saturday, October 25, in storied Assembly Hall. Doors will open at 5 p.m., with the program set to formally begin at 6 p.m.

• The women's team take the floor for a workout from 5 to 5:30 p.m. Introductions and team activities will begin for them at 6 p.m. The men's team will follow and are expected to have a three-point and dunk contest and a brief scrimmage.

• Parking is free in and around Assembly Hall and Memorial Stadium and fans are encouraged to come early and tailgate.

• The Student Athletic Board will be sponsoring a 64-team 3-on-3 basketball tournament on the day of Hoosier Hysteria, October 25th. The tournament will be played in the parking lot just South of Assembly Hall on official portable basketball courts. The tournament will begin at approximately 8:30 a.m. and last until roughly 3:30 p.m. The championship game will be played at 5:30 p.m. in Assembly Hall. (Click here for full information on the tournament)

• Admission is free but fans are encouraged to bring a canned food item and donate it to Hoosier Hills Food Bank. Generally, the event brings in 10-12,000 pounds of food.

• Beginning at 10 a.m., there will be a DJ near the 3-on-3 tournament. An outside edition of the Varsity Shop will be open around 1 p.m.

• The men's team will sign autographs for an hour after the event on the Assembly Hall concourse. Fans may purchase the traditional IU men's basketball calendars from the Varsity Shop or a free autograph card will be provided.

• The IU Athletics ticket office, located in the west lobby of Assembly Hall, will be open throughout the day. Fans are encouraged to purchase Mini-Series which will be on sale at Hoosier Hysteria. The Mini Series will include five home games highlighted by Big Ten rival Ohio State on Saturday, January 10, 2015. The package will also include tickets to the Lamar (11/22), Eastern Washington (11/24), UNC-Greensboro (11/28) and New Orleans (12/22) contests.

Mini Series Ticket Pricing:
$100 – Student Mini Series (Will receive priority seating, one student per account)
$160 – Main/Court Level (Limit Four, assigned by priority points after student tickets)
$104 – Balcony Level (Limit Four, assigned by priority points after student tickets)
Filed to: Hoosier Hysteria