Announcement primer: 2015 forward O.G. Anunoby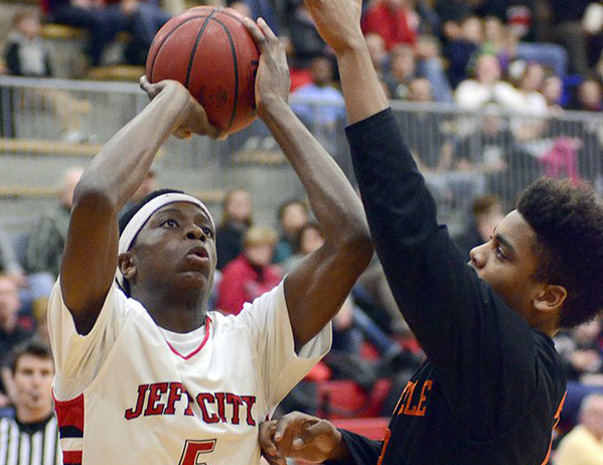 On Tuesday evening, class of 2015 Jefferson City (Mo.) forward O.G. Anunoby will announce his college decision at his high school. The announcement is expected to come at 6:20 p.m. ET.
Here's our primer for the announcement with everything you need to know:
The essentials
Forward, 6-8, 210-pounds, Jefferson City (Mo.), Team Thad
247Composite: 3-star (241); ESPN: (NR); Rivals: 3-star (NR); Scout: 3-star (NR)
Offers: Drake, Georgia, George Mason, Gonzaga, Illinois State, Indiana, Iowa, Kansas State, Louisiana Tech, Missouri State, Murray State, Ole Miss, San Jose State, Southern Illinois-Edwardsville, Vanderbilt, Western Kentucky, Wichita State
Official visits: Georgia, Indiana, Iowa
The primary contenders
Anunoby took official visits to three schools — Georgia, Indiana and Iowa — and also is strongly considering Ole Miss and Gonzaga. Neither Ole Miss or Gonzaga received an official visit from Anunoby.
· The Georgia recruitment: The Bulldogs got the second official visit from Anunoby, which came on the weekend of Sept. 26. On that trip, he went to the Georgia-Tennessee football game, got a chance to visit with the players and also met with academic staff. The Bulldogs staff has been active in visiting Anunoby this fall at his school and assistant coach Philip Pearson appears to have built a strong relationship.
· The Indiana recruitment: Indiana saw Anunoby over the summer where he was a teammate of Nick Marshall on Team Thad and got him on campus in August for an unofficial visit. The Hoosiers then followed that up with an official visit on the weekend of October 3. Anunoby has praised the staff for how hard they've recruited him and getting the last visit is never a bad position.
· The Iowa recruitment: The Hawkeyes hosted Anunoby for an official visit in early September and Fran McCaffery has made multiple trips to see him this fall at his high school. Geographically, it's the closest of the three primary contenders, but distance doesn't seem to be a major factor with Anunoby.
The timing
As noted above, Anunoby was considering an official visit to Gonzaga, but opted not to take it. Ole Miss is another school that he considered taking an official visit to and is listed among his finalists.
The timing here suggests that Anunoby was content to let the process play out and make a decision after stepping back and taking some time following his final visit, which was to Indiana. While Gonzaga and Ole Miss may be listed among his finalists, it's hard to imagine him picking either of those schools when he didn't take a visit and still has two trips he can still technically use if he was unable to settle on one of his other three choices.
From an academic standpoint, Anunoby has talked about majoring in either business or sports broadcasting.
The fit
· At Georgia: Georgia already has two commitments in its 2015 class, but is looking to add a versatile frontcourt piece and has pitched Anunoby on being that guy. Based on his post-visit comments to Athens, he seemed to have a genuinely positive experience and developed some solid relationships with some of their young players.
· At Indiana: The Hoosiers like the versatility of Anunoby, who appears to be a forward who can play and guard multiple positions and also possesses upside. Like in Athens, Anunoby spent time with a lot of Indiana's younger players on his visit to Bloomington, including James Blackmon Jr., Robert Johnson, Max Hoetzel and Emmitt Holt.
· At Iowa: Iowa also likes to have versatile frontcourt players and just like with Georgia and Indiana, he had a chance to watch workouts and meet with academic staff while in Iowa City. The Hawkeyes are losing Aaron White after this season and will probably have some early minutes to offer assuming he continues to develop.
How to follow the announcement
We'll be following the announcement via various outlets who are expected to be on hand and will have a quick story posted as soon as the announcement is made. Additionally, below is a link to our Twitter account to monitor. If any live streams become available, we'll post a link to those below.
In closing, please remember this is the college decision of a high school kid. Please adhere to the comment standards that have been set forth over the past seven years here on Inside the Hall regardless of the outcome.
Filed to: O.G. Anunoby