Notebook: Ferrell's balanced role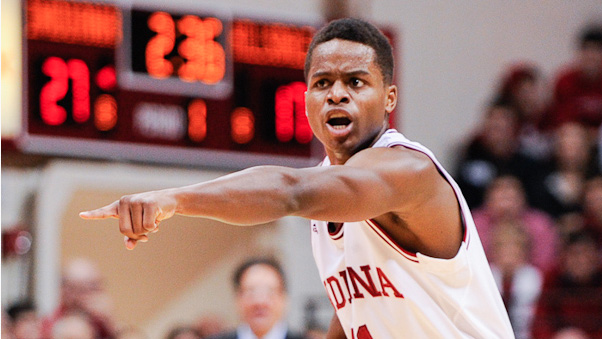 ROSEMONT, Ill. — The story goes Kevin Ferrell's mom nicknamed him "Yogi" as a child as an ode to Yogi Bear, the Hannah-Barbera character with a similar voracious appetite. He certainly lived up to the nickname last season, eating up 25 percent of Indiana's possessions in a year the team starved for any kind of offensive production.
But as the preseason first team All-Big Ten selection enters his junior year as the team's longest-tenured leader, he's due for a reinterpretation of the nickname and a role change on a squad with more shooting and playmakers. The root word of Yogi is yoke, which means "to unite" or "join together". After a disappointing 2012-2013 season where the Indiana Culture struggled at times, Ferrell is in line to do just that for these Hoosiers.
"That's how I feel like I have to start off each game, being more of a facilitator," Ferrell said late Thursday morning. "I feel a lot more comfortable, I feel like now I can balance my game out a lot more. So I'm definitely going to try and find these guys more. And once they take them away, I'm going to try and score myself.
"What I want to focus on is not turning the ball over so much. I want my assist-turnover ratio to be a lot higher. I want to have one of the highest ones in the league. So watching some film, seeing what I do here wrong. Not making jump passes. Not trying to force."
Indiana coach Tom Crean also said he's looking for Ferrell to cut down on jump passes this season, and talked with him about setting personal goals for statistical percentages.
"I think he'll end up being one of the best defenders in the country," Crean said. "Yogi is tremendous when it comes to setting a tone for tenaciousness."
The Ambidextrous Robinson
Stanford Robinson's decision to switch from a left-handed jump shooter to a right-handed one has been met with both humor and and head-scratching.
But his coach and point guard see the logic in it.
"He always struggled with his right hand as his guide hand," Crean said. "And his hand would always open up so he could never get a proper angle on the ball. And now his guide hand — and that's really where you tell it, it's not where your shooting hand is, it's your guide hand — doesn't affect the ball."
Added Ferrell: "Stan was just joking around and shooting and his form I promise was better than his left hand. That's pretty much all he's been doing since spring, shooting with his right hand, and it's looking pretty good right now."
While Robinson's jump shot may now derive from his right hand, Crean said the goal for Robinson is to be the best two-handed player he can be.
"I feel like he should still be able to shoot with his left hand because that will throw the defense off," said Ferrell. "So that could work to his advantage."
The Evolution of Williams
Crean re-iterated Thursday that Troy Williams has gained five inches on his vertical. He also said he's put Williams at point guard in practice at times.
"His athleticism continues to skyrocket," Crean said. "I think harness is the key word … I think any time you let an athlete get away with being an athlete, he'll never be as good of a basketball player. Any time you let a basketball player not feel like he's got to improve as an athlete, then he won't be as good. In Troy's case, it's vision, it's slowing the game down. He's very smart. I think he gets in his own way at times … He's never seen what it's like and how good he can be the simpler he can make it. We're going through that right now."
Ferrell said Williams — who said Monday he hit 10,000 3-pointers this offseason — has been getting extra shots in before practice with assistant coach Tim Buckley and that he's doing a better job of keeping his head up with the ball in his hands.
"He's got that range now," he said. "It's just another weapon to work with."
Filed to: Stanford Robinson, Tom Crean, Troy Williams, Yogi Ferrell