Nick Zeisloft taking on leadership role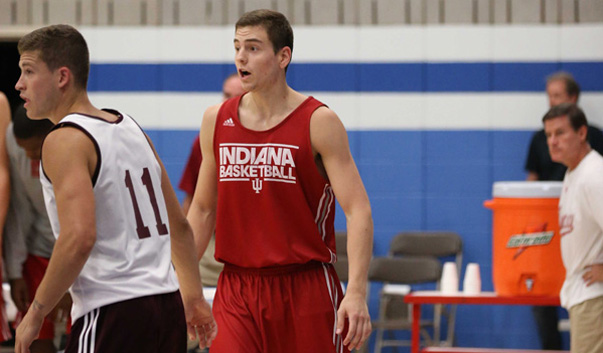 When Indiana coach Tom Crean chose to offer Illinois State transfer Nick Zeisloft a scholarship over the summer, the Hoosiers coach said he saw "a lot on the table left for him." What could have the Hoosiers' coach potentially seen in the Redbirds' seventh-leading scorer that was worthy enough of offering a scholarship with limited spots available?
"I think Nick is going to be a fantastic leader," Crean said during the Montreal trip. "It's going to take him a little while to get used to and get comfortable and all those things with the team, but we're highly confident that he will."
In the Hoosiers' five-game tour of Canada, the 6-foot-4 Zeisloft showed some of the on-court value he has: averaging 8.8 points and hitting 11-of-20 3-point attempts. On a team that simply lacked 3-point shooters, Zeisloft already has showed he can be a solution.
On Monday at the Hoosiers' first practice of situational five-on-five action, Zeisloft's leadership role was already apparent, as well. The former Illinois State captain played a major role in communicating with his teammates, leading huddles and providing intensity on the court.
"It's been a lot of fun," Zeisloft said. "A lot of fun just being very vocal with all of my teammates and them being vocal at me, helping me out if I make a mistake and if they make a mistake I'll help them, as well. Whenever a team has each other's backs, see, that's the most fun about it. That's when the win you most, too, is when you have every teammate's back."
In one situation, with his team up big in the final seconds and awaiting foul shots, Zeisloft brought his team together and told them to not rush. In another, after he was a part of a poor in-bounds play, he clapped his hands and loudly said he had to do better.
And when sophomore forward Troy Williams missed a technical free throw, Zeisloft went up to him and gave him vocal encouragement, patting him on the chest afterward.
"He talks on the court and he talks off the court," Williams said. "He's a leader on both ends."
At the same time, though, Zeisloft said he does not see himself as more of a leader than anyone else on the team. He emphasized that everyone is helping each other out with leadership so that when the time comes, "everyone can be called upon at any point of the day."
But even freshman Robert Johnson noted how Zeisloft "came in and really took heed to that everybody has to lead." And heading into the season, Zeisloft said he is taking that role quite seriously.
"Every day, every drill, every possession, you never know what coach Crean is going to ask of you," Zeisloft said. "And everyone needs to be ready to lead at some point or follow to the best of their abilities."
Filed to: Nick Zeisloft